« Hardware Installation and Clearance Compatibility
Final Thoughts
The be quiet! Pure Base 600 is another solid product offering from the company with a highly flexible design as well as an enviable build quality. It is technically be quiet's most affordable case but it does not sacrifice a whole lot in terms of what makes the Silent Base and Dark Base series great. The windowed version with tempered glass seen here looks much better than most mainstream cases in the market.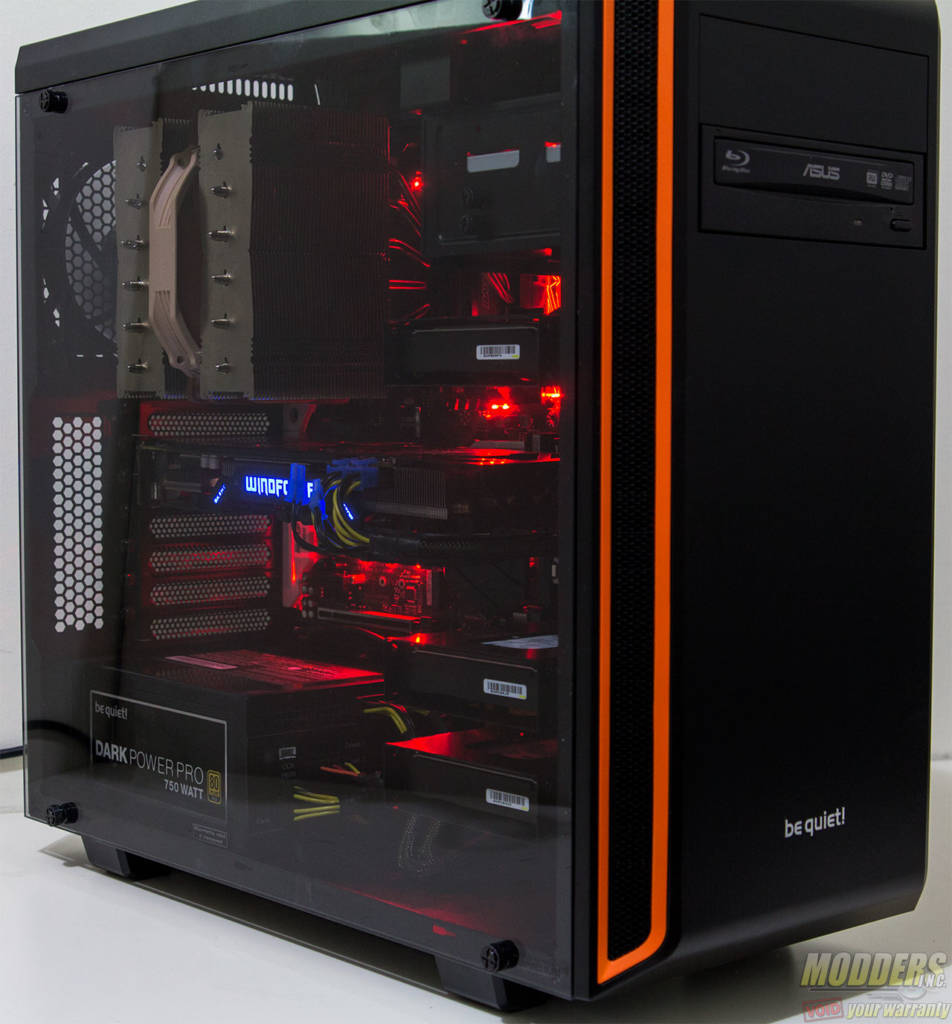 Stacked Competition
However, competition is intense in the sub-$100 case market right now, the majority of which also offer tempered glass side panels. In fact, this feature has become a standard expected for every case above $75. Another trendy feature is the PSU shroud, and it is completely understandable why be quiet decided to skip this feature. Although it is used to hide unsightly cables and makes for a more photogenic case, it hinders airflow coming from the bottom front fan. Cases like the Pure Base 600 with its already air-restricted-by-design side-only intake will get higher temperatures if there was a PSU shroud on the way. Their goal as always is to provide silence above all after all. Which is why the drive cages are individually removable.
Higher Price Due to Noise Dampening Features
The Pure Base 600's weakness however is in its price. The window version is $99.99 on NewEgg with the solid side panel version available for $89.90. Feature-wise it is basically going head to head with the likes of Phanteks' P400 which has a tempered glass side panel and costs $79.99 regularly. There are also several options with a similar price such as Cooler Master's MasterBox Pro 5 and Fractal Design's Meshify C.
The Pure Base 600's notable advantage is its dual 5.25-inch drive bays which all of these other cases lack. There are still some users out there who uses one (or two) for their fan controller or blu-ray drive. While everyone also offers two 3.5-inch drive bays, be quiet offers support for three out of the box, and five in total with additional drive bay mounts. Although, they do not seem to be offering these drive bays individually for sale yet.
Overall, for having an undeniably good quality construction and solid feature set, the be quiet! Pure Base 600 is an above average mid-tower case. Unlike most cases which focus on looks and high-airflow, the Pure Base 600 is tailored more towards those who prefer a silent case. The top, front and side panels are lined with noise-dampening material and the built-in fan controller with the two Pure Wings 2 fans ensure that it remains that way. In terms of price, it is a little bit on the high side compared to its contemporaries, but it does offer some amenities that others do not (such as 5.25-inch drive bays).