PC Power Supply
Cooler Master M2 Silent Pro 1500 Watt Power Supply Overview
Page 2 »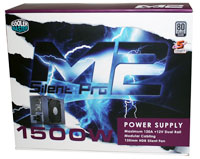 Power, we all want it and need it and so does your computer hardware. The real question is how much do you need and do you have enough. Over the past few years the hardware that we use has gone up and down in how much power it needs to be feed. Cooler Master understand that when your hardware is hungry you need to feed it. That is why they gave us the Cooler Master M2 Silent Pro 1500 Watt Power Supply.
[sc:sponsor sponsor="Cooler Master" product_link="http://www.coolermaster.com/product.php?product_id=6817″ product_name="Silent Pro M2 1500W" ]
  First Look
 This particular review will be an overview of the Cooler Master Silent Pro M2 1500 Watt Power Supply. Currently Modders-Inc does not have the proper equipment to give you the absolute numbers needed to give you a fully in-depth look into the heart of a power supply, but what we can do is give a detailed look at the all the features that they contain.
The Cooler Master Silent Pro M2 series of power supplies is the second generation of the successful Silent Pro M series. The M2 Silent Pro 1500 has the largest amount of wattage available in the series with a powerful dual 12 volt rail that is capable of pushing the maximum amount of power to your ever hungry CPU, single or multiple GPU's. 
The power supply comes in a well designed box that gives you plenty of information about the 1500 watt PSU (Power Supply Unit).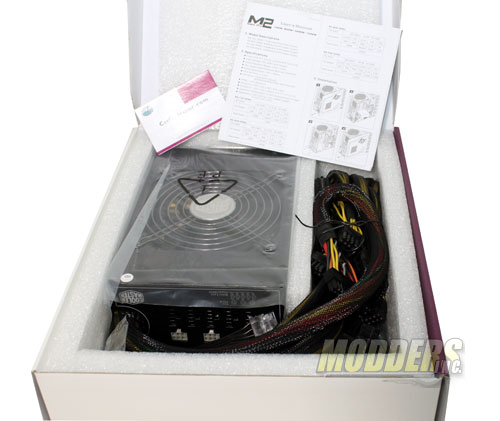 Packaged tightly and nicely you are guaranteed that the power supply will make into your hands safe and sound. A user manually and all the needed power cables are included in the box. The cables have all the connection points that you could ever want and need. Listed below are how many of each connector you receive.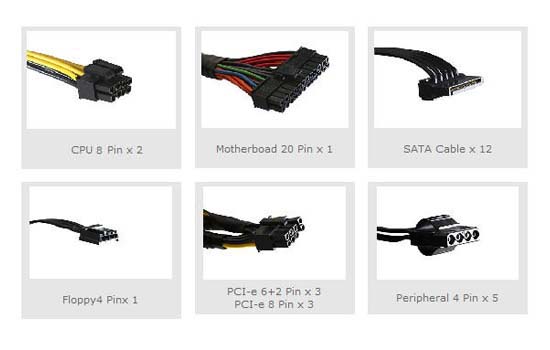 The fun does not stop here. With the all the power connectors you not only get the cables, but everything that makes it work.
Copper-Aluminum Heat Sink
This slick CM design incorporates an expansive flat surface area for superior heat conductivity out to the aero-dynamic fins, therefore removing heat at an unprecedented rate.
Silent Operation
135 mm Hydraulic Dynamic Bearing Fan for quieter operation
Dual 12V Power Rails
Dual 12 V Power Rails Tackling challenges from the most power-intensive peripherals head on, this solitary 12 V power rails provides ample power and strong resistance to any overloading up to 70 and 55A.
Modularized Cabling
Neatly arranged connectors on the rear plate connect to flat internal cabling improve installment facility while allowing for greater airflow through the PSU.

Intel Compliant
Proficiently prepared to provide a stable power source and connectors for the latest ATX 12V v2.3 Intel processors.
Eco-friendly design: Erp Lot6 Ready!
A maximum 5Vsb current draw target in S5 off-mode of 0.1A for its motherboards and needed to ensure the system will consume < 1W in its off-mode

And More
– Multiple updated connectors for all types of interfaces (PCIe, SATA etc.)
– Double-Layer EMI Filter Dual protection from electromagnetic interference.
– Multiple Protection Design (OVP/UVP/OPP/OTP/SCP)
– High reliability with an MBTF of at least 100,000 hours of use.
– Five Year Warranty

** Yes that does say Five (5) Years! That's longer than some marriages.
Model
RSF00-SPM2D3-US; RS-F00-SPM2
 
Type
ATX 12V V2.3
 
Dimension
150 x 220 x 86mm (5.9 x 8.6 x 3.4 inch)
 
Input Voltage
90-264Vac (Auto Range)
 
Input Current
18 – 9A
 
Input Frequency Range
47 – 63Hz
 
PFC
Active PFC (>0.9)
 
Power Good Signal
100-500ms
 
Hold Up Time
>17ms
 
Efficiency
80 Plus Silver
 
MTBF
100,000 Hours
 
Protection
OVP/UVP/OCP/OPP/OTP/SCP
 
Output Capacity
1500W
 
Operation Temperature
0-40°C(Nominal Input Voltage)
 
Certification
80 Plus Silver
 
Regulatory
TUV / CE / UL / FCC / BSMI / GOST / C-tick / KC / CCC
 
Fan
Silent HDB 135mm
 
Connector
M/B 24 Pin Connector x 1
CPU 8 Pin x 2
PCI-E 8 Pin x 6
PCI-E 6+2 Pin x 6
SATA x 12
4 Pin Peripheral x 5
4 Pin Floppy x 1
 
Warranty
5 years