PC Power Supply
be quiet! Dark Power Pro 10 850W 80 Plus Platinum Modular PSU Overview
« Page 2
|
Page 4 »
DETAILS and A CLOSER LOOK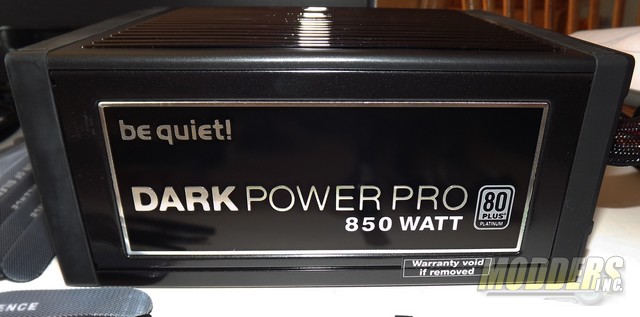 Measuring 190mm x 150mm x 86mm the sides have a large bold name plate a warranty void seal sticker and rubber end caps. The rubber end caps function as sound proofing, vibration isolation as well as adding a flat matte black frame to the beauty and supporting that "Virtually Silent" claim.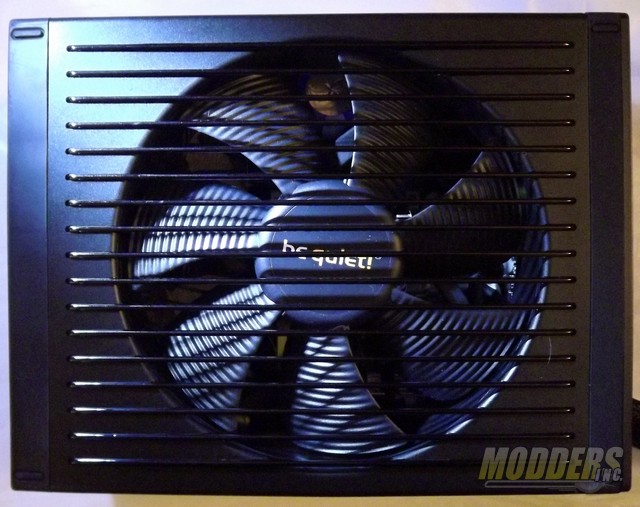 Top down we can see the custom designed "Silent Wings" 135mm fan built for silent running. It has Air Flow optimized fins with fluid dynamic bearing with copper core for a very high quality built fan. We are talking a service life of 300,000 hours of service life which is 12,500 days, 1,785 weeks or 34.34 years so it has to be built for the long haul. The grill is unique in it's design and has a distinguished appearance.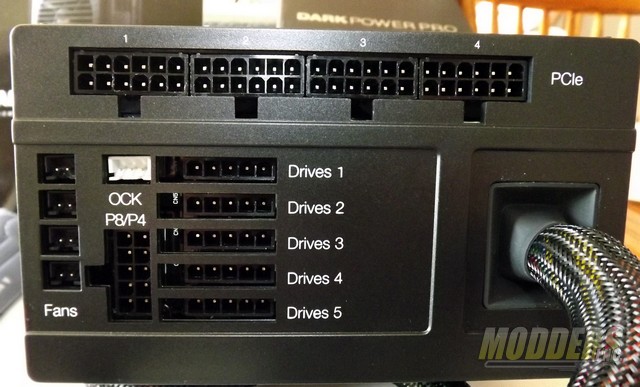 Upon first glance this PSU is unlike any I've seen before. The 24 Pin Cable has a boot cover coming out of the PSU. The modular layout of the connectors are not your typical layout or patterns. How many times have you needed a flashlight just to plug in cables? Here you can do it in the dark almost by feel because the separation and grouping is so simple it's easy to remember the layout your following and with bright white labeling even easier to work with. SPECS: General 850W Continuous power 950W Peak power ATX Form factor 12V Version 2.4 Form factor EPS 12V Version 2.92 Modular cable management Special technology LLC – DC/DC Voltage 100 – 240 Vac Frequency 50 – 60 Hz Input current 10 – 5A PFC active Power factor at 100% load 0.99 Compliant to Intel Haswell C6/C7 Compliant to Intel C6 mode Power consumption in standby 0.325W Average life time 300,000 (h / 25°C) Operating temperature up to 40 (°C)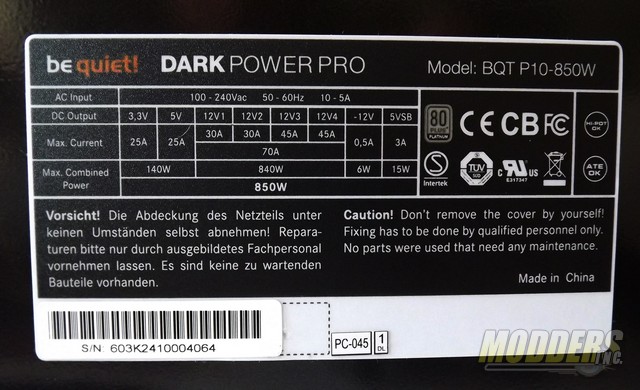 OUTPUT 4 x 12 V Rails (Multi-Rail operation) 12 V Single Rail operation Overclocking key OCK +3.3V ~ 25A +5V ~ 25A +12V1 ~ 30A +12V2 ~ 30A +12V3 ~ 45A +12V4 ~ 45A -12V ~ 0.5A +5Vsb ~ 3A Max. combined power 12V  840W Max. combined power 3,3V + 5V 140W Hold-up time (ms) 21
CABLES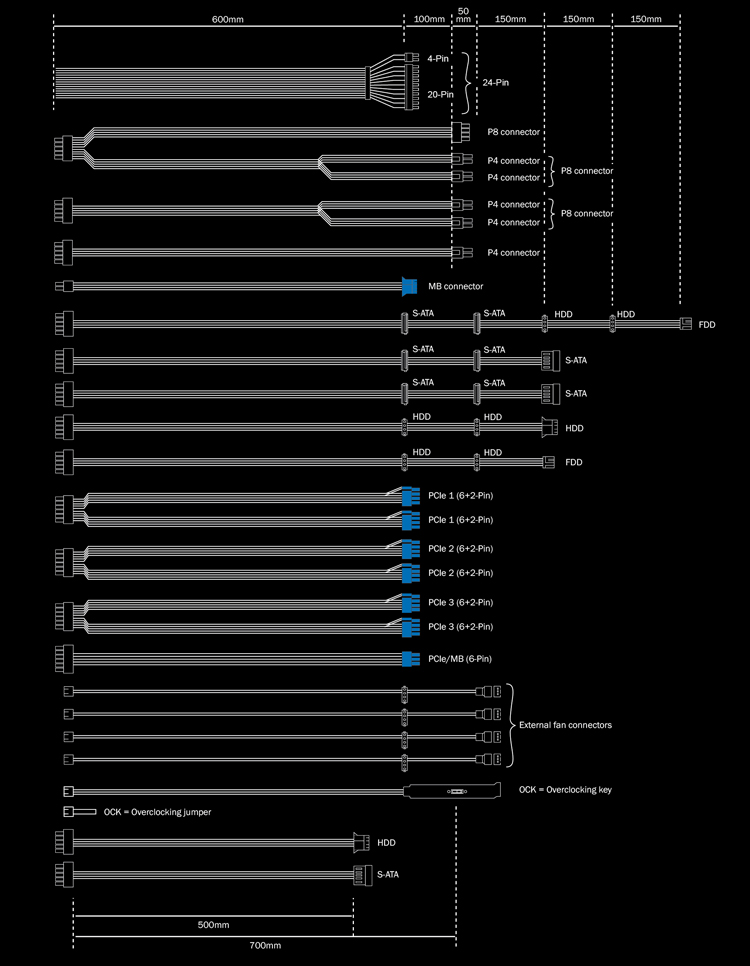 This chart from the be quiet! site shows all the cables, lengths, space between connectors and design of multi cable multi connector for planning. First time I've seen such detail in a presentation to the user.  I can almost cable my build in my head looking at this. Next we'll see a few samples of the cables GPU, HDD and S-ATA.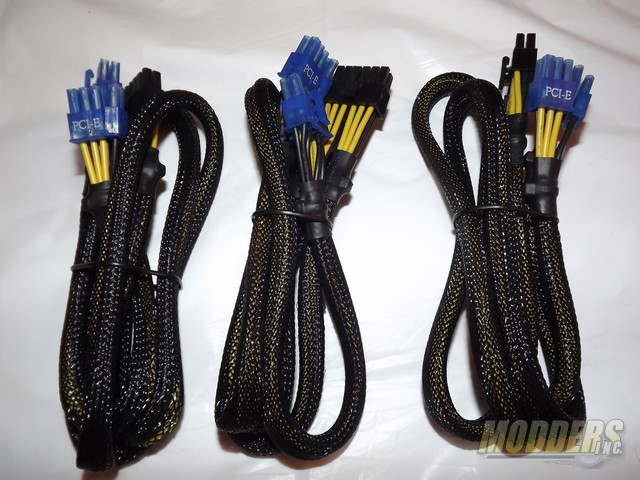 The be quiet! Dark Power Pro 10 850W PSU comes with and will support 3 cables with 6 x 6+2 PCI-e Connectors using 16AWG wires allowing a for some heavy duty GPU power. There's 2 more EPS connectors also. The cables themselves are not the prettiest or best sleeved cables. So far the only thing I've found not totally satisfied with. These are the PCI-e cables, 3 double 6+2 pin cables. The sleeving is OK but in bright light you can see the yellow half of the 16AWG wires with one side black the other side yellow. There is a bare inch to 3/4″ between the connectors and inch of heat shrink.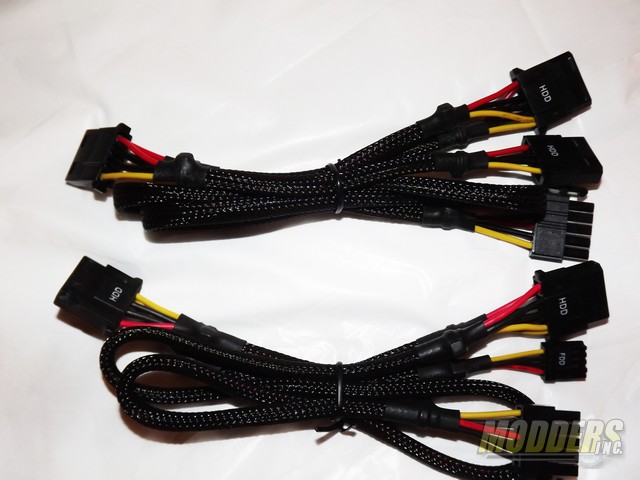 HDD cables are single sleeved tight heat shrink and standard color coded wires. Every connector is labeled with it's corresponding peripheral. There is 2 configurations 2 x 300mm cables with 3 connectors and 1 x 500mm single connector.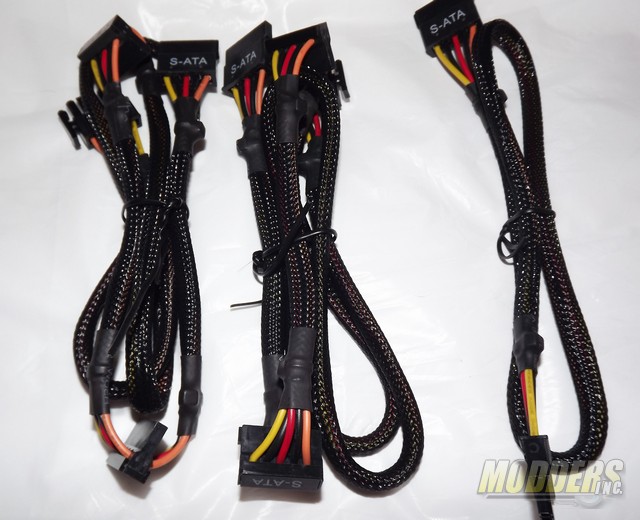 The S-ATA cables come in 2 different configurations 2 x 300mm cables with 3 connectors and 1 x 500mm single connector also.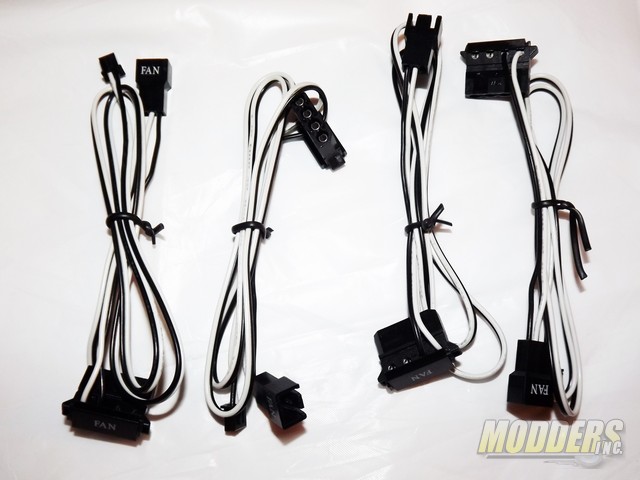 Four case fans connected to the PSU are thermally controlled so cooling is reduced all at once around 50°C and kept low and quiet when when not.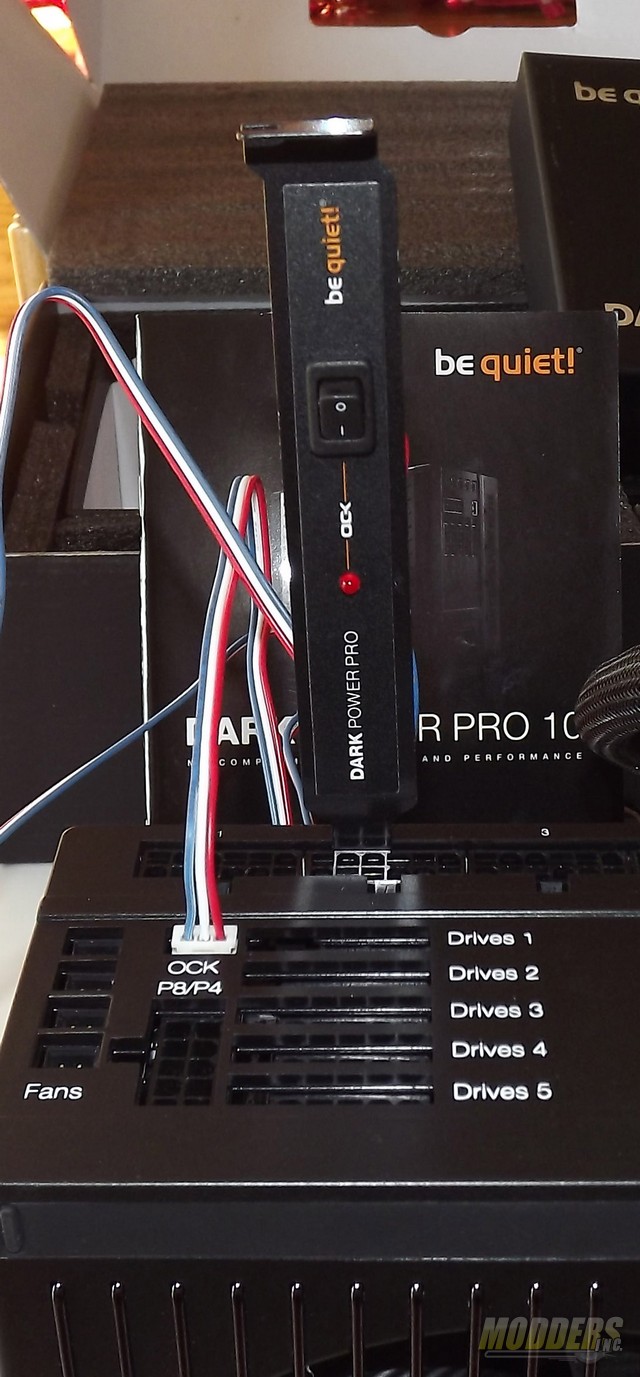 Here is something you don't see everyday one a power supply, an external switch that fits into a I/O port on the back of your case. By default factory settings the unit is configured to use four +12V rails, using the OCK or the OverClock Key switch control or jumper disables the OCP (over current protection) on the multiple +12V rails and switches the power supply to a single +12V rail PSU. In both cases +12V can deliver almost the full capacity of the unit, something very convenient since modern systems heavily utilize this rail.
OCP (over current protection)✓
OVP (over voltage protection)✓
UVP (under voltage protection)✓
SCP (short circuit protection)✓
OTP (over temperature protection)✓
OPP (over power protection)✓
An excerpt from this writer explains: "What is "multiple +12V rails", really? In most cases, multiple +12V rails are actually just a single +12V source just split up into multiple +12V outputs each with a limited output capability. There are a few units that actually have two +12V sources, but these are typically very high output power supplies. And in most cases these multiple +12V outputs are split up again to form a total of four, five or six +12V rails for even better safety. To be clear: These REAL multiple +12V rail units are very rare and are all 1000W+ units (Enermax Galaxy, Topower/Tagan "Dual Engine", Thermaltake Tough Power 1000W & 1200W, for example.)"
The be quiet! Dark Power Pro 10 is a true four rail PSU at the 850W level, rare to find below 1000W units. The PSU supports both P4 and P8 Main board requirements.
The warranty is a 5 year manufacturer warranty and France and Germany has free on-site exchange within the 1st year.