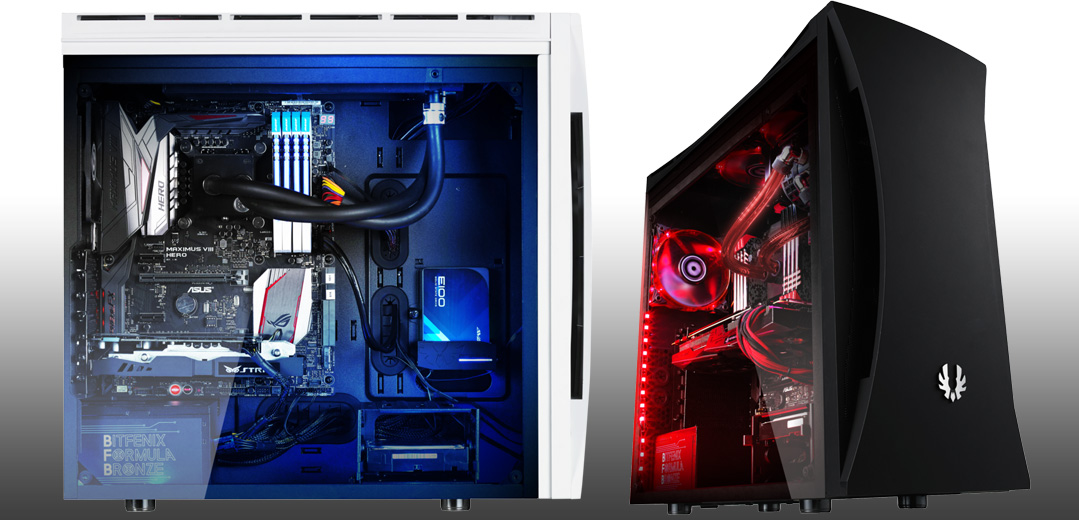 Just in time for Gamescom, BitFenix has announced the launch of their latest Aurora chassis, available in black or white versions. This case has been previewed at Computex but is now finally available worldwide. The Aurora is interesting in that it sports tempered glass side panels on both sides and is aimed to be affordable at $99 USD. To complement the elegant look, the BitFenix Aurora also has a curvy minimalist panel design that lacks any external 5.25″ drives. Internally, the mid-tower BitFenix Aurora has plenty of room however able to support a 280mm or 240mm at the top or front as well as an EATX motherboard.
In addition to the tempered glass side panels, the BitFenix Aurora also extends the eye candy with its built-in RGB Chroma Control and SSDChroma features, co-developed with ASUS. In combination with the also recently announced magnetic Alchemy RGB LED strips, users can control the RGB illumination with their ASUS compatible motherboard.  The built-in controller when not connected to an ASUS motherboard can still be used independently, able to cycle through with presets.
Like the previously release Alchemy 2.0 magnetic LED strips, these Alchemy 2.0 RGB LEDs easily mount to any steel case with their embedded magnets and use triple LED modules with TriBright LED technology. Modders do not need to use multiple different strips anymore to match their system, they can just use a single RGB Alchemy 2.0 strip and change the colors when needed or wanted.
Additional hardware support include CPU coolers up to 160mm in height, video cards up to 400mm long and power supply support up to 220mm long. The total dimensions of the case measures 215 x 490 x 520mm and has up to 25mm cable management space behind the motherboard.
Specifications:
Aurora
Motherboard SPEC
E-ATX/ ATX/ M-ATX/ Mini-ITX
CPU Cooler
Up to 160mm height
Graphic Card Length
Up to 400mm
Power Supply Length
Up to 220mm
Storage Capacity
5.25″ ODD
0
3.5″ HDD
2+2
2.5″ HDD
2+1
Cooling Capacity
Front
120mm x 2 or 140mm x 2
Rear
120mm x 1 (Included)
Top
120mm x 2 or 140mm x 2
Radiator Capacity
Front
280mm x 1 or 240mm x 1 or 120mm x 1
Rear
Up to 120mm x 1
Top
280mm x 1 or 240mm x 1 or 120mm x 1
Front I/O port
RGB Chroma Control, USB 3.0 x 2, USB 2.0 x 2, HD Audio MIC & Headphone
Dimensions(WxHxD)
215 x 490 x 520mm
Extras
•       BitFenix RGB Chroma Control & SSD Chroma Asus Aura Certified                                                                                                                                                                            

•       20-25mm Cable Management Space                                                                                             

•       Graphic Length up to 400mm                                                                                              

•       Support Dual 280mm radiator                                                                                          

•       Removable HDD cage                                                                                                              

•       Removable PSU Dust Filter                                                                                          

Part Numbers
•       Aurora Window Black               BFC-ARA-300-KKWSK-RP

•       Aurora Window White             BFC-ARA-300-WKWKK-RP