COOLER MASTER CM Storm Scout 2
Article Index:
Final Thoughts and Score: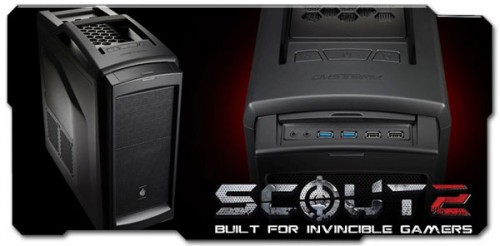 The Cooler Master CM Storm Scout 2 arrived some three years after the original CM Storm Scout hit the market, however, I think it was worth the wait. I feel that the case is more refined than the original and is currently at a price point that most LAN party goers would have a hard time passing up.
The Cooler Master CM Storm Scout 2 case is more streamlined and seems to have a more modern "hi-tech" military themed look and feel to it. I found myself really liking how the CM Storm Scout 2 looked. The Scout 2 comes in both Black and Gunmetal Gray, and is sure to be aesthetically pleasing no matter what color you go with. CM Storm scout 2 may not have a lot of frills, but what it does offer is quality and functionality. I found the case to be very well constructed and very sturdy, even after taking out the top HDD bay it felt sturdy. The carrying handle has been improved greatly, it is more ergonomic and has a nice thick layer of rubber covering it, which makes it easy on the hands. The handle seems to have been shifted rearward just enough that when loaded with hardware it should not droop in the front or the rear, but instead feel more balanced while carrying it.
I found no sharp edges inside the case or outside for that matter. The slightly textured finish was not blemished anywhere that i could find. I was also very pleased to see that the Cooler Master CM Storm division had put a set of quality rubber bottomed case feet on the Scout 2. One of the most aggravating things that I see in some cases I review is hard plastic case feet, that will slide on your desk at the least little touch. I had no issues removing any of the access panels, nor did I have any issues putting the panels back on.
As far as any issues I did find with the case, were minor. For instance there was not a filter screen on the bottom air intake, where you have the option of an additional 120mm fan. The CM Storm Scout 2 comes with the ability to install up to nine 120mm fans, however they only included the one 120mm rear exhaust fan. I felt like they should have at least added the two front 120mm fans, to give a total of three fans. Being pushed as a LAN Party case I would like to have seen an external 3.5″ drive bay, preferably hot swap, but maybe that's just me.
Bottom line, whether it is used as a LAN case or just a mid-sized desktop rig, I found the Cooler Master CM Storm Scout 2 to be a great mid sized case and the CM Storm Scout 2 has a build quality that will not disappoint!
[dhr]
PROS:

more of a modern "high tech" military look to it
sturdy quality built chassis
great carrying handle
well balanced when carrying
will accommodate large graphics cards, with the removal of top HDD cage panel
supports ATX and Micro ATX
tool-less design
excellent amount of ventilation
will support up to 9x 120mm fans, one of which can be a 140mm front intake
cable management holes with rubber grommets
rubber bottom case feet

 CONS:

only one fan included (should have at least 3)
no dust filter for a couple of intake fan locations
no 3.5″ external drive
bay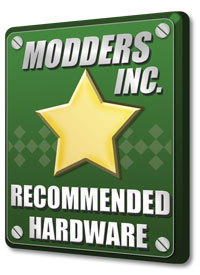 Article Index: