Page 2 »
In early 2009, Cooler Master started up it's CM Storm division with it's debut of the full tower CM Storm Sniper and mid tower Scout case. Now, some 3 years later Cooler Master's CM storm division has released the long awaited successor to the Scout, the Cooler Master CM Storm Scout 2. Thanks to the good folks at Cooler Master, we at Modders-Inc.com have the opportunity to review the Cooler Master CM Storm Scout 2 and give you a run down on the features this long awaited case has to offer. So, without further delay let's just get right down to the review, shall we.
[dhr]
First Look:
The Cooler Master CM Storm Scout 2 comes packaged a military themed black box, with red and white logos and swish designs prominently placed in the foreground. This style and colored packaging seems to have become there identifying trade mark, so to speak.
The front has a picture of the case inside placed in a battlefield type scene. Putting forth the impression that it is ready to be taken to a LAN Party to do battle.
The back of the box highlights many of the features along with pictures of the case for illustration. They also have the features listed below the illustrations in eight different languages, to provide information to the multitudes of gamers world wide.
  On one end of the box features are listed and the other end the specifications.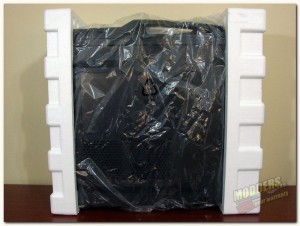 Once we remove the box, you can see that Cooler Master and CM Storm have protected the case well with styrofoam end caps to keep the case in a stable position and also absorb any impacts the box may receive in shipping. They have also covered the case with plastic sheeting to keep dust and foam particles from entering the case.
[dhr]
Cooler Master CM Storm Scout 2
Specifications:
Cooler Master
CM Storm Scout 2
Model
SGC-2100-KWN1 (black)
SGC-2100-GWN1 (gunmetal gray)
Color
Black (SGC-2100-KWN1)
Gunmetal Gray (SGC-2100-GWN1)
Material
Appearance: Polymer, Coated Steel Mesh and Body
Dimension
230 x 513.5 x 517.5mm / 9.1 x 20.2 x 20.5 inch
Weight
Net: 8.3 kg / 18.3 lb
M/B Type
Micro-ATX, ATX
5.25″ Drive Bay
3 (exposed)
3.5″ Drive Bay
7 (hidden)
2.5″ Drive Bay
2 (converted from one 3.5″ drive bay)
I/O Panel
USB 3.0 x 2 (int.), USB 2.0 x 2, Mic x 1,
Audio x 1 (supports AC97/HD Audio)
Expansion Slots
7
Cooling System
Top: 120mm fan x 2 (optional)Front: 120mm fan x 2 or 140mm fan x 1 (optional)Rear: 120mm red LED fan x 1 (with LED on/off function)

Bottom: 120mm fan x 1 (optional)

Side: 120mm fan x 2 (optional)

HDD cage: 120mm fan x 1 (optional)

Power Supply
ATX PS2 (optional)
Maximum Compatibility
VGA card length:
287mm / 11.3 inch (with HDD cage)
399mm / 15.7 inch (without HDD cage)CPU cooler height:
162mm / 6.4 inch
Warranty
2 years
UPC Code
884102019036 (black)
884102019043 (gunmetal gray)
Features:
Ergonomic steel reinforced carrying handles bolted to support beams of the core structure
Dual USB 3.0 support for 10x faster file transfer and high current smart phone / tablet charging (~0.9A)
Supports up to 3 ODDs (tool-less), 7 HDDs and 2 SSDs for increased expandability
Supports up to 9 fans, including dual 120mm fans on the acrylic side panel window
Top panel LED switch to disable the LEDs of two separate LED lit case fans at night
Supports all high-end graphics cards after removing the 1st HDD cage
Dust filters for PSU (slide out) and top panel