« Page 3 | Page 5 »
The use of the machine on this particular review was limited to installation and reviewable design items.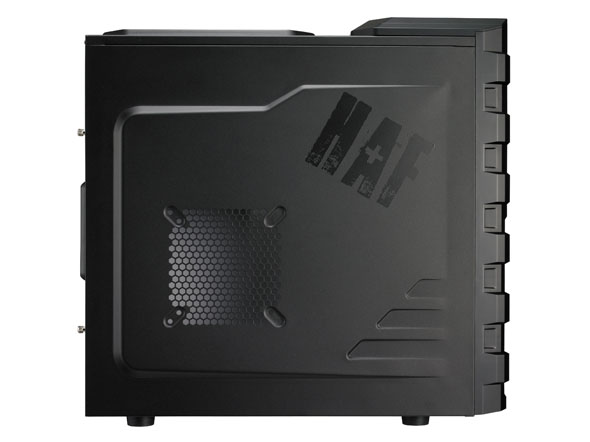 Never once in my building or reviewing, did I think is was dealing with a cheap or budget case. The case felt refined and complete during my time. The inclusion of easily removable dust filter screens is a major benefit to the case in helping to keep the system clean. There is a screen in the bottom where the power supply draws air in, and the front bezel is filtered as well. I still don't understand why they don't filter side intake fan locations. Seems akin to putting a window on a submarine… ;) 
Also, this case has existing alterations for water cooling. You can mount a dual 120 (2×120 or what some call a 240) radiator directly to the top of the case if you would like and then feed the tubing through the rubber grommeted holes in the back of the chassis: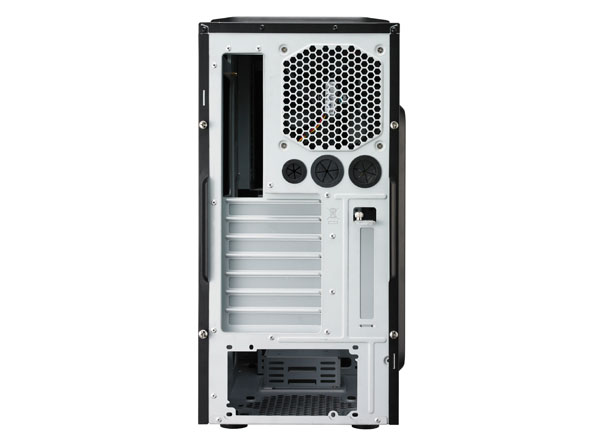 The tubing hole diameter is much wider, and appears to be geared towards users of the 1/2″ID tubing class. 
There is also a single slot just below the tubing grommets, and that is termed as a "+1" slot. My best guess for this slot is, "If you have a card that you wanted to install, but clearance or dual slotted video cards have covered up the motherboard slot, then you could potentially purchase a ribbon cable extension for the slot, and route it to the card installed in this location." That is my best guess for the usage of that location. And it simply adds to the flexibility of this chassis. 
The depth of the case is more than adequate to handle the tall CPU coolers of 170mm or less.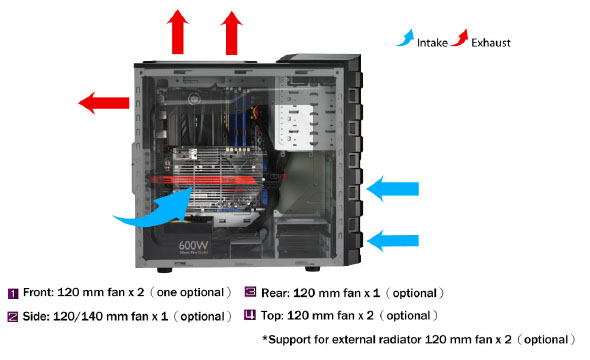 The lack of fans except in the core locations is understandable in this chassis. if you want to keep costs low so as to keep the price point down, then why put in fans that users will likely remove in preference to their choices? Makes sense to me! Just understand, that the HAF 912 comes with 2 fans included. The chimney/rooftop cooling, the side panel fan, and the front panel intake arrangement… all of those become customizable locations for tuning the cooling and sound profile of this machine. With all of the mesh locations and fan potential on this case, the HAF moniker (High Air Flow) is guaranteed and this machine should be able to dissipate a substantial amount of heat!