Page 2 »
Continuing the line of HAF (High Air Flow) cases Cooler Master introduces the HAF 922. The HAF 922 is a mid-size case with features and design very similar to it's bigger brother the 932. Here at Modders-Inc. we were very impressed with the cooling capability, overall spaciousness and flexibility of the HAF932. Read along as we explore the Pro's and Con's of the mid size 922 design.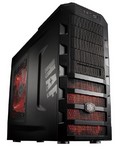 Sponsor: Cooler Master
[hr]
First Impression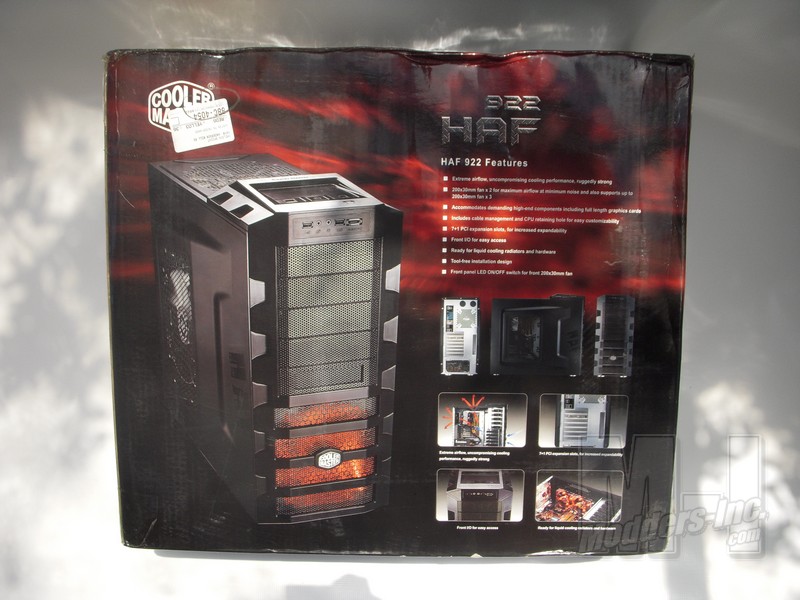 The Cooler Master HAF 922 comes packaged in your standard cardboard box with foam packaging around the case to prevent it from damage. My package arrived a little banged up and it looked as though it was bandaged up a bit with some packing tape. Luckily the packaging didn't take any real hits and the actual case inside was no worse for wear.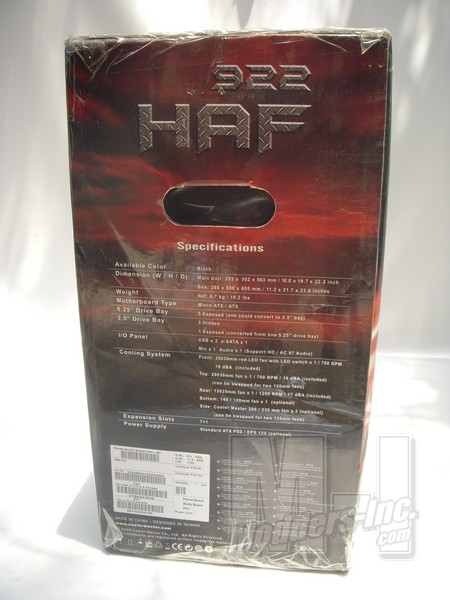 My initial impression after signing off on the case and bringing it inside was "Wow, This thing is huge". I don't know what I was expecting really but for some reason I had thought that the HAF 922 was going to be considerably smaller than the HAF 932. In fact I was sure they said a "mid-sized case". Packaging can be deceiving though so I slid the case from the packaging and prepared to take a close look at the Cooler Master HAF 922.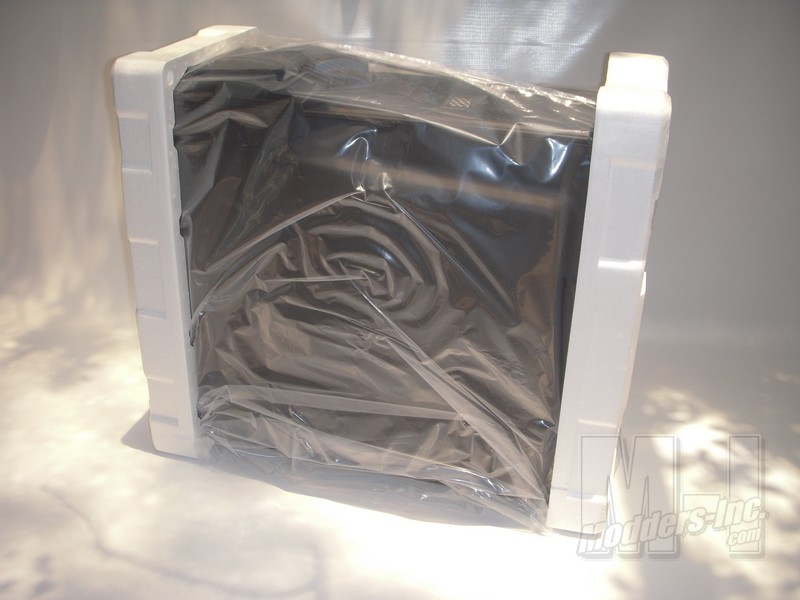 Speaking of packaging the artwork on the box is really top notch. Cooler Master gives you multiple quality images of the exterior as well as the interior of the case. There is now way if you were buying this in a brick and mortar store that you would be confused or wondering what the features are of the HAF 922. It's all over the packaging. For those of you who like me frequently purchase your hardware online here is an overview of the packaging taken for Cooler Masters website.
Superior Cooling Performance
  Extreme cooling performance that supports up to seven cooling fans overall, including three 200×30 mm fans at minimum noise. The spacious interior can accommodate a radiator for liquid cooling system and high-end hardware.
User Friendly
Provides extreme airflow, uncompromising cooling performance, and ruggedly strong protection.
Accommodates demanding high-end components, including full length graphics cards.
CPU cooler retaining hole designed for quick CPU cooler installation.
LED ON/OFF switch for front 200 x 30 mm fan.
Patented button design for easy maintenance of 5.25" drive devices.
Bottom fan can be set facing up or down to increase airflow throughout the case.
Cable Management System
  Unbeatable cable management made for less clutter and system maintenance by allowing ample room behind the motherboard. The motherboard tray includes access openings for cables to rout in or out of the chassis, preventing damages to cables/components.
Specifications
Available Color
Black
Material
Steel + Plastic and Mesh Bezel
Dimension (W / H / D)
Main Unit: 253 x 502 x 563 mm / 10.0 x 19.7 x 22.2 inches
Box: 285 x 550 x 605 mm / 11.2 x 21.7 x 23.8 inches
Weight
8.7 / 10.9 kg ; 19.2 / 24.0 pounds
Motherboards
ATX / Micro-ATX
5.25″ Drive Bay
5 Exposed (one could convert to 3.5″ drive bay)
3.5″ Drive Bay
5 Hidden, 1 Exposed (converted from one 5.25″ drive bay)
I/O Panel
USB 2.0 x 2, MIC x 1, Audio x 1 (support HD / AC97 Audio), eSATA x 1
Expansion Slots
7 + 1
Cooling System
Front: 200 mm fan x 1 Red LED on / off fan x 1 / 700 RPM / 19 dBA (can be swap for 120 / 140 mm fan x 1),
Top: 200 mm fan x 1 / 700 RPM / 19 dBA (can be swap to 120 mm fan x 2 ),
Rear: 120 mm fan x 1 / 1200 RPM / 17 dBA,
Bottom: 120 / 140 mm fan x 1 (optional),
Side: 200 mm fan x 1 (optional), (can be swap for 120 mm fan x 2)
Power Supply
ATX PS2 / EPS 12V (optional)