« Page 3
|
Page 5 »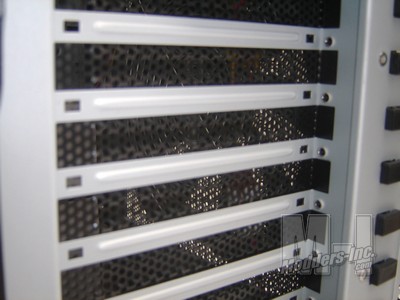 Air Flow and Cooling:
  The first thing I think I should mention is of course the foremost feature of the case and that is the air flow. The two large front and side fans produce a lot of air and cooling. In fact that even though this case is mostly mesh these two fans still manage to create a positive air flow in the case. If I feel around the sides and even the back mesh where the add in card plates are I can feel air being pushed out of the case in all places. On one hand this is a good thing in that the case doesn't have negative pressure sucking in air through all the open spots pulling in dust and everything else to mucking up all the coolers. The bad news is that this argument is pretty much null and void since these fans are huge and pull in tons of air all without filters. The mesh doesn't help to keep dust from settling inside the case either. Sure this can be remedied somewhat with home made fan filters but you really shouldn't have to do this if you are paying premium for a case.
  As far as how well the cooling does or doesn't work. I ran this case here the other day with the temps in the room around 75F. I let the case heat up by running Prime95 on my E8400 (running at 3.4 Mhz) for about an hour to see what my max temps would be. The CPU never made it to 50C which is a first or my E8400. In my last case, which was a Raidmax iceberg, the CPU would easily hit 55C at load with 3 – 120mm fans exhausting the heat.   Looking at other temps in the HAF the system temps stayed a cool 32C the whole time running the torture test. This really doesn't surprise me as the side fan is centered right over the motherboard. After finding the high temps I Let the system cool down to find the idle temperatures.  Everything in the system settled down to 30C for both the CPU and the northbridge. As for the Sapphire 4850 card it generally sits at idle at around 40C and easily heats up during gaming to past 60C at times. Although it is running about 5 degrees cooler in this case. I would have to say that if I had better cooling on it besides the stock cooler I think it would greatly benefit from the increased air flow. As for now there is only a slight benefit with a small drop in temps. As I don't think there is enough surface area on the cooler to benifit from heat radiation.
  With all this air flowing through the case the most surprising thing to me is that it runs a lot quieter than any other case I have right now. All of my cases run 120's and aren't really all that loud. At least i didn't think so till I had the HAF. The loudest thing in the HAF system right now is the Video card fan and the fan on the external hard drive. The rest is nearly silent. Granted it's not completely silent as there is a slight hum but that is pretty good. Heck even the clicking of my hard drive accessing is louder than the case fans. If you're looking for a little better than that a good resistor or fan controller would bring the noise down to your exact specifications.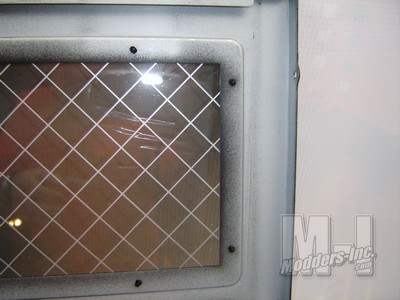 Craftsmanship and Function:
   Overall I would have to say that the case is very well put together. Everything is finely finished with no sharp edges and the paint job is fairly well done. What I mean is the Exterior finish it quite nice but you can see many parts of the case have over spray on the inside like in the pic above. This isn't something that most people worry about but something that I notice. It just seems sloppy to detail your manual but not mask of when painting a case.
  As far as how functional the case is I think it achieves the goal of great cooling without a doubt. If you do a lot of tinkering or benchmarking the case will make it easy for you to change out parts and CPU coolers. Everything is easy to access and the front ports leave you with more than enough access for your needs. A front access e-SATA port in particular is not all too common and will come in handy if you are moving around external drives between machines. If you choose to install the casters you will be able to slide you case in and out of cubbies and get access to the back ports with ease. Not that there is anything wrong with the very nice case feet that come installed.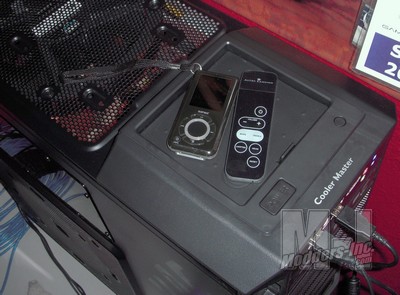 Moddability and Water Cooling:
  If your curious on how moddable the case is my answer is going to be really the standard party line of "It's all really how much imagination you have". Really though the case offers up so many different features you can work with. I can easily see a large window side panel mod, LCD displays, and painting the first steps to a great mod with this case. Some clever metal work and bondo, a good theme and… well you get the idea.
  For those of you who don't really mod but like to tweak and even just get your case to look as hot as possible while running water cooling components your not going to be disappointed with the versatility of this case. With a little ingenuity you could easily put two large radiators in this thing. Heck even more if you placed one on the back. There is lots of room for pumps, tubing and even the reservoir to be placed inside this case giving your mod a clean and sleak power user look. There is even a built in "hidden" fill port under the the rubber mat in the top storage tray.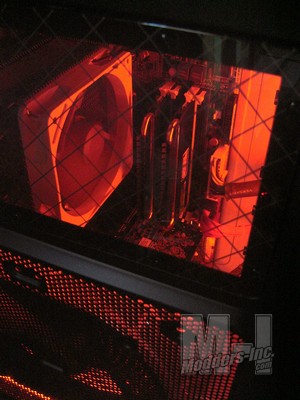 If modding isn't your type of thing and all you want to do is show off your hardware. Just add a couple of CCFL's and light up the interior of you case. The side window gives you plenty of viewing area to show off your hardware.