Page 2 »
 Cooler master brings you the HAF 932. A larger full size tower case featuring a unique design set and a High Air Flow structure. This case features a wide range of premium features including tool less components, enhanced motherboard tray for cable routing, rear access to the mother board for easy CPU cooler installs and ready made mounts for water cooling just to name a few. If that sounds like a lot of features for one case your right. Is the HAF 932 worthy to be the next home for your hardware?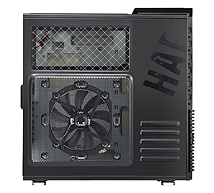 Sponsor: Cooler Master
[hr]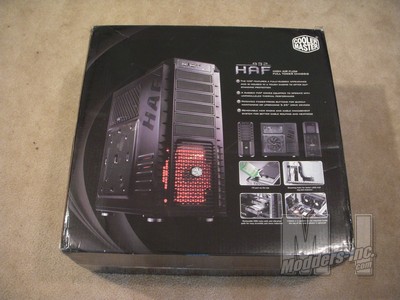 Today we are going to look at Cooler Masters Full size tower case the HAF 932. The HAF 932 is a very unique case and I've heard a lot of good and bad buzz about it. I'm looking forward to checking it out myself and seeing what all the hubbub is about. Much thanks to Cooler Master for sending this one over to us to review.
  Well I received the HAF 932 from Cooler Master in it's retail box. The box had maintained a bit of damage during shipping but was for the most part in tact. Just a few banged in corners and extra tape applied to areas of the packaging. Hopefully the case itself is fine inside.
  The exterior of the packaging looks very professional and contains a great deal of information regarding the case itself and it's features. It also includes several photo's of the exterior and the interior of the case and does give you a good overall feel of what you would be purchasing. This may not seem like a big deal to some but you would be surprised how many cases just come in blank boxes with no labeling.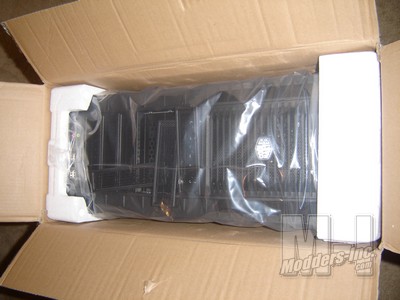 Opening up the box I found the HAF 932 was typically packaged between two end pieces of Styrofoam. One of the ends was a bit busted up but it seemed the case itself didn't' receive any permanent damage. A few of the front Mesh bezels had come undone but everything was kept from moving around too much by the tight plastic bag the case was wrapped in.
  Taking the case outside the bag I noticed a few "scratches" from where the foam was rubbing back in forth on the case during shipping. This came right off with a wet cloth so it was no big deal. The side window and the front ports had a plastic protective coating on them to help protect them as well.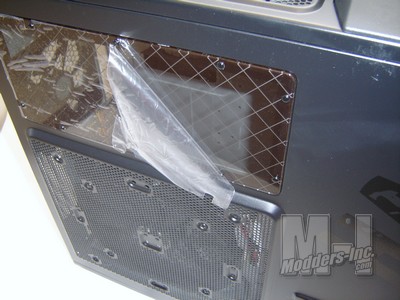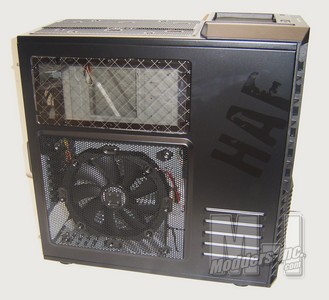 Taking a step back and letting the overall design sink in I can see what a really unique look the HAF 932 has over most cases that are coming out right now. The whole look of this case is generated around it's High Air Flow and cooling capabilities but it also presents a somewhat gritty industrial and almost Militant utilitarian look. In fact I don't think I can remember any cases that have come out recently that took such a bold approach to the design of the case. Sure there have been cases that have come out that have been really different but not so good. Where as I think the HAF 932 design although different comes together really well. That is just my opinion and there has been a lot of talk on the case forums about those either loving or hating the looks of this case.
   Now, where the debate comes in is whether or not Cooler Master made a case that is "ugly". It seems that this is truly one of those cases where some people will just hate the looks of it, others love it and perhaps many will warm to it but there is definitely a very vocal group of haters out there. I for one am a utilitarian at heart and find that although this case is not "beautiful" it is very cool looking. Really, you can't please them all and I think that when many see the list of features this thing has included they will fall in love quite easily. Below are just some of the list of features that are listed on the box as well as on the cooler master website.
Features:
The HAF932 features a fully-rugged appearance and is housed in a tough casing to offer outstanding protection.
A rugged HAF932 comes equipped to operate with unparalleled thermal performance.
Patented finger-press buttons for quickly maintaining or upgrading 5.25 inch drive devices.
Removable HDD racks and cable management system for better cable routing and neatness.
Tool-free clips for add-on card installation
Retaining Holes For Easy Installation of CPU Coolers
Grid-shape Transparent Acrylic Side Window Gives Great View of The Case's Interior
Specifications:
Available Color
Black
Dimension (W / H / D)
(W)230 x (H)545 x (D)575 mm
(W)9.0 x (H)21.5 x (D)22.7 inch
Weight
13.2 kg
29.1 lbs
Material
SECC, Plastic
Motherboards
Micro-ATX / ATX / E-ATX
5.25″ Drive Bay
6 (without the use of exposed 3.5 inch drive bay)
3.5″ Drive Bay
5 Hidden 1 Exposed (converted from one 5.25 inch drive bay)
I/O Panel
USB 2.0 x 4, IEEE1394a x1, eSATA x 1, Mic x 1, Audio x 1
Cooling System
Front : 230x30mm red LED fan x 1 / 700 rpm / 19 dBA
Side: 230x200x30mm standard fan x 1 / 700 rpm / 19dBA
(support 120mm fan x 4)
Top: 230x200x30mm standard fan x 1 / 700 rpm / 19dBA
(support 120mm fan x 3 or 120mm x 1 + 230x30mm x 1)
Rear: 140x25mm standard fan x 1, 1200 R.P.M, 17dBA
(support 140mm fan)
Expansion Slots
7
Power Supply
Standard ATX PS2 / EPS 12V (optional)