CPU Cooler
Cooler Master MASTERAIR G100M CPU Cooler Review
Too the moon and beyond
« Installation and Clearances
Results and Conclusion
Test System:
| | |
| --- | --- |
| Processor | Intel Core i7-8700K (Retail) |
| Motherboard | Gigabyte GA-Z370-Gaming 7 |
| Memory | G.Skill SniperX 2x8GB @ 3400MHz 16-16-16-36 (XMP) |
| Drive | Samsung 240 EVO 256GB SSD, Crucial MX500 1 TB SATA III SSD |
| Video Card | Nvidia RTX 2080 Founders Edition |
| Thermal Compound | Noctua NT-H1 |
| Case | DimasTech EasyXL |
| Power Supply | Cooler Master Silent Pro M2 1500W |
| Operating System | Windows 10 x64 Pro with latest patches and updates |
The test was conducted on a DimasTech EasyXL open-air test-bench. All case and heat sink fans were benchmarked with fan control settings disabled and running at 100% unless otherwise specified.
Temperatures are averaged (last minute) from individual core temperature results monitored by AIDA64 after 15 minutes using the default CPU, and Cache simultaneous load. AIDA64 is able to use the latest instructions including AVX and AVX2, etc unlike other older CPU load tests so it is also a lot more "future proof" as more software start to utilize it. Please keep in mind that this test is brutal and not even close to real-world load (especially not that constant for that amount of time). Three runs are conducted per cooler and a fourth run is done after a remounting to verify. Last minute average is taken instead of the peak because it represents the averaged behavior of the thermal performance instead of the worst-case scenario or a snapshot. Ambient air temperature at the intake of the CPU coolers was measured at 19°C in a temperature-controlled office.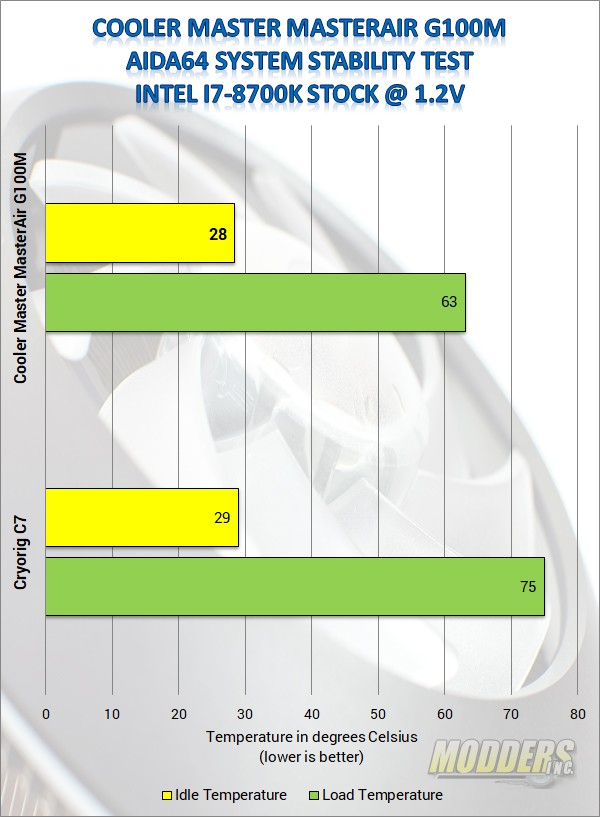 Conclusion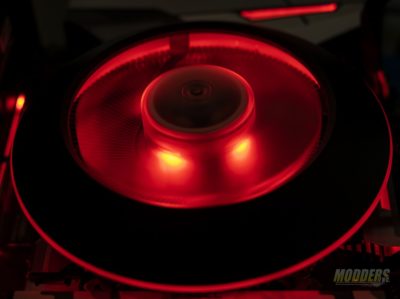 First, let's talk about the results, or rather lack of results when it comes to overclocked CPUs on either of these coolers. Both coolers throttled within 2 minutes of starting the system stability test. However, with a load temperature greater than 50°c in stock form, I didn't expect the coolers to really handle the 8700K @ 4.7GHz (all core) and a vCore of 1.31v. This CPU cooler really wasn't designed for that kind of abuse. 63°C load temperatures on an open-air test bench isn't terrible. Realistically, the Cooler Master MasterAir G100M was designed to sit in an ITX case and keep the CPU in its stock settings cool. Which, at stock temperatures, it does fairly well. I'd expect in an ITX case to see the load temperatures rise a few degrees.
The Cooler Master Masterair G100M CPU Cooler certainly isn't going to win any awards on sheer performance numbers. However, it does get the job done. In reality, most users that are using an ITX system aren't going to be beating up all 6 cores at 100% for hours on end (there are exceptions to that rule) but most are looking for a decent CPU cooler. Leaving the fan set to auto in the motherboard's BIOS, and at stock speeds, the fan stayed fairly quiet during the test and was barely noticeable sitting there on the test bench. With the fan spun to 100%, the cooler is loud but not annoyingly so. The fan noise is more like a medium pitched hum.
The Cooler Master MasterAir isn't the best CPU cooler I've ever tested and it's certainly not the worst either. If you're looking to keep your CPU cool in your non-overclocked ITX build, the Cooler Master MasterAir G100M fits the bill nicely. Installing the cooler may take a little bit of work but it's not too bad.  The G100M claims to be able to cool 130 watt TPD.
The LED fan and ring are a nice touch to dress up the CPU area. The UFO shape makes the aesthetics of the cooler catching. I know when I see one of them used in builds, it catches my eye before most other components. The wired RGB LED controller can show one of 6 different effects and they are static, stars, cycle, breathing, cycle breathing, and mirage.  Depending on your motherboard and RAM selection, mounting this CPU cooler can be a challenge considering the VRM cooling and memory height. As I mentioned earlier, this is an interference cooler. This means the cooler does cover the RAM slots on the motherboard and the height of the heat spreaders is limited. The installation is a little more involved than other coolers but, it is not overly complicated.   As of this review, the Cooler Master MasterAir G100M is listed for $35.40 on Amazon.com. This shaves $4.59 off the price and does make it a better value.