Page 2 »
For those that air cool, Noctua is a name that strikes confidence into its users, and fear into heat. Their new entry into the heat taming market is the massive, fear enducing NH-D14. Does it tame the beast of heat? or is the new heatsink all bark and no bite? Read on…

Sponsor: Noctua
[hr]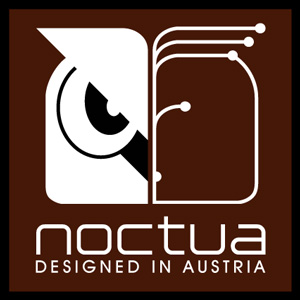 Noctua is a name currently synonymous with high end, aftermarket heatsinks. If you have heat, they have a solution. From Server class cooling, to enthusiast, to aftermarket fans. Air cooling is their specialty, and they know it well. Their trademark coloring for their fans (creamy vanilla frames surrounding a red clay/brown fan) makes their offerings distinctive. In a crowded market of cooling, the distinctive fans visually set them apart, as well as their stellar reputation for performance and quality. But…. the name…. "Noctua"? Well, there is thought be hind that as well"
The little owl, Athene noctua, is the symbol of the Greek goddess Athene, who represents wisdom, science and strategy. She has a marked preference for the most clever among the Greek heroes, like Odysseus, who endure their adventures by the use of savvy consideration instead of mere force. Until today, the owl symbolises intelligence and prudence, its manlike face emblematises attentiveness and communication. We from Noctua follow the suit of its calm and accurate observation in the dark, its soundless flight as well as the effective, economical use of its powers and precise attack. 
The company itself sprang into being from the combination of two companies, the Austrian RascomComputer distribution Ges.m.b.H., and the Taiwanese company, Kolink International Corporation. Combining over 10 years of high end cooling component knowledge…. the owl took flight as Noctua
Seems that when Noctua sprung into being, they already had a plan for silence *and* performance… two traits that were usually mutually exclusive for many years. Not so, to the wise owls at Noctua! Over the years, they have lead the way in quiet performance with the creation of Self Stabilizing Oil pressure Bearings, Vortex control notches and beveled blade tips, and the advent of their SCD (Smooth Commutation Drive) system, all of these technologies get rolled into their fight against noise. We will go into many of these technologies later in the article. 
Their products to date have been held in very high regard by not just lovers of quiet computing, but also overclockers and computer enthusiasts the world over. Always unique in design and approach, Noctua has designed many high performance CPU heatsinks that have been revered in the air cooled arena. Today, we discuss their newest forray into CPU cooling, the NH-D14!!!