CPU Cooler
Cooler Master MASTERAIR G100M CPU Cooler Review
Too the moon and beyond
A Closer Look »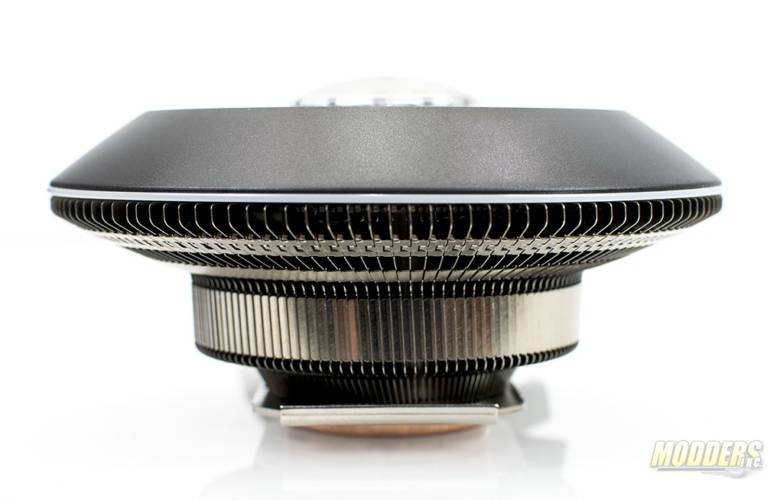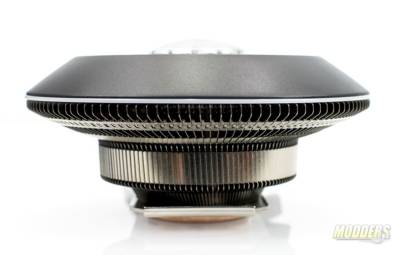 Reminiscent of the Jupiter 2 from the 1960's version of the TV series Lost In Space, the Cooler Master Masterair G100M CPU Cooler is affectionately called the UFO cooler.  The G100M is a low profile cooler designed to fit into smaller cases especially mini-ITX. The G100M boats a 130-watt cooling capacity and features a large "heat column" at the center of the cooler. With its small size and new cooling technology, does the G100M make sense in your daily driver?
What is the heat column? Well, to me it appears to be just a single large heat pipe that is used in multiple coolers. The cooling process is similar to heat pipes, the liquid inside boils and turns into a vapor. The vapor rises to the top where heat is transferred from the heat column to the fins of the cooler and the vapor re-condenses back to the bottom of the heat column and the process repeats. The one advantage is rather than heat pipes being soldered to a cold plate, the bottom of the heat column sits directly on top of the CPU's heat spreader. In short, it is a really big, single heat pipe.
Packaging
Cooler Master Masterair G100M CPU Cooler packaging is a simple affair. The packaging isn't flash and the front of the box features a large clear image of the cooler contained inside. On the rear, Cool Master details some of the features of the G100M in 8 different languages.
The cooler and the accessories are packed away inside a closed cell foam insert with cavities for the cooler and the accessories. The CPU cooler's finish is protected by a thin plastic bag.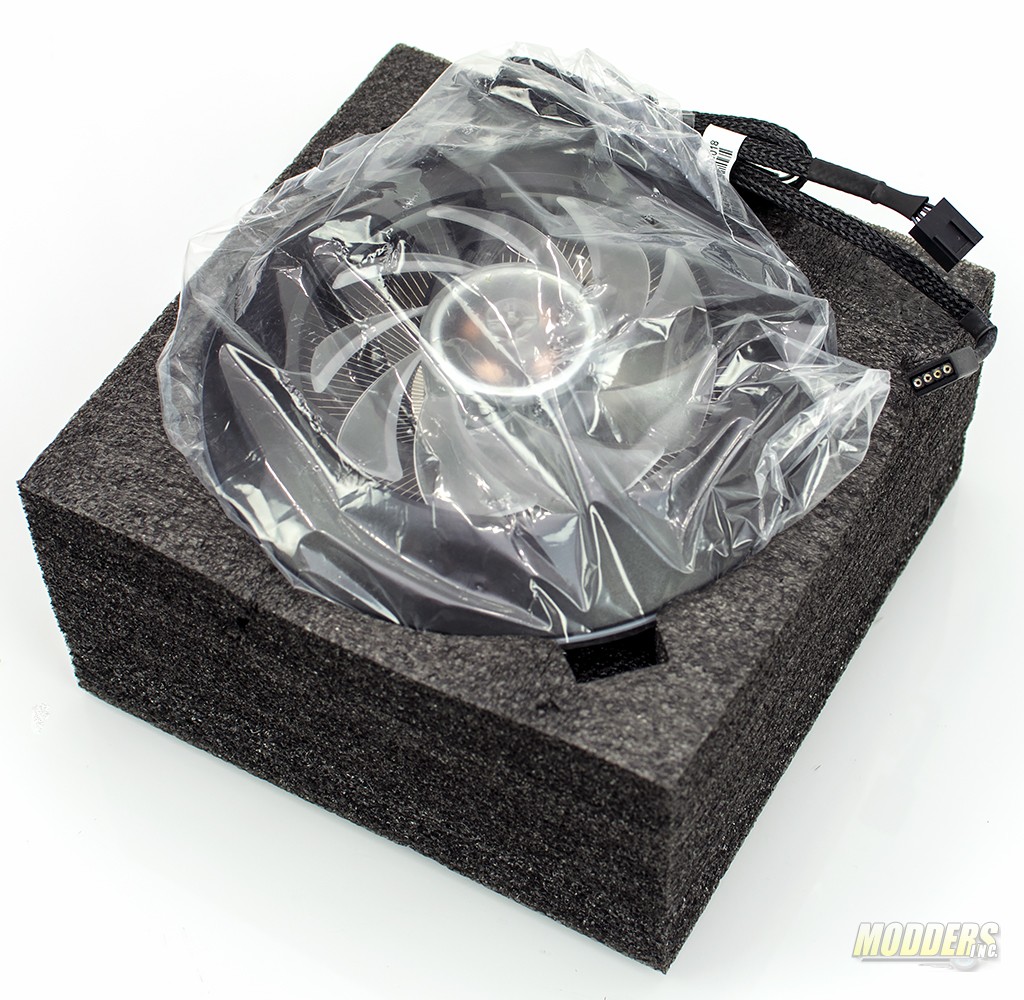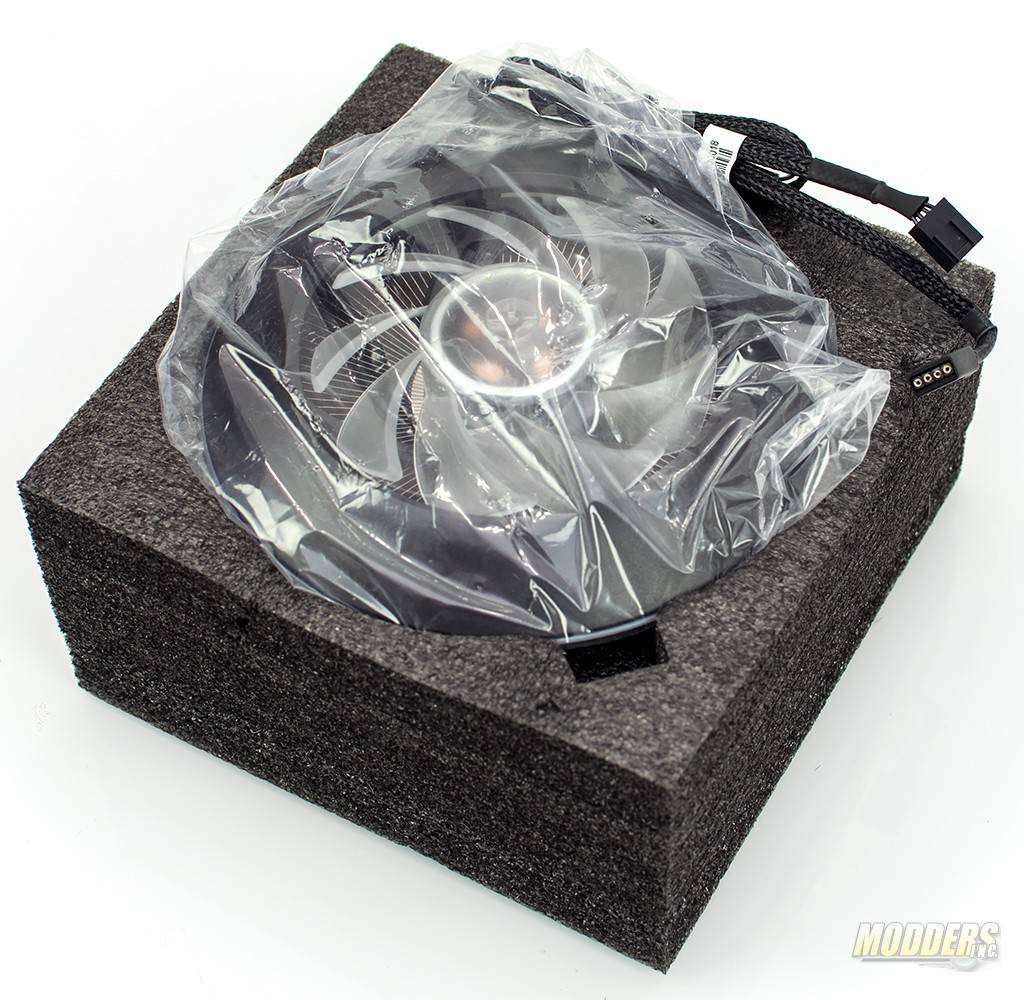 While Cooler Master says the mounting kit is tool-free, that's not really the case as they've included a custom wrench. in this case, tool-free means you don't have to use your own tools. Included in the kit are a backplate and mounting arms for both Intel and AMD sockets, an RGB LED controller, and Cooler Master thermal paste. A Molex connector is included to provide power to the RGB LEDs. Molex, really?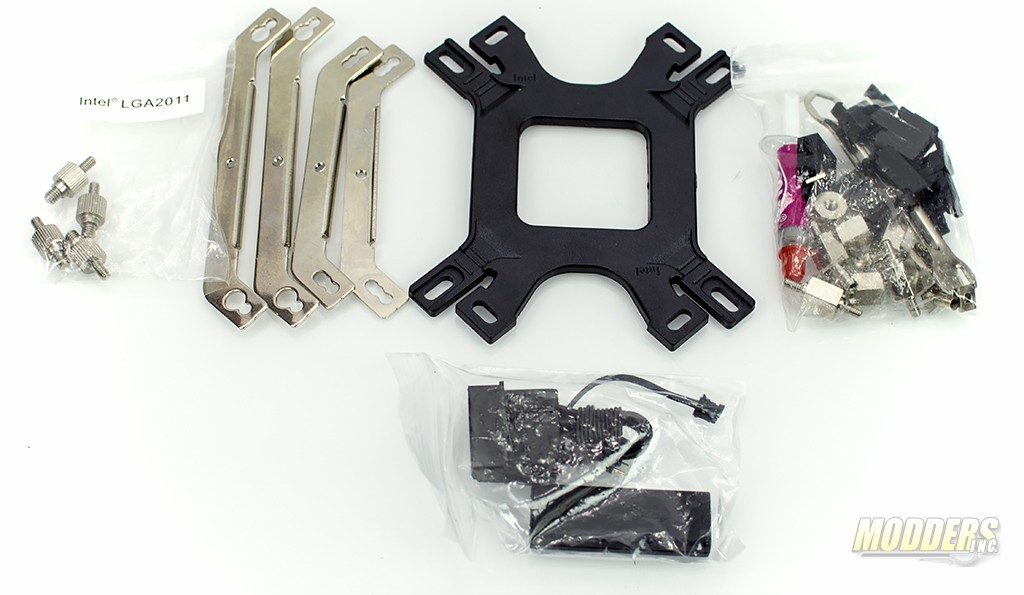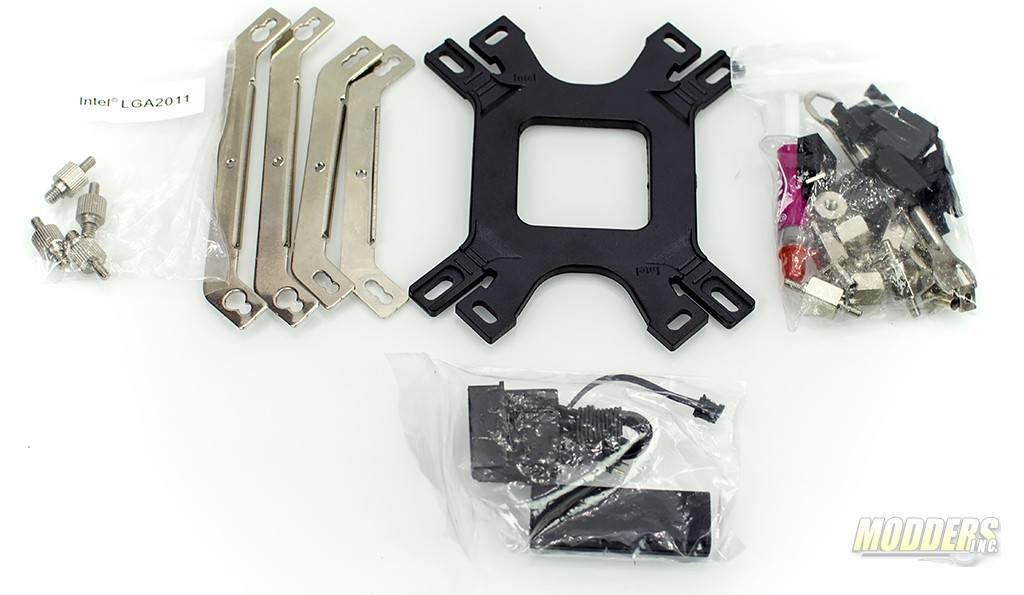 Specifications
Product Name
MasterAir G100M
Model number
MAM-G1CN-924PC-R1
CPU Socket
Intel® LGA 2066 / 2011-3 / 2011 / 1151 / 1150 / 1155 / 1156 / 1366 / 775 socket

AMD® AM4 / AM3+ / AM3 / AM2+ /AM2 / FM2+ / FM2 / FM1 socket

Dimensions
145 x 145 x 74.5 mm (5.7 x 5.7 x 2.9 inch)
Heat Sink Dimensions
143 x 143 x 51.7 mm (5.6 x 5.6 x 2.0 inch)
Heat Sink Material
Heat Column / Aluminum Fins
Heat Sink Weight
320g (0.70lb.)
Heat Column Dimensions
Ø41.2*46.3 mm
Fan Dimensions
92 x 92 x 25 mm (3.6 x 3.6 x 1 inch)
Fan Speed
600~2400 RPM (PWM) ± 10%
Fan Airflow
22.63 CFM ± 10%
Fan Air Pressure
1.6 mmH2O ± 10%
Fan MTTF
280,000 hrs
LED color
RGB ready
Fan Noise Level (dBA)
30 dBA (Max)
Fan Connector
4-Pin (PWM)
Fan Rated Voltage
12 VDC
Fan Rated Current
0.34 A
Fan Safety Current
0.37 A
Fan Power Consumption
4.08 W
Warranty
2 years