« Hardware Installation and Clearance Compatibility
Final Thoughts
Usually when one tries to be many things to many people, it does not turn out well. The modular nature of the MasterBox 5 however makes it very accessible to all manner of users. For beginners, the modular aspect lends to ease of installation that make system assembly on mid-tower systems often frustrating. In the MasterBox 5, almost anything can be moved around so there are almost no obstacles or difficulties even if you have large hands. For advanced modders, the modular aspect lends itself to creative solutions and customizations without breaking out the drill to knock out rivets.  The modular configuration also lends itself to custom water-cooling builds.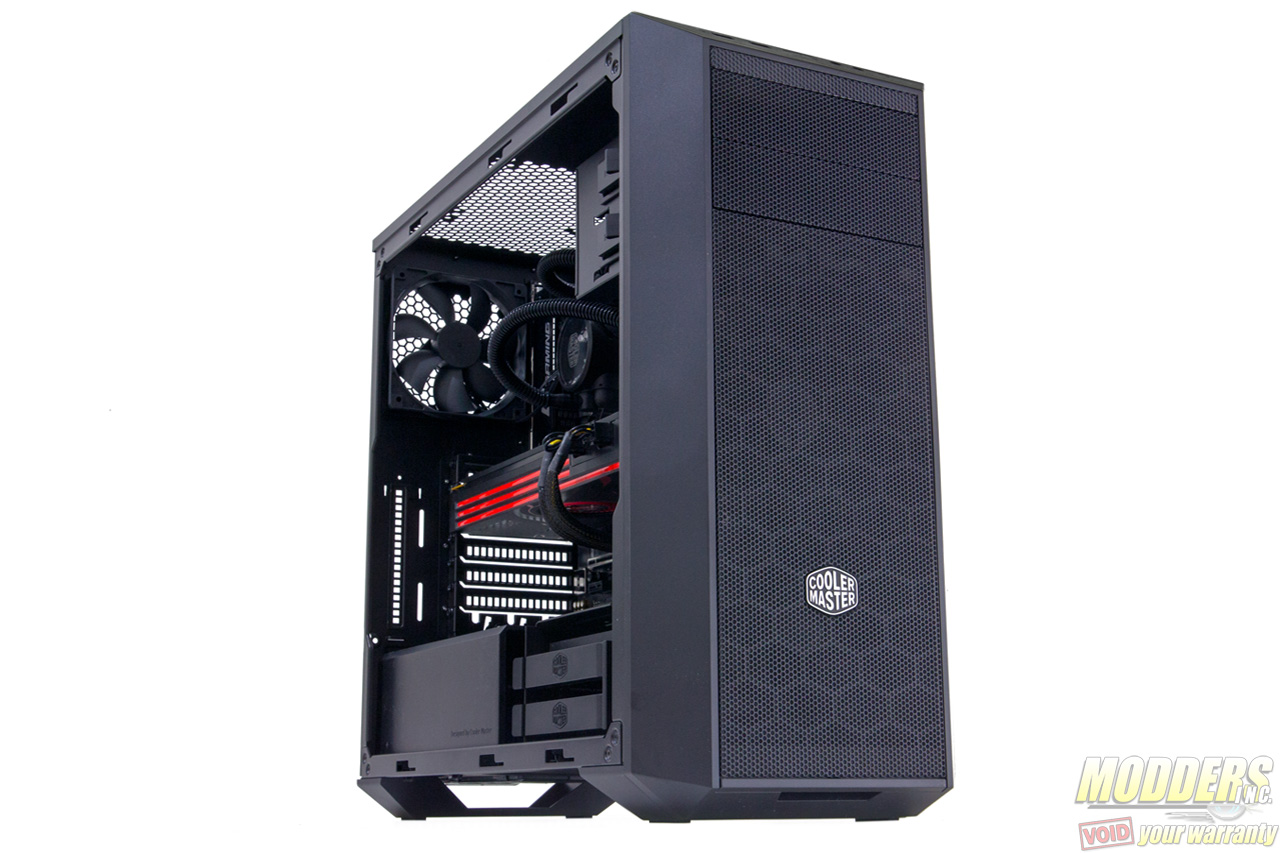 Most of the MasterBox 5's limitation involves mounting components that require additional, non-bundled parts. This includes 360mm radiator support and additional 3.5″ drives beyond the two able to be installed on the single default drive cage. Cooler Master is not alone in this approach to offer extras for  ~$5 to $20 per additional accessory, with Phanteks doing the same thing for the MasterBox 5's closest rival which is their P400 and Pro M cases.  Phanteks has the edge of supporting 360mm radiators out of the box and fully steel construction (including drive cages and PSU shroud) but lack of availability and pricing once it crosses the border into Canada makes it significantly pricier (having a viewing window side panel adds to that price) at $119.99 compared to the US price of $79.99. The MasterBox 5 on the other hand is available for $89.99 Canadian ($79.99 for a limited time during launch period) and firmly so with Cooler Master having stronger distribution ties in Canada. This price bracket however is also quite competitive with some strong offerings from Corsair, NZXT, BitFenix with a lot less flexibility but having more features.
The bundled optional parts for the MasterBox 5 Canada model is fairly sensible having a 5.25″ cage, 3.5″ cage and SSD bracket included, however looking at how small the front fan bracket is (practically the size of a PCI-E slot cover that is 5.25″ drive bay wide), I fail to understand why this was not bundled instead of the PSU cover and/or the CM StormGuard expansion slot bracket. Aside from the front fan bracket and the drive cages, Cooler Master is also offering a windowed side panel for the MasterBox 5 and if it follows the MasterCase 5's side-panel pricing, should have a $19.99 ~ 24.99 price tag.
Customization and personalization is key with Cooler Master's MasterBox case series, in fact they encourage it with several of their media campaigns and case modding events. The flexible modular design seems to be the forward-thinking approach to cases and we will most likely see more manufacturers following this approach pop-up rather than having a high-end flagship with cascading product lines marketed to sub-groups. The modular approach is both beneficial to manufacturers (less tooling work, cost less in the long run) and users (case adapting as user requirements change, case upgrading modularly like the PC itself) so expect this practical approach to stay around for a while.