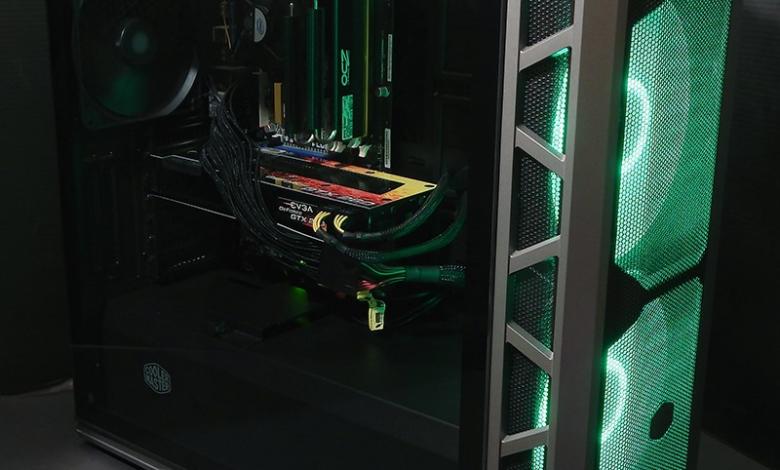 « Inside the Mastercase H500P Mesh!
With my simple components building the Cooler Master Mastercase H500P Mesh was easy.  The Motherboard was simple to mount and slid gently into place.  The rear fan plugged into the case fan connection on the MB.  There were plenty of openings to route cables so that only minimal entry into the open case area was necessary.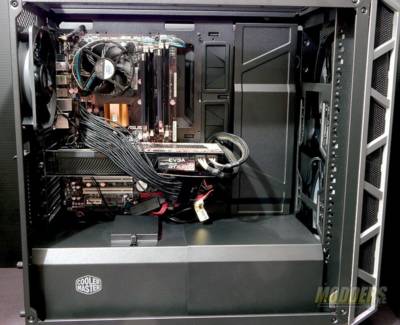 All of the I/O cables slipped under the motherboard at the bottom and easily plugged in.  The 4-pin MB cable at the top corner just peeked over the top to find its home, and the two 6-pin video card cables snaked in too.  The only difficulty was the 24-pin power cable.  I did need to use an extension to not strain this cable.  If I had a little longer one, I would have run it straight over the RAM and through the middle cable grommet.  A few zip-ties would be used to clean it all up.  Notice though that the SSD is not mounted on the PSU cover.
The I/O HD Audio cable has made it too tight to fit the SATA power and data cables here.  If you look close, just below the SATA power cable you will see the slot where the SSD bracket is supposed to sit.  Unfortunately, I am already pushing up against the HD Audio cable.  If I did not want to use the Mic and Headphone jacks on the I/O panel, the SSD would fit here.  Notice the USB 2.0 cable would cause the same issue on the other SSD bracket.
Cable routing is very clean.  With the inside and outside MB tray panels in place and all loose cables tucked in behind the PSU, its a nice setup.  And the SSD bracket fit just right back here.  The other SSD bracket can be mounted right next to it.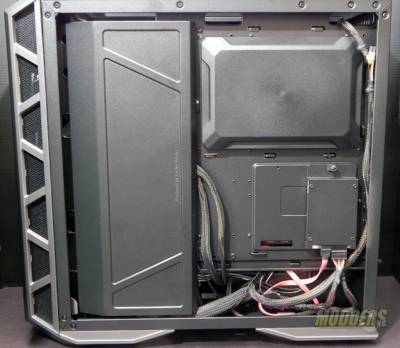 Finally, we have the Cooler Master Mastercase H500P Mesh closed up and lit up!  I couldn't choose which I liked better.  Blue or Green.
The light is reflected back through the case and gives a nice glow to the components.  As functional as it is Elegant, the Cooler Master Mastercase H500P Mesh is a great case.  Perfect for the average builder who want a simple case or the Master Builder who wants to build a showpiece!
From a two-person company to the masters they are today, Cooler Master has created another jewel in their crown with the H500P Mesh.  Cooler Master has packed many full tower features into a mid-tower case. I would rate the Cooler Master Mastercase H500P Mesh in the Must Have category.