A Closer Look at the be quiet! Silent Base 600 »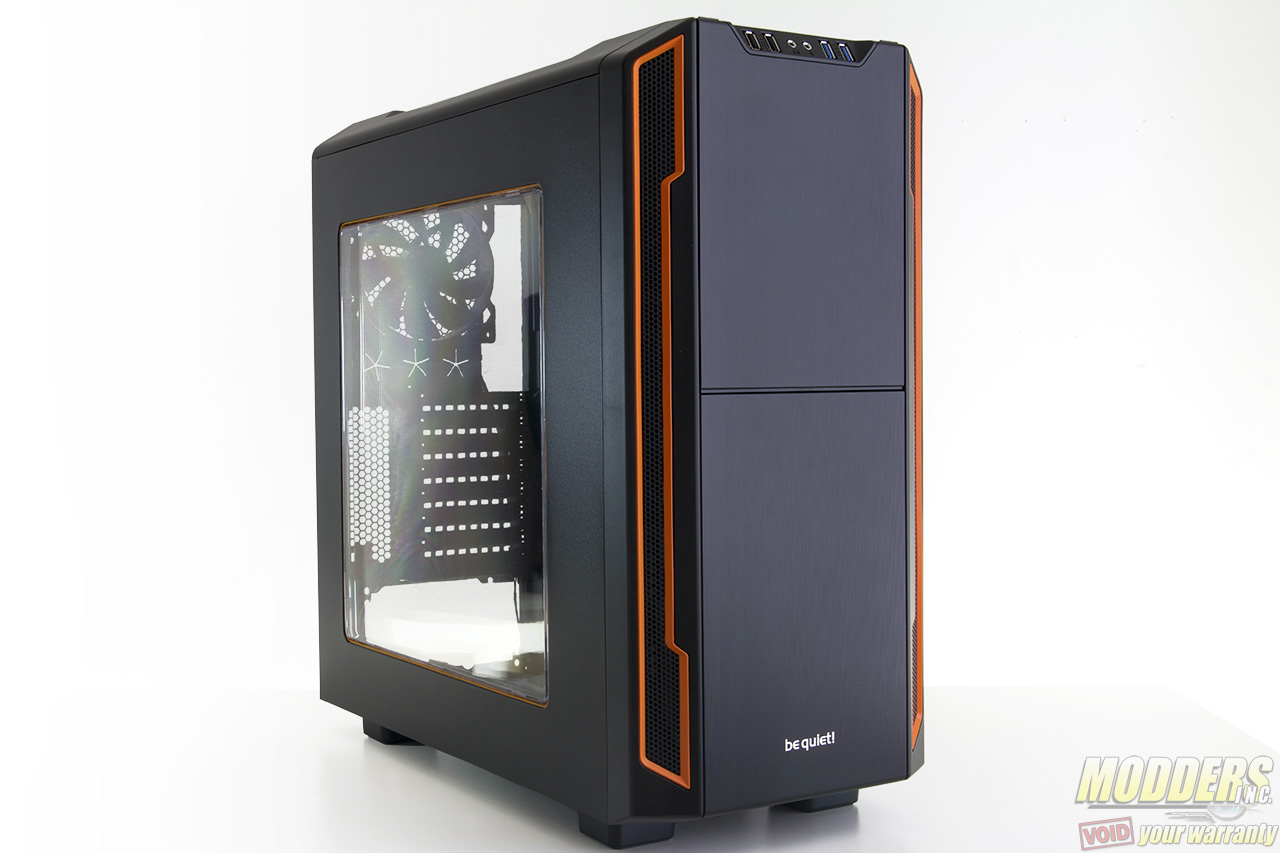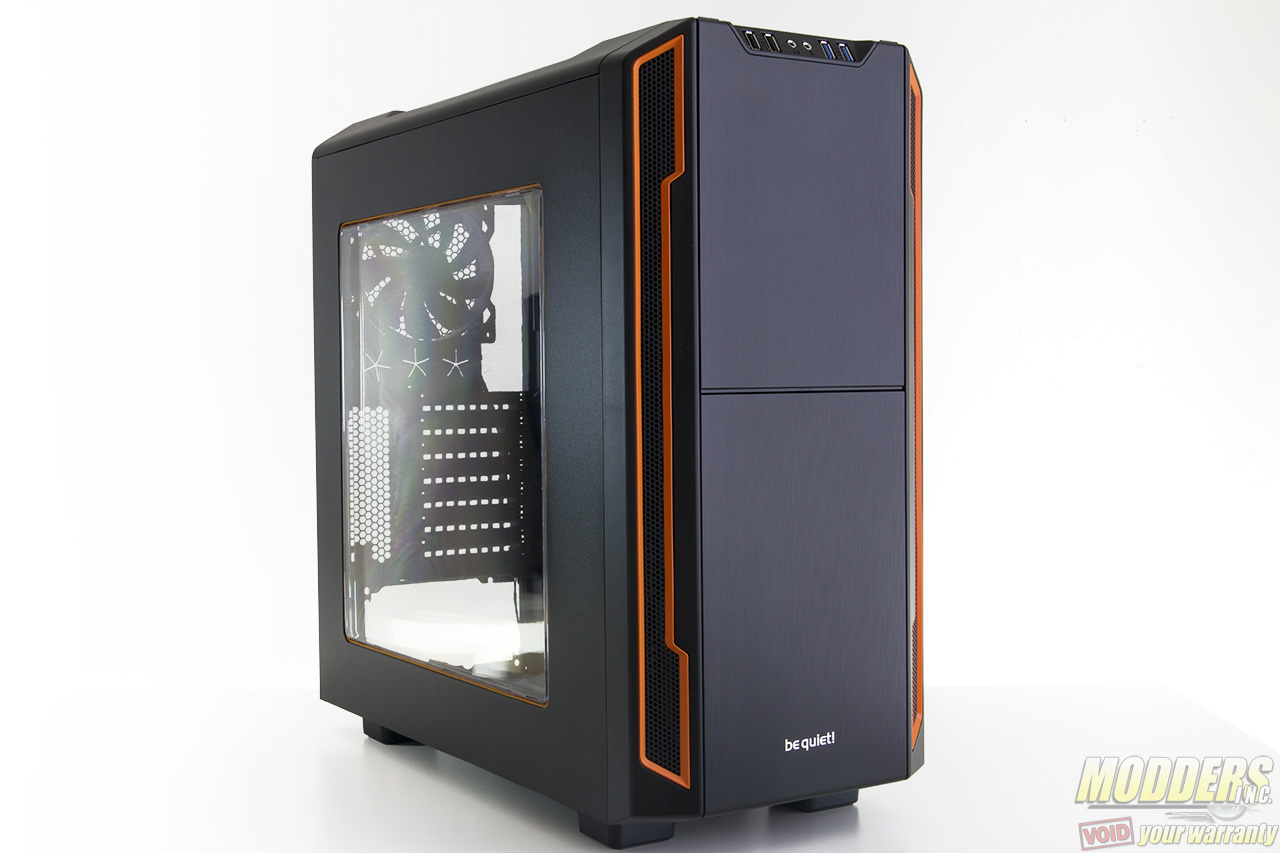 There is perhaps no other company more devoted to silence than German manufacturer be quiet!. Their entire product line revolves around the idea of having the most silent operating PC components around and they are resolutely focused on that goal. With plenty of award-winning coolers and power supplies in their stable, they have launched their first full-tower case in 2014, dubbed the Silent Base 800. Be quiet! is not rushing to flood the market with more cases, instead taking their time in designing a mid-tower solution that can live up to their reputation.
The Silent Base 600 is be quiet!'s first mid-tower case, applying a form-follows-function philosophy that tackles the priority of silence with the modern cooling requirements of high-end PCs. The Silent Base 600 is available in black with orange, black or silver accents similar to the full-tower Silent Base 800 case but with a windowed side-panel version available. Be quiet! has also teased a red accent version to match certain builds such as those with AMD Radeon video cards.
Be quiet! takes a conservative approach to the shipping box with a plain brown cover using black print. Once inside however, there are a few things of note that are atypical of other case packaging: namely the use of fabric cover instead of plastic and supporting foam for the bottom to absorb any extra unwanted impact. The Styrofoam packaging flanking the case on each end is also quite a bit thicker compared to standard mid-tower case packaging.
The documentation containing the user manual and the warranty information sheet are inside a zip-lock bag. The rest of the accessories are inside a smaller box in the case itself. This box was secured by ties but has come off during transport. It's a good thing that the window had a protective film inside as well as outside so it did not get scratched. Hopefully, be quiet! secures this box better in the future to prevent damaging other thing such as fan blades when it gets lose. What some case manufacturers do is to poke holes on the box and run the security tie through it so it does not come lose or to mount it in one of the free drive trays. The accessory box could also be placed outside since there is enough protection with the case covering that it will not scratch the enclosure.
Accessories include motherboard mounting screws and SSD mounting screws (sharing the same screw type), 3.5″ drive screws, power supply mounting screws, speaker, three motherboard stand-offs in addition to the six that are pre-mounted inside the case already and an illustrated quick installation guide.
Contents of the accessory box:
8x 6-32 round head screws for motherboard mounting
6x HDD rubber rail (color matched with the case trim color)
12x M3 thumb screws for the HDD rubber rail
12x M3 x8 flat head screws for drive mounting
4x #6-32 x5 flat head screws for 2.5" drive mounting on the HDD cage
6x M3 x 5 round head screws for 5.25" devices
4x #6-32 hex head screws for power supply
2x black extra motherboard stand offs
2x black long cable zip-tie
2x black short cable zip-tie
1x cable tie holder
Other accessories pre-installed inside the case:
1x 140mm Silent Wings 2 fan for front intake
4x #6-32 x30 flat head screws for front 140mm fan intake
1x 120mm Silent Wings 2 fan for rear exhaust
4x flat-head self-tapping screws for rear 120mm fan exhaust
Specifications
| | |
| --- | --- |
| Motherboard compatibility | ATX, Mini-ITX |
| Case size incl. stands (L x W x H), (mm) | 495 x 230 x 493 |
| Color option | Orange, Silver, Black |
| Weight (kg) | 7.84 |
| USB 2.0 | 2 |
| USB 3.0 | 2 |
| HD Audio I/O | 1 |
| Expansion slots | 7 |
| Fan mounting locations | 7 |
| Covers | ABS Plastic |
| Side panel | 0,7mm Steel |
| Front panel | ABS Plastic |
| Stands | ABS Plastic, Rubber |
| 5.25 Drive Bay | 3 |
| 3.5 Drive Bay | 3 |
| 2.5 Drive Bay | 3 |