A Closer Look at the Cooler Master MasterCase Maker 5t »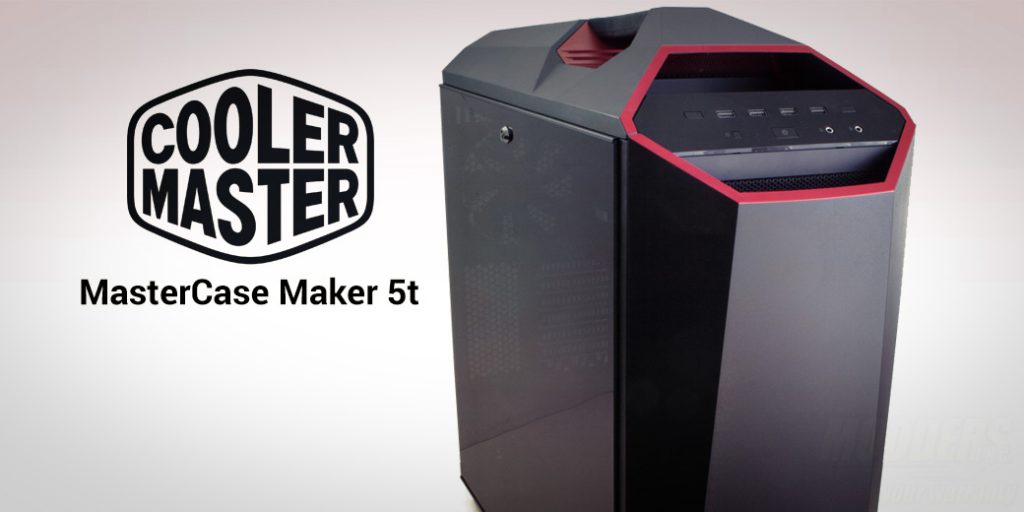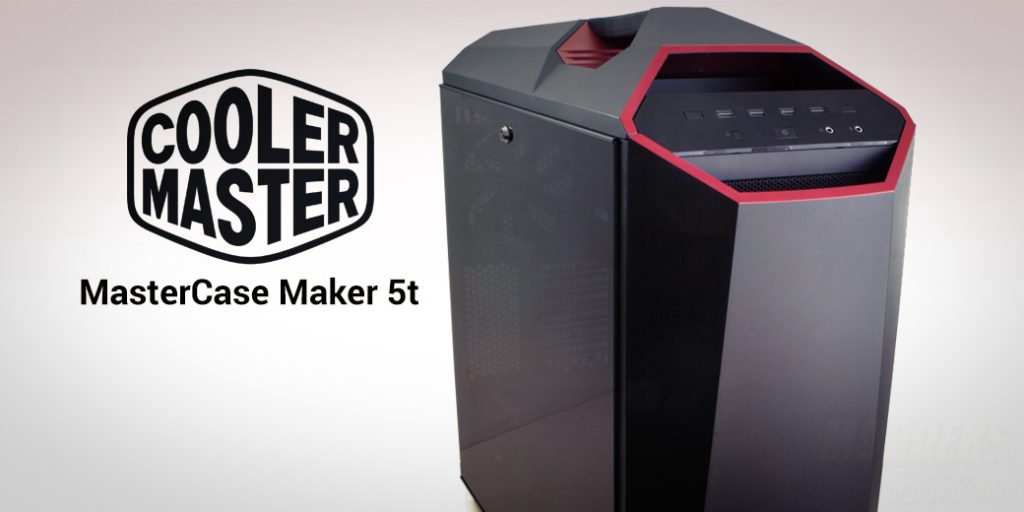 Cooler Master's MasterCase Maker 5t case is the latest flagship mid-tower addition to the company's MasterCase series. With a design that marries the original full-tower CM Storm Trooper/Stryker with the MasterCase 5, the new MasterCase Maker 5t is equipped with a top handle and is compatible with Cooler Master's FreeForm modular system. This means that like other cases in the MasterCase series lineup, the MasterCase Maker 5t can upgrade parts incrementally, swap components with other cases from the same family and can easily replace some features it necessary, making it a perfect case modding platform to personalize. Priced at $249, the MasterCase Maker 5t comes with 5mm-thick tempered glass side panels on both sides and features a built-in fan and LED controller at the front.
As the flagship mid-tower case, the MasterCase Maker 5t enjoys a substantially upgraded packaging as well. No brown box here. Instead it uses a full-tower sized full-color carton with premium gray polystyrene foam padding inside which is much denser than typical case foam protection.
The accessories are housed in a tin with a foam padded underside which is also magnetic so it can actually be stored in the MasterCase Maker 5t itself. The documentation and a micro-fiber wipe-cloth can also be found in the same padding nook. Instead of a plastic cover, a foam sheet provides additional protection to the case.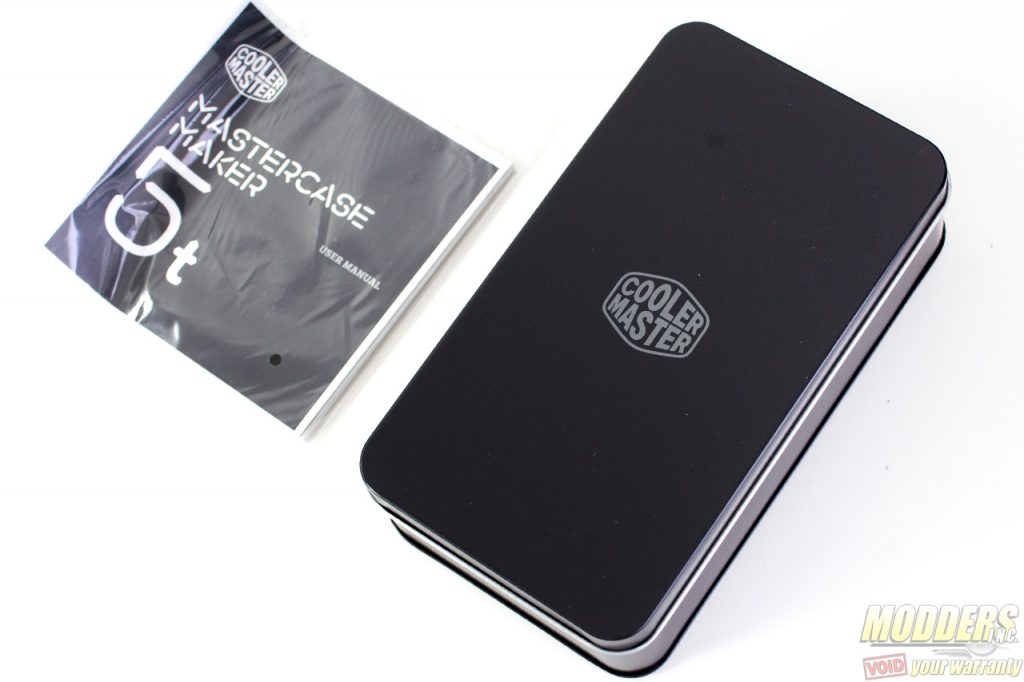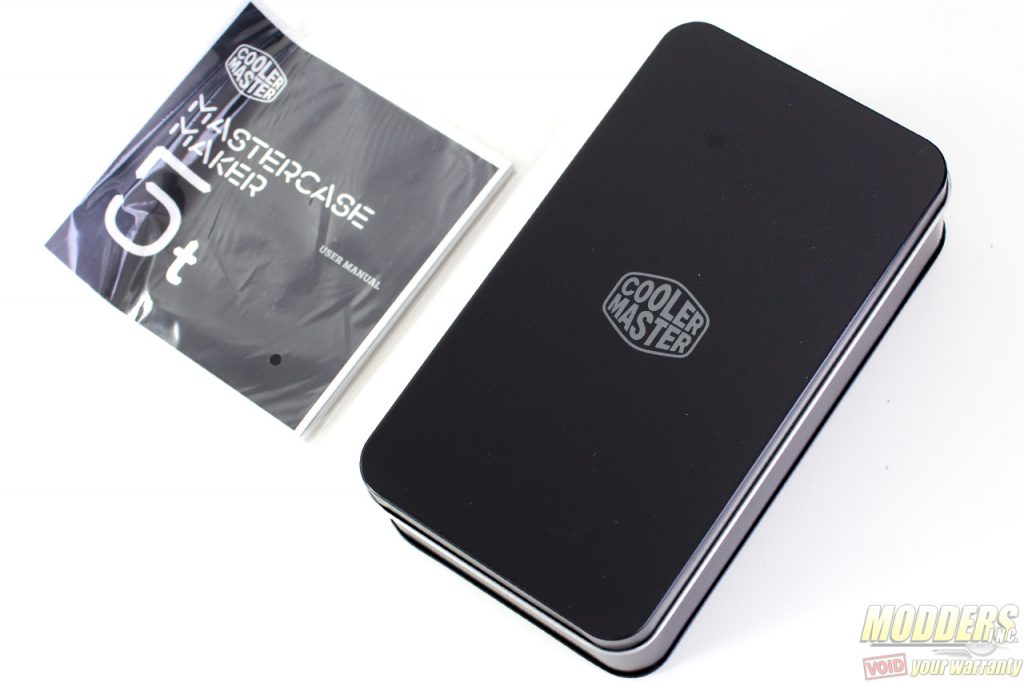 The manual is a simple fold-out sheet illustrating the various combinations and flexible functions available with the MasterCase Maker 5t. The accessories inside the tin come pre-sorted and marked for easier storage.


Contents of the accessory pack:
10x black zip-ties for cable management
2x line-bucklet for cable management
2x tempered glass side-panel key
1x #6 – 32*5 screw with lock bracket for security
8x Ø5*10 screws for top fan
1x motherboard stand-off socket adapter
7x motherboard stand-offs (two pilot stand-offs already pre-installed)
15x #6-32*5 screws for motherboard/PSU/fan cage mounting
4x M3*5 screws for reinforcing ODD mount
2x #6-32*6 screws for HDD cage holder
12 x #6-32*29 screws for front fan
2x #6-32*10 screws for HDD cage
8x M3*4 screws for 2.5″ SSD
4x M3*6 screws for fan controller bracket
4x Ø3*6 screws for fan controller bracket
4x Ø3*8 screws for fan controller bracket
2x 5.25″ bridging connector
1x top fan bracket
Other accessories pre-installed inside the case:
3x 140mm 3-pin fan
1x CM StormGuard theft-prevention security tool
Specifications
Product Name
MasterCase Maker 5t
Model Number
MCZ-C5M2T-RW5N
Available Color
Metallic red-black
Materials
Steel body, Plastic mesh bezel, Tempered glass panels (both sides)
Dimensions (LxWxH)
544 x 242 x 574 mm
Net Weight
13.5kg
Motherboard Support
ATX, Micro-ATX, Mini-ITX
Expansion Slots
7
Drive Bays
5.25″
2
3.5″
2
2.5″
2+2
I/O Panel
USB 3.0 x 4
Audio In & Out (supports HD Audio)
Fan Speed Control H/L
LED light control button (light on, breathing light, light off)
Pre-installed Fan(s)
Front
140mm x 2 (1200RPM)
Rear
140mm x 1 (1200RPM)
Fan Support
Front
120/140mm x 3
Rear
120/140mm x 1
Top
120/140mm x 2
Liquid Cooling Support
Front
120mm / 140mm / 240mm / 280mm radiator
Rear
120mm / 140mm
Top
120mm / 140mm / 240mm / 280mm (maximum 297mm radiator length)
Clearance
CPU Cooler
190mm / 7.48″
PSU
200mm / 7.87″
Graphics Card
296mm / 11.7″ (with 3.5″ HDD cage)
412mm / 16.22″ (w/o 3.5″ HDD cage)
Cable Routing
Behind Motherboard Tray
35mm
Dust Filters
Top, Front, bottom
Power Supply
Bottom mount, ATX
Lighting Support
Red LED strip x1 (pre-Installed)
4 LED connections in total available (3 available out of the package)
Extra features
MasterCase M-Port Graphics Card Holder