« A Closer Look at the Cooler Master MasterCase Maker 5t
|
Final Thoughts »
Hardware Installation and Clearance Compatibility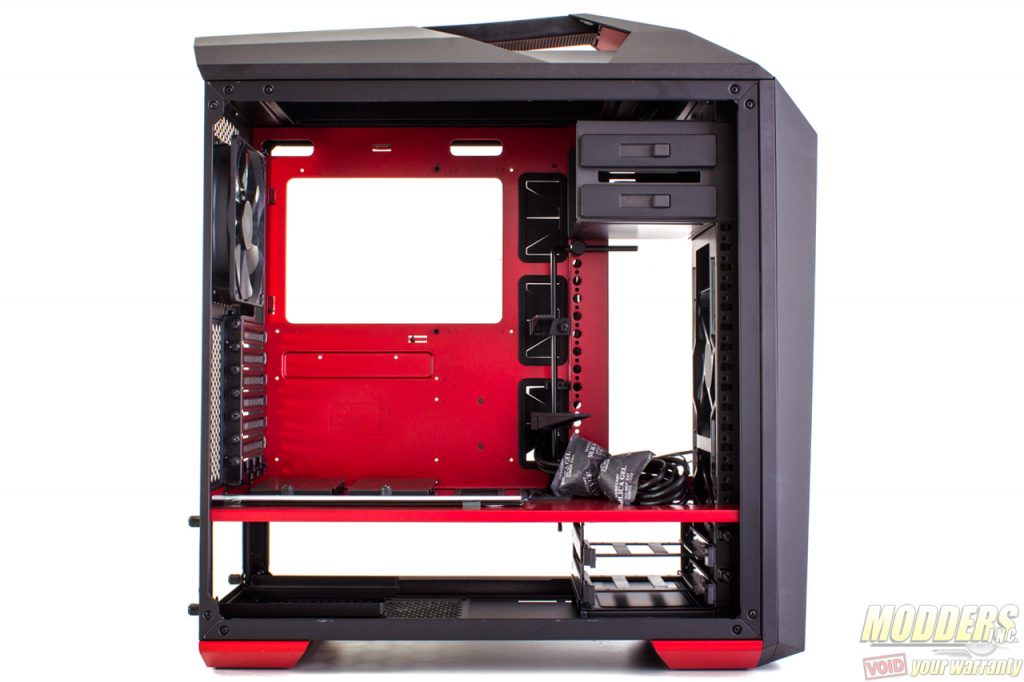 The default layout of the MasterCase Maker 5t is just one way to install components inside, the rest of the pieces are reconfigurable in multiple ways in order to support a particular build or component. Cooler Master offers these individual pieces separately as well, giving users the option to add-on mounting cages if they require so later on. Every single item that is within each criteria in Cooler Master's FreeForm Modular system is compatible with each other so users can swap out parts from each case or upgrade incrementally.
Front mounted radiator:
Up to 3x 120mm or 3x 140mm fans
120, 140, 240 or 280mm radiators
Internally up to 78.5mm clearance gap inside the PSU chamber tray if bottom HDD cage is moved/removed (not including space for fan in between case and front panel).
Rear Radiator:
Rear 120 or 140mm  fans or radiators supported
Top Radiator:
Up to 2x 120mm or 2x 140mm fans
120, 140, 240 or 280mm radiators (maximum 297mm radiator length inside ceiling.
There is 65mm of space between the ceiling and before the motherboard begins.
Radiator thumb screws such as the one provided by Cooler Master for their MasterLiquid series AIO coolers cannot be used on the area directly below the handle but it can be used on the fan mount area not directly underneath the red exhaust area. Users must use regular radiator screws here instead (such as the long fan screws bundled with the Maker 5t).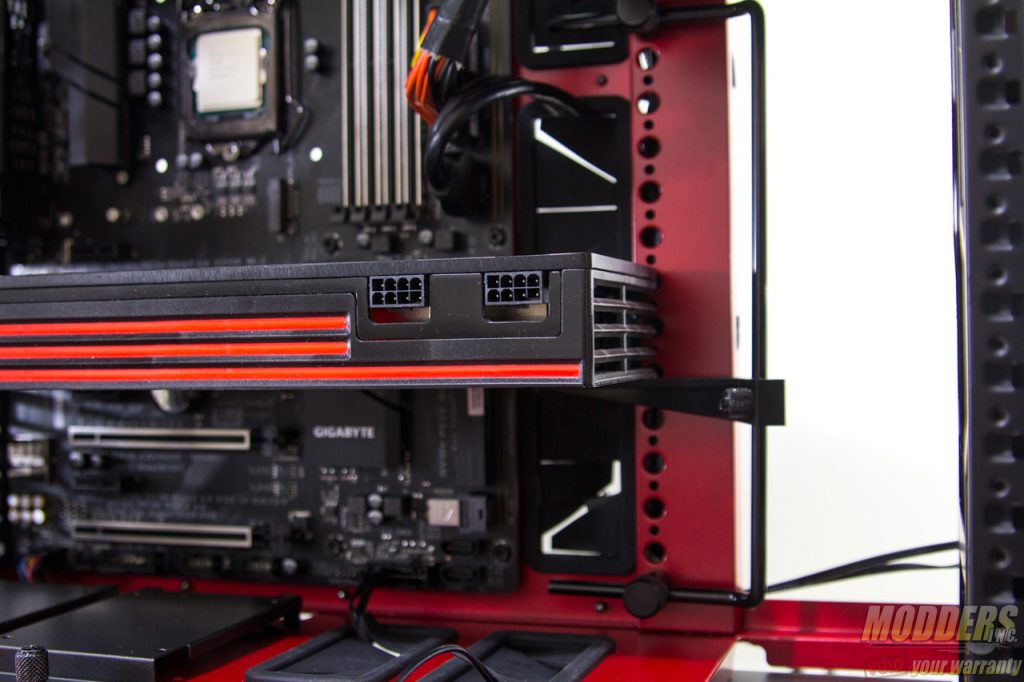 Video Card clearance:
Since there is no HDD cage on the way, there is a 412mm clearance total.
Video card support bracket included (can be positioned for shorter or longer graphics cards, or removed completely)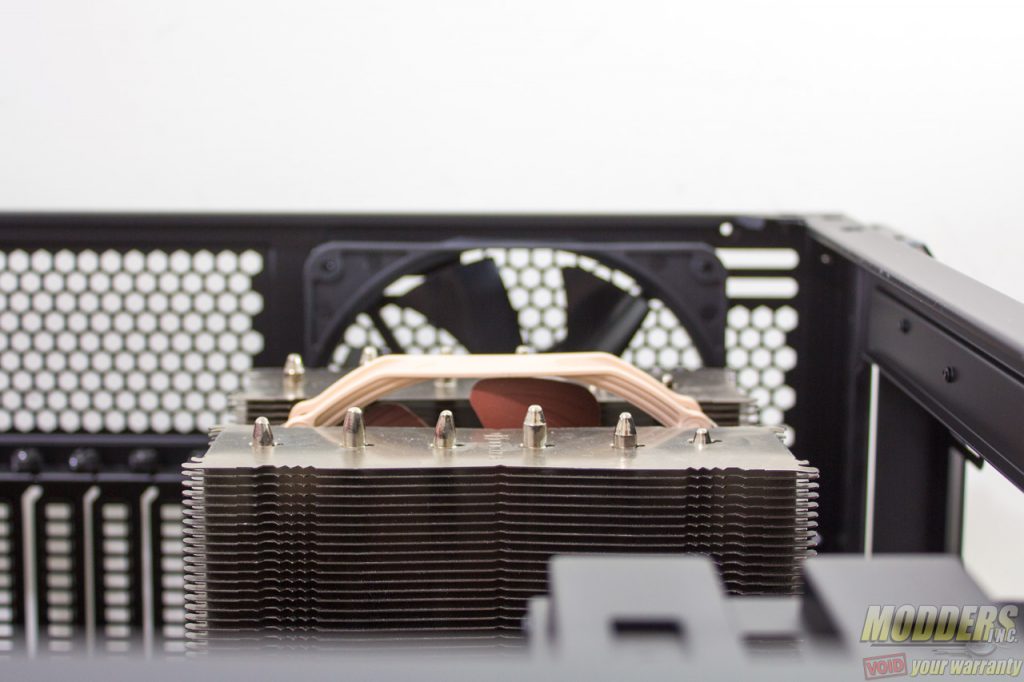 CPU Tower coolers:
CPU heatsink height clearance is generous and was able to fit the 165mm tall NH-D15S easily.
190mm total height clearance
Large CPU backplate cutout
5.25″ installation:
Optical disc drives can be used even with front cover if positioned at the top most part (front cover is plastic hinged and magnetic locking)
Tool-less installation on left side but can be reinforced with screws on the other side.
Can be removed entirely for extra fan room for front intake.
3.5″ HDD installation:
3.5″ HDD cage is made of metal while the caddies are made of plastic, 3.5″ drive installation is tool-less (can be reinforced with provided screws)
The 3.5″ HDD cage can be moved back two spaces from the default position to provide front radiator / fan clearance.
The 3.5″ HDD cage can be positioned up if the video card holder bracket is removed.
2.5″ installation:
Two 2.5″ metal brackets are provided which supports up to two 2.5″ devices (one inside and one at the top held in place by screws ).
2.5″ brackets can be installed either behind the motherboard tray or on the PSU chamber tray.
Due to tight clearance on the bottom 2.5″ device, a straight angle SATA power/data cable is recommended if using two drives on one bracket.
The 3.5″ HDD caddy also supports 2.5″ drive mounting with screws at the center.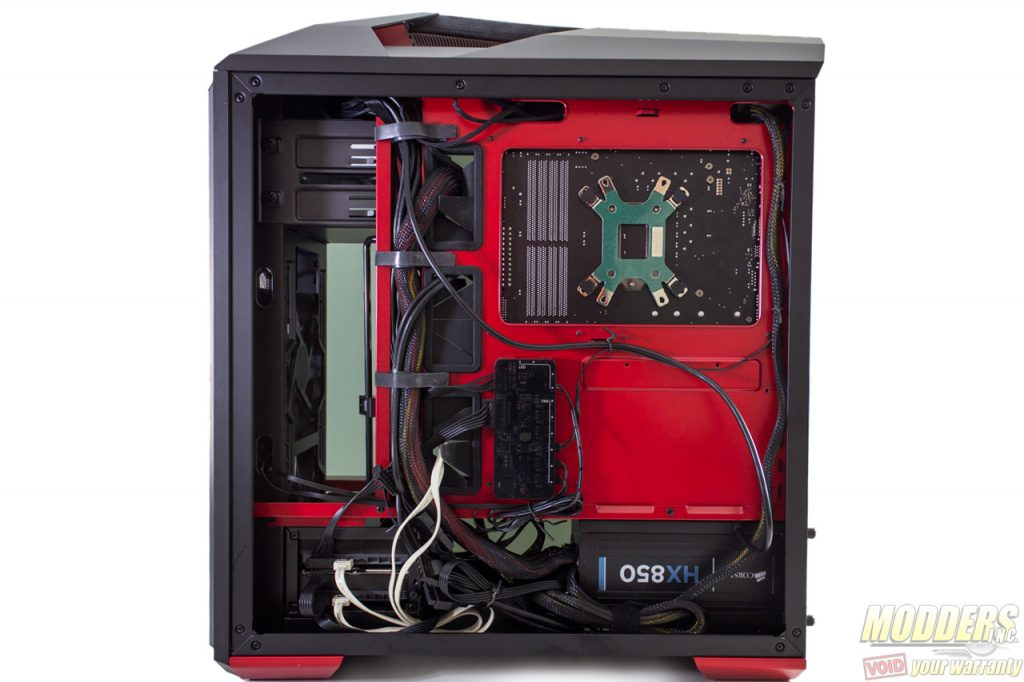 Cable management:
There are nine routing holes in total, unobscured, four of which have grommets.
Behind the motherboard tray, there is 24mm of clearance for cable management, and on the HDD level, there is 39.5mm of clearance so straight SATA cables can be used.