Page 2 »
The NZXT Gamma Classic case is oriented towards providing a superior air flow capability with in the case while concentrating on VGA and CPU cooling.  This case is featured with one 120 mm fan on the back, but it is capable of handling up to six fans in the case.  As we take a look at the NZXT Gamma Classic case we will show you that the front panel design plays a big role on the cooling of the entire case.  In addition Gamma is also a water cooling ready case, so you won't have any problems if you upgrade.

Sponsor: NZXT
[hr]
Today we are going to take a look at the Gamma Classic Mid Tower Case by NZXT and this case has been designed specially for computer enthusiasts, like yourself.  This case provides exceptional cooling for all of your PC components whether they are air or water cooled.  NZXT has been out on the market for a number of years and have based them selves as one of the top manufacturers of high air flow optimized computer cases.  What makes a good air flow optimized case you may ask?  One most important aspect to keep in mind is the cable management with in the case.  By hiding your cables you could achieve a better air flow and prolong the life of your components.  Let's take a closer look at Gamma Classic and see what it brings to the table.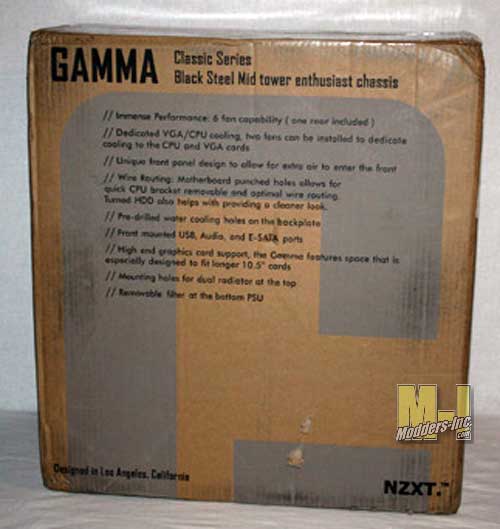 Gamma Classic comes in a pretty much standard packaging box.  On both sides of the box we found a few NZXT logos and some information on the actual case.  We will get in to the details on what is inside of the case in a little bit, but its worth of mentioning that this case is a steal case and well, it is on a heavy side.  This case is about 12 pounds without power supply.  So expect your whole PC to be about 20+ pounds.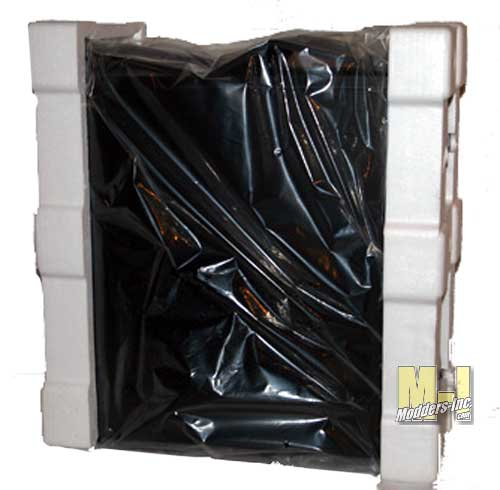 Gamma Classic comes in tightly secured foam.  This foam packaging keeps the case in one place while shipping and plastic bag protects the actual case from accidental scratches during shipping.  You might find this kind of packaging on almost every PC case.
MODEL
GAMMA SERIES
CASE TYPE
MID TOWER Black interior chassis
FRONT PANEL MATERIAL
Steel
DIMENSIONS (W x H x D)
190 X 449 X 508 mm
COOLING SYSTEM

FRONT, 1 x 120mm

SIDE, 2 x 120mm

TOP, 2 x 140/120mm
REAR, 1 x 120mm, 23db/42CFM (included)

DRIVE BAYS
11 DRIVE BAYS 
4 EXTERNAL 5.25″ DRIVE BAYS 
7 INTERNAL 3.5″ DRIVE BAYS 
MATERIAL(S)
Steel Construction
EXPANSION SLOTS
7
POWER SUPPLY
500 WATT PS2 ATX 12V 2.0 ( OPTIONAL )
WEIGHT
6 KGS (W/O Power)
MOTHERBOARD SUPPORT
MOTHERBOARDS: ATX, MICRO-ATX, BABY AT
Features
 
6 fan capability ( one rear 120mm included )
Black Interior
Meshed front panel allows for more airflow
Wire routing: motherboard punched holes allows for quick CPU bracket removable and optimal wire routing, turned HDD also helps with managing cables
Pre-drilled water cooling holes on the back plate
Front mounted USB, audio, and ESATA ports
Support for external dual radiator at the top of the chassis
High end graphics card support, the Gamma features space that is especially designed to fit longer 10." cards