Page 2 »
 For those of you that already know about the quality products that Lian Li makes you come to expect certain things like innovation and style. But those that may not have had the chance to experience it you are in for a treat as we take a look a the Lian Li PC-V700 Mid Tower Case… or is it?
  [hr]
First Look
  Our sample started off life as pre-production model so some of the features that you will be seeing have changed. I do have some photos of the changes so you will be able to compare them. Overall the design did not change it was just some of the features.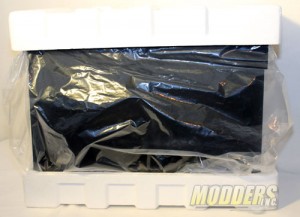 Here we can see that that the PC-V700 was securely packaged and protected when we open the non retail box. This give you a great feeling that you product is well protected when traveling to you ans as you know it can be a rather bumpy ride.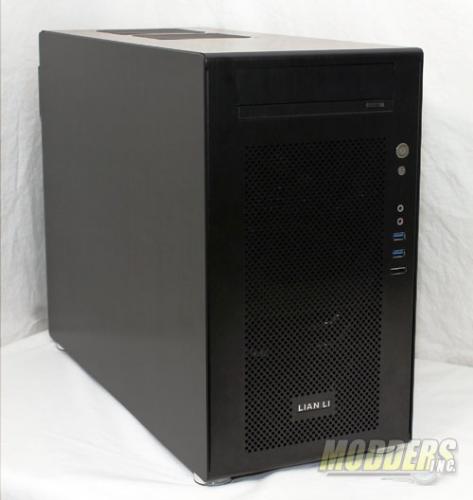 Once out side of all the protective gear we get our first look and this all black anodized case. The chassis is called a mid tower but when you see it in person you notice right away that the physical size is not quite like other mid tower cases. The overall height is much small that a "standard" mid tower case. I will be showing you why soon, but for now take a look at the specifications that Lian Li has laid out for us.
Case Type – Mid tower chassis 
Dimensions – (W) 210mm x (H) 400mm x (D) 496mm 
Front bezel Material – Aluminum 
Color – Black / Silver / Internal Black 
5.25″ drive bay (External) – 1 
3.5″ drive bay (External) – None 
HDD bay – 3.5-Inch HDD x4( Hotswap ) / 3.5-Inch HDD x2 / 2.5-Inch HDD x2 
Motherboard – ATX / Micro ATX 
System Fan (Front) – 140mm Fan x 1 
System Fan (Top) – 120mm Fan x 2 
System Fan (Rear) – 120mm Fan x 1 
I/O Ports – USB3.0 x 2 / USB2.0 x1 / e-SATA x 1 / HD Audio
VGA Card length: 440mm
PSU length: 180mm
CPU cooler height: 160mm
Package Dimensions
(W) 270mm x (H) 444mm x (D)558 mm
Power Supply -Standard ATX PS2 (Optional )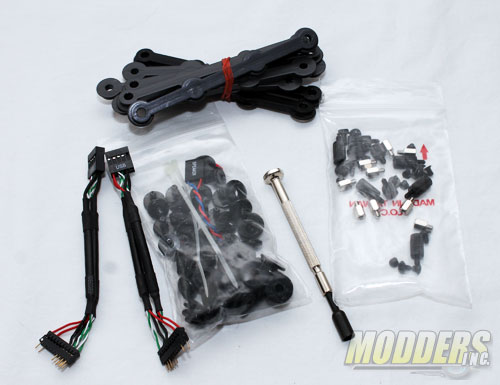 Included with the case is all the items needed to install your hardware (as tool less as possible), such as anti-vibration rings for the hard drives, motherboard mounts, screws, plus two USB 3.0 to USB 2.0 converters.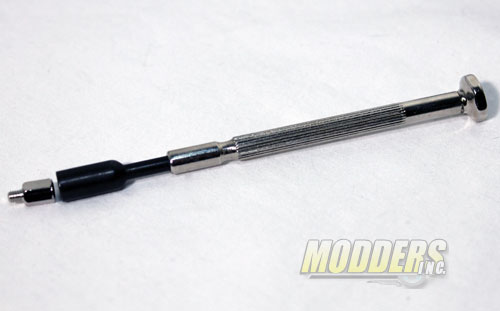 A great little tool that Lian Li included is a special nut driver that fits the size of the motherboard stand off mounts. This will come in handy when working with any system.