Cooler Master MasterSet MS120 Keyboard+Mouse Combo Review
Article Index:
A Closer Look at the Cooler Master MasterSet MS120 Keyboard
The Cooler Master MasterSet MS120 uses a 100% ANSI 104-key layout on a conservatively styled frame. Similar to the rest of Cooler Master's mechanical keyboard offerings, the keycap sizes use a standard 1.25x bottom row modifiers so they are easily interchangeable with a different keycap set. This specific sample uses a US international layout, but Cooler Master offers 14 other layout options:
Traditional Chinese
UK
Traditional Arabic
Pan Nordic
French
German
Italian
Spanish
Portuguese
Brazilian Portuguese
Swiss
Hungarian
Turkish
Russian
Textured rubber pads at the back keep the 118 (L) x 78.5 (W) x 39.5 (H) mm keyboard in place while on a desk and it can be flipped up to raise the back up 14mm from the surface.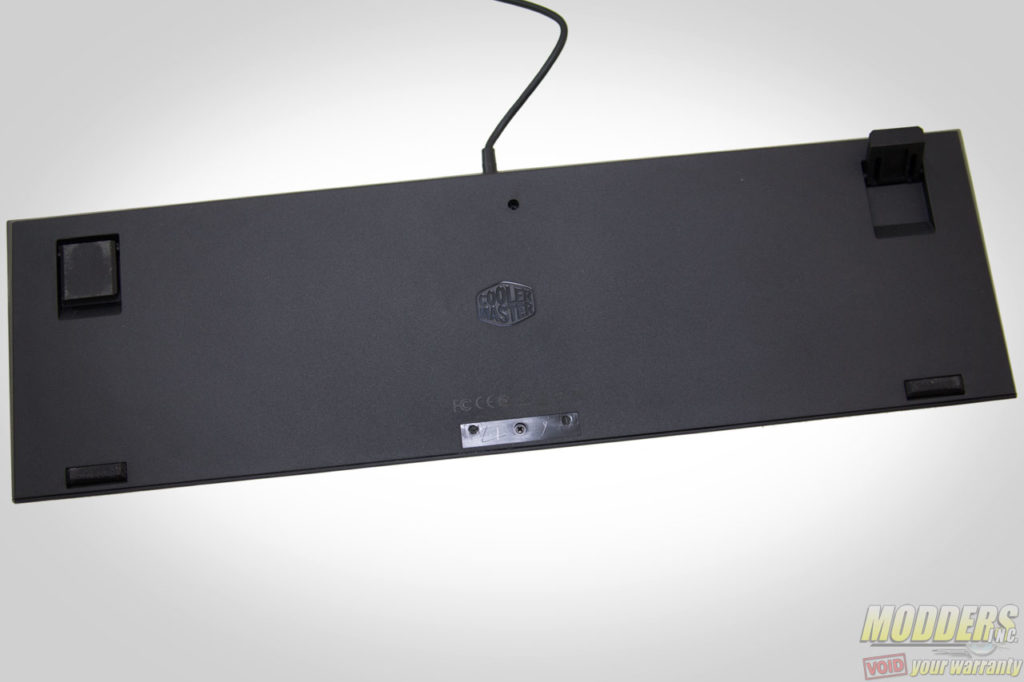 The top frame of the body has also been lowered so as to allow more light to shine out. The MasterKeys Lite L had a deeper top frame in comparison.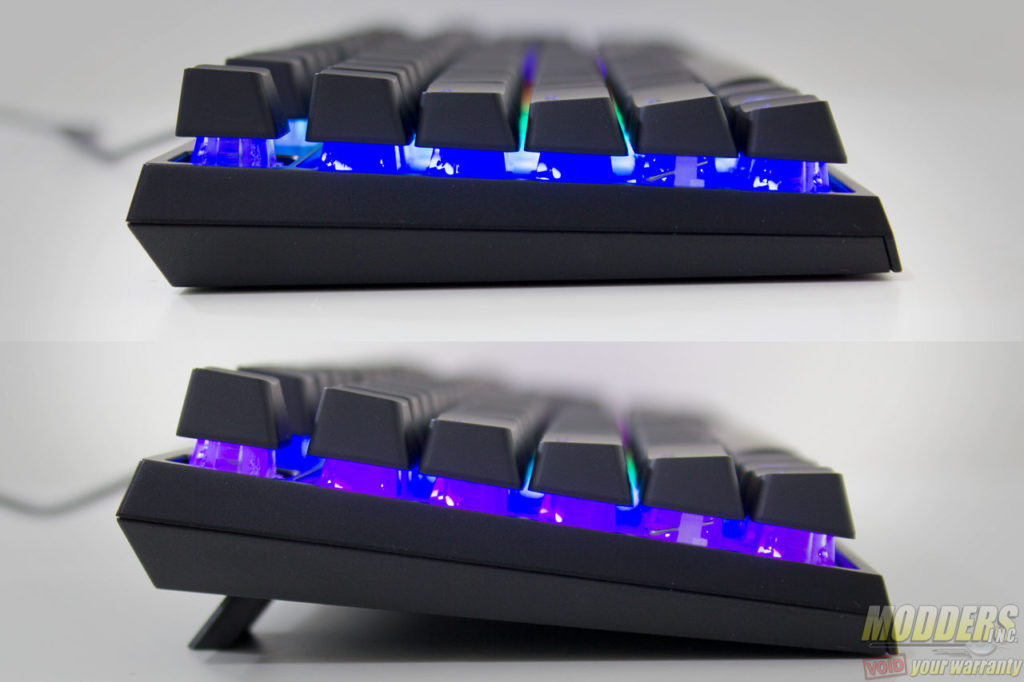 Unlike mechanical keyboards from Cooler Master, the USB is hardwired into the frame.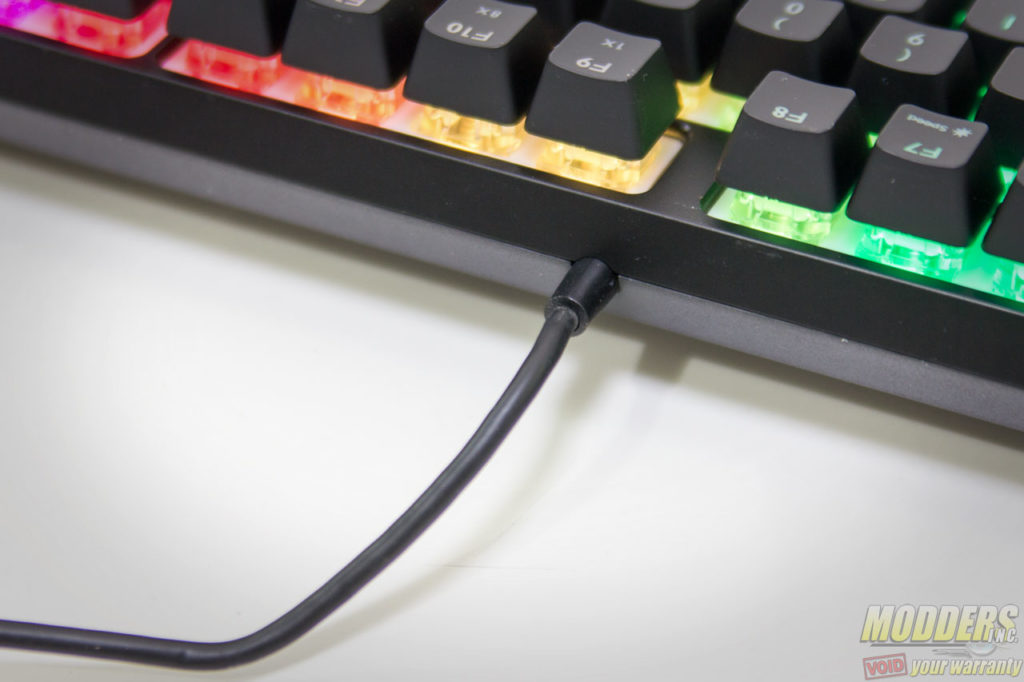 Switch Type and Keycaps
Like the previously reviewed MasterKeys Lite L, the MasterSet MS120 keyboard's keys mount using a similar Cherry MX compatible cross-mounting stem. The modifiers use wire stabilizers similar to other membrane keyboards instead of dummy switches.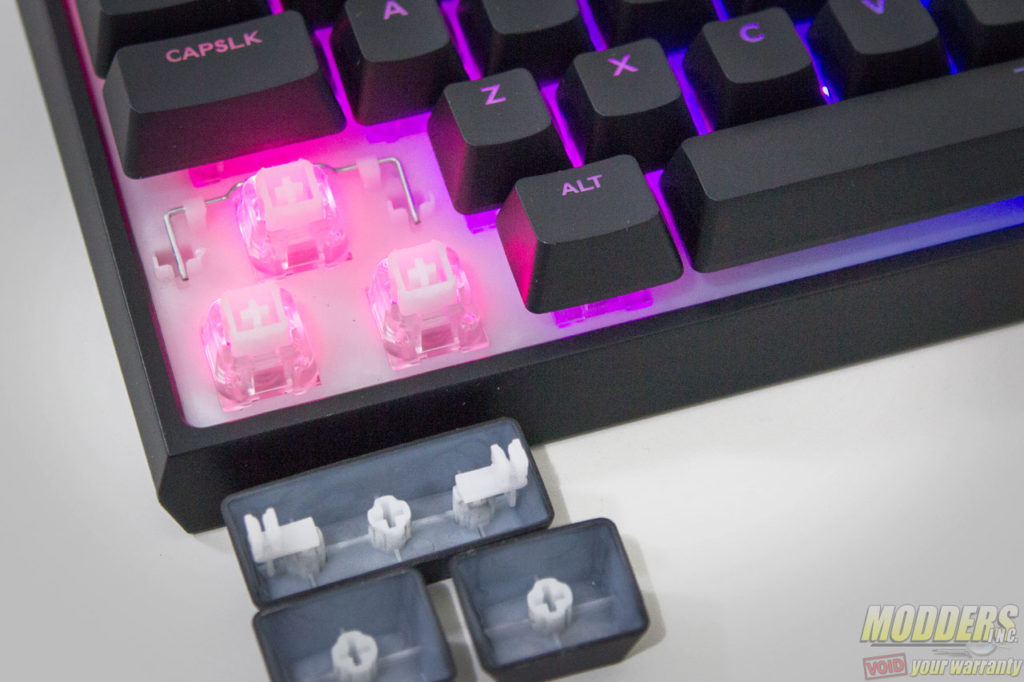 The big difference is that the new MasterSet MS120 feature a different mem-chanical switch design that actually integrates a spring into the housing unlike the MasterKeys Lite L. This results in a "clicky" mem-chanical feel and sound. The "click" is very prominent, although the reset feels shorter than a Cherry MX blue. The throw is not too far before the click initiates as well. The addition of the spring provides a more consistent pressure input than the MasterKeys Lite L. The steady support housing is also clear to allow for more of the RGB LED lighting to shine through.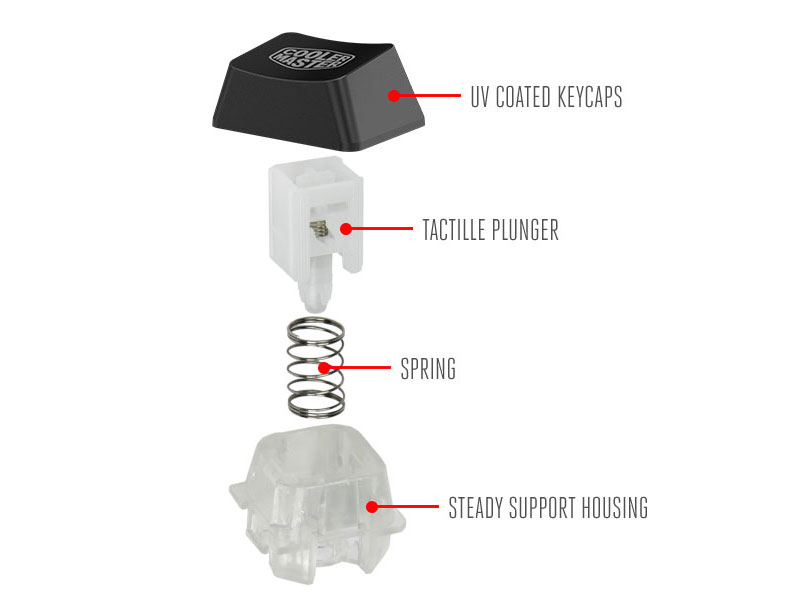 LED Controls
Since it uses a 104-key layout with no extra buttons, additional features are accessed via combo keys with the Fn key located where the context key is normally located beside the right Windows key. In combination with the Function keys at the top and the standard nav cluster, users can adjust backlight control, lock the keys, control repeat rate and control multimedia functions.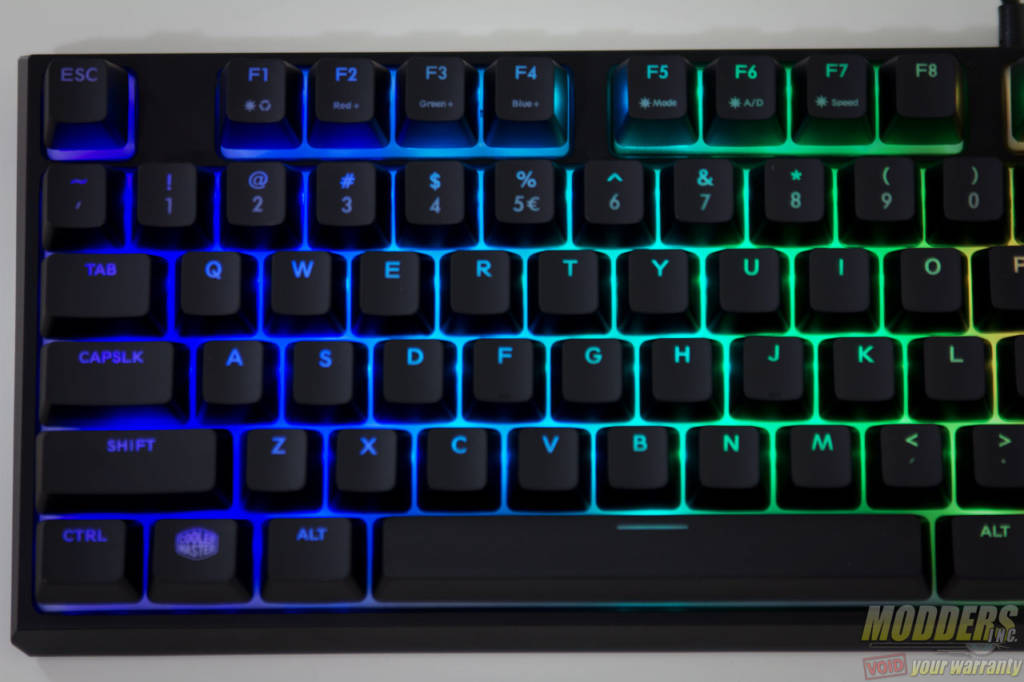 Fn+ESC = On/Off Backlight
Fn+ESC (hold for +6~10 seconds) = Reset, also handy when the Fn key responsiveness lags
Fn+F1 = Quick Pick 10 Different Colors
Fn+F2 = Add red light (5 levels)
Fn+F3 = Add green light (5 levels)
Fn+F4 = Add blue light (5 levels)
Fn+F5 = Cycle Modes (solid, breathing, kaleidoscope, reactive, color shift, ripple, RGB wave, zoned)
Fn+F6 = Zone and Cycle Direction
Fn+F7 = Cycle Speed
Lock and Repeat Rate controls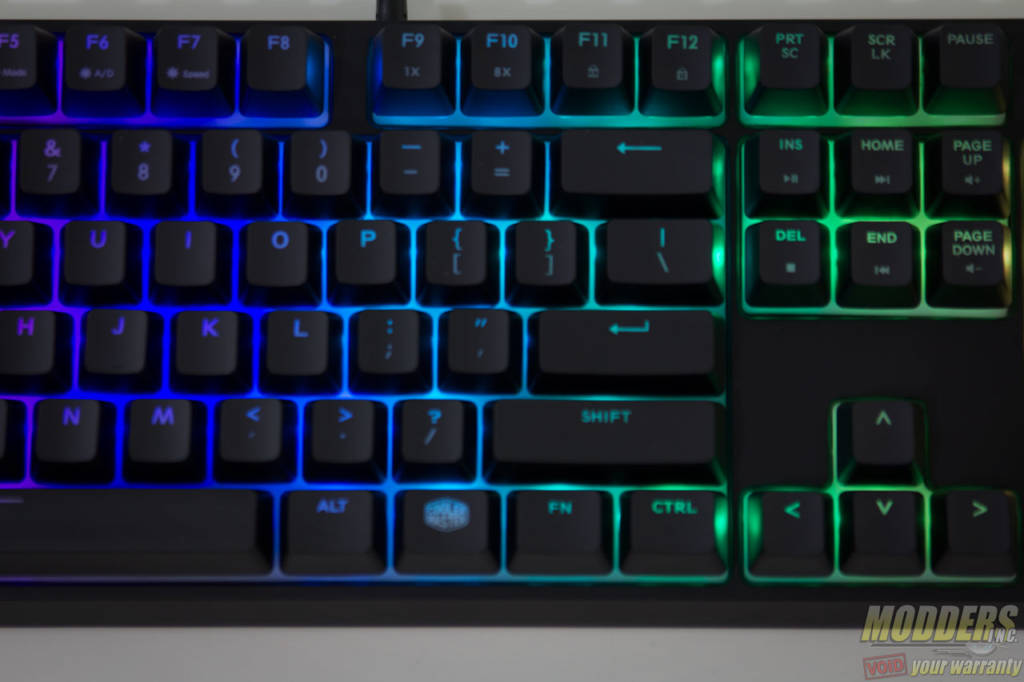 Fn+F9 = 1x Repeat rate
Fn+F10 = 8x Repeat rate
Fn+F11 = Full keyboard lock toggle
Fn+F12 = Windows lock toggle
Multimedia Controls:
Fn+INS = Play/Pause
Fn+DEL = Stop
Fn+HOME = Forward
Fn+END = Backward
Fn+Page Up = Volume Up
Fn+Page Down = Volume Down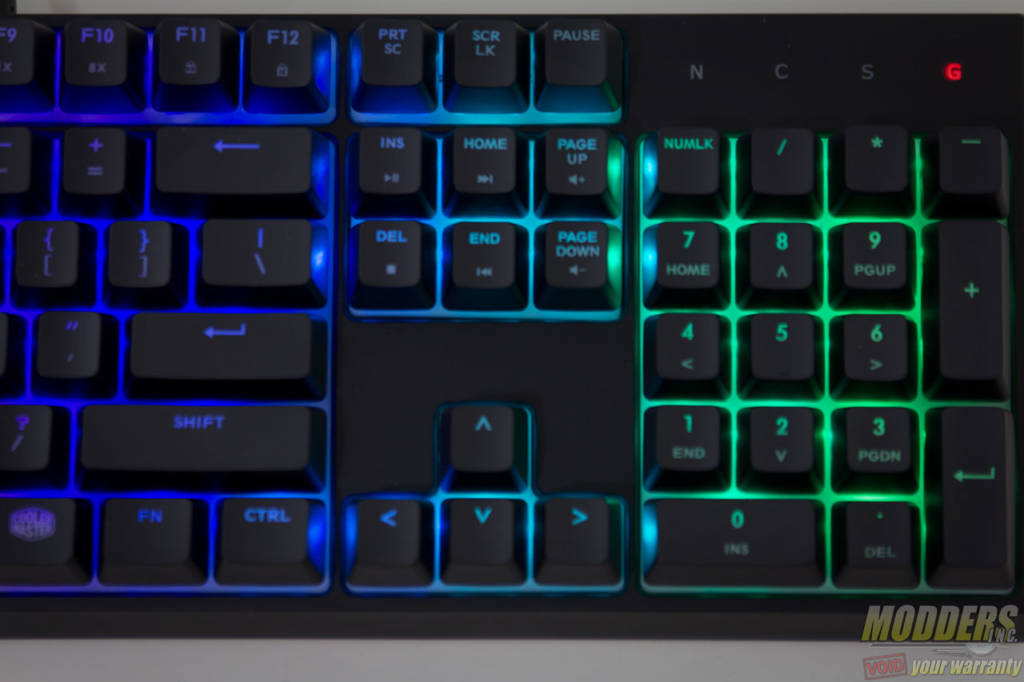 Article Index: