A Closer Look at the Cooler Master Nepton 120XL »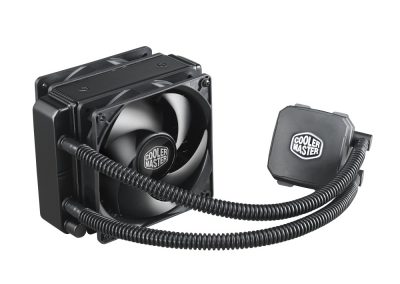 It is true that if you want to prolong the life of your components you should pay a close attention to cooling. Water cooling technologies have been out for a very long time but a few years back it was hard to find the right water cooling loop that would be maintenance free and provide exceptional cooling. Since then water cooling loops have been "ironed out" and now we can experience AiO (All in One) maintenance-free water cooling performance. A few months back we have reviewed Cooler Master's Nepton 240M(link) and we liked it so much that we gave it a "Must Have" award. The ease of use and performance of the Nepton 240M were both outstanding. During this review I have an opportunity of looking at the Nepton 120XL. The Nepton 120XL is a 120mm radiator based liquid cooling unit which is bundled with a pair of Silencio FP fans. Silencio FP have been bundled for Nepton 240M and Nepton 120M as they tend to stay very quiet while pushing a great amount of air.
Review Sample Provided by: Cooler Master
Product Name: Nepton 120 XL
Price at time of review: $ 116.07 USD MSRP
Product was given in exchange for work done to produce this review.
Nepton 120XL has the same type of packaging as all of the other Nepton loops. The packaging is recycle friendly and light. The box which Nepton 120XL came in has a great deal of information displayed to the potential buyers. Most of the important information is right there on the back of the box. It is worth to mention that Nepton 120XL supports following CPU sockets: (Intel LGA 2011V3, 2011, 1366, 1150, 1156, 1155, 775 AMD Socket FM2, FM2+, FM1, AM3+, AM3, AM2+) So as you can see pretty much any kind of modern and relatively older socket is supported by Nepton series.
As I have mentioned earlier, the packaging is very much user friendly and it doesn't take a lot of time to get everything unpacked. Each component was individually wrapped in the dedicated plastic bags. Unfortunately the image you see below doesn't show the correct packaging material. Nepton 120XL comes with everything you need to mount this water cooling unit on top of the CPU and in your case.
There is a small tube of thermal compound (Cooler Master brand) as well as a braided 4-pin fan Y-splitter cable and the radiator also includes two gaskets for the fans. There are eight 35mm long, 1/32 threaded radiator fan mounting screws for the pair of 120mm fans to be mounted on the radiator with the case. If your case is pretty tight and you worry about installing this unit, it is worth to mention that for smaller cases you should consider installed one of the fans on the outside of the case. Nepton 120XL comes with the actual 120mm radiator and a custom CPU back plate. Some motherboards come with a CPU back plate and some do not. Cooler Master includes the custom fitting back plate for AMD as well as Intel CPU sockets.
Technical Specifications:
Model Number
RL-N12X-24PK-R1/ RL-N12X-24PK-R2
CPU Socket
Intel LGA 2011V3, 2011, 1366, 1150, 1156, 1155, 775
AMD Socket FM2, FM2+, FM1, AM3+, AM3, AM2+
Radiator Dimensions
150 x 119 x 38 mm
5.9 x 4.7 x 1.5 inch
Radiator Material
Aluminum
Pump Dimensions
75 x 69.8 x 49.1 mm
3 x 2.7 x 1.9 inch
Pump Waterblock Material
Copper
Pump Noise Level
< 15 dBA
Pump Rated Voltage
12VDC
Pump Power Consumption
4.8W
Pump Power Connector
3-Pin
Fan Dimensions
120 x 120 x 25 mm
4.9 x 4.9 x 1 inch
Fan Color
Black
Fan Speed
800-2400 RPM (PWM) +/- 10%
Fan Airflow
16.5-76 CFM +/- 10%
Fan Noise Level
6.5-27 dBA
Fan Pressure
0.48-4.8 mm H2O
Fan Bearing Type
Loop Dynamic Bearing (LDB)
Fan Life Expectancy
160,000 hours