Page 2 »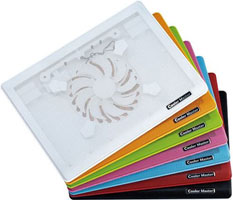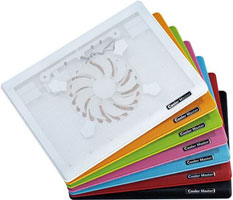 Laptops / Notebooks have always had cooling issues, I mean let's face, it the intake fans and hot air ventilation slots on a laptop are not the most efficient cooling solution for such a compact area. Thus the growth of the cooling pad industry. And,who better to be at the top of that industry than Cooler Master, with currently over 19 cooling pad offerings. Thanks to Cooler Master we at Modders-Inc.com will be taking a look at one of their latest laptop / notebook cooling pad introductions, the Cooler Master Notepal I100.
[dhr]
Cooler Master NotePal I100
Specifications:
Model
White : R9-NBC-I1HW-GP
Orange : R9-NBC-I1HO-GP
Green : R9-NBC-I1HG-GP
Pink : R9-NBC-I1HP-GP
Blue : R9-NBC-I1HB-GP
Red : R9-NBC-I1HR-GP
Black : R9-NBC-I1HK-GP
Available Color
Black, blue, green, orange, pink, red, white
Material
Metal Mesh, Plastic
Weight
0.68 kg / 1.5 lbs
Dimension
350 x 250 x 23~39mm
Fan Dimension
140 x 140 x 15mm
Fan Speed
1200 rpm+/-15%
Fan Speed Adjustment
Single speed
Fan Airflow
38 CFM
Fan Noise Level (dB-A)
21 dB(A)
Power
USB (DC 5V)
USB
USB 2.0/1.1 x1
Power consumption
1.1 W
Compatibility
Support up to 15.4"
Warranty
1 year
UPC Code
White : 884102017896
Orange : 884102017902
Green : 884102017872
Pink : 884102017919
Blue : 884102017889
Red : 884102017858
Black : 884102016981
Features:
Ultra-Slim Design – Only 23mm thick – An ultra-slim design lets you easily put the NotePal I100 away when not using your notebook.
Curved Surface Design – Curved surface design helps remove hot air while bringing in fresh, cool air to keep your

laptop

/

notebook performing well.

Keeps Laptop Cool – A 140mm cooling fan keeps your notebook cool to the touch and is nearly silent.
Two supporting angles – Ergonomically designed for a better viewing and typing angle. Work and play on your laptop / notebook for long periods of time without straining your neck, back and wrists. Great for at home or in the office.
Convenient Cable Storage – Cable stores away in the bottom of the cooler.
Support for up to a 15″ Notebook – Compact enough to sit 14″ notebook on, but will accommodate up to a 15.4″ laptop / notebook.