Page 2 »
In case you have not noticed SAPPHIRE is the number manufacture of AMD/ATI graphics cards and one of the reasons is that they find ways to improve the current cards out on the market. They also have specialty series card that they have developed over the years. One of these series of cards is the Vapor-X series. Known for using the better cooling technology of Vapor-X it runs cooler and quieter than the normal series of video card. Today we will be check it out and putting through the Modders-Inc series of benchmarks. 

Sponsor: Sapphire
[hr]
First Look – Packaging and Information
Not every card from SAPPHIRE gets the labeling of Vapor-X but those that do are very sought after. When this label is applied to the card you can be sure of a few things and one of them being better cooling. It is pretty obvious from the way the box graphics depict ice and a penguin that the you are in for a frosty chilly experience.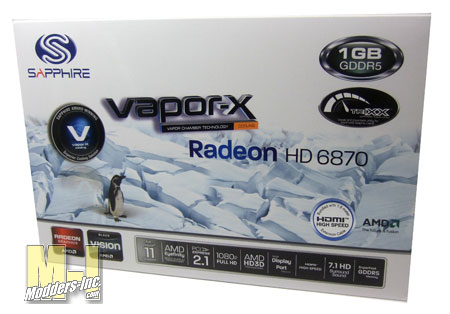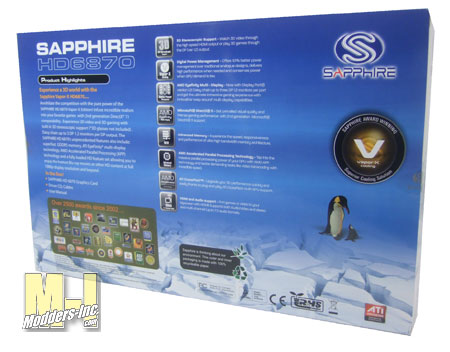 The back of the retail box display a lot of information that will help you understand what the HD 6870 Vapor-X is capable of doing and how it will help you get a better gaming experience.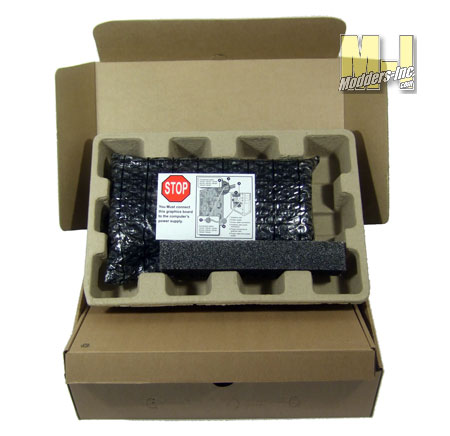 Nestled in a Eco-friendly carton is the card. The design of the interior of the box ensure that the graphic card is secure and safe, but also safe for the environment.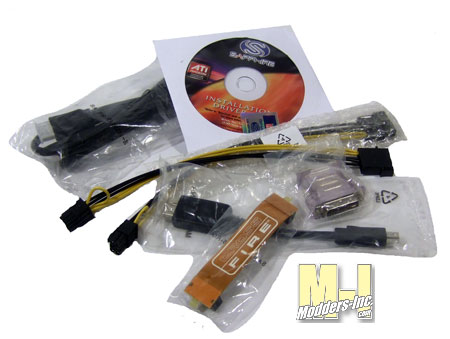 Included in the box you get a fist load of extras which is a typical SAPPHIRE trait. They seem to always ensure that you get you moneys worth with a great card and give you all the hardware you need to connect the card to the display of your choice. What we see here is the driver disk, two molex to power adaptors, CrossFire cable, a VGA to DVI changer, HDMI, Mini HDMI connectors.
The SAPPHIRE exclusive Vapor-X cooler ensures that the card runs quietly and efficiently. Together with other special hardware features including on-board 10-phase power control and SAPPHIRE's highly efficient, cool running patented Black Diamond chokes this ensures there is a good margin for performance tuning (overclocking) by enthusiast users. SAPPHIRE's overclocking tool for these models – TriXX – is available for users to download from the SAPPHIRE Select Club – free for SAPPHIRE enthusiasts to join online.
Specification

Output
1 x Dual-Link DVI
1 x HDMI 1.4a
2 x Mini-DisplayPort
1 x Single-Link DVI-D
DisplayPort 1.2
GPU
900 MHz Core Clock
40 nm Chip
1120 x Stream Processors
Memory
1024 MB Size
256 -bit GDDR5
4200 MHz Effective
Software
Driver CD
SAPPHIRE TriXX Utility
* PCI Express® based PC is required with one X16 lane graphics slot available on the motherboard.
* 500 Watt Power Supply is required. 
* 2 X 75Watt 6-pin PCI Express power connector is required.
* 4 X 75 Watt 6-pin PCI Express power connector is required for CrossFireX™ system. 
* Certified power supplies are recommended. Refer to for a list of certified products.
* 1024 MB Minimum of system memory. 
* Installation software requires CD-ROM drive. 
* DVD playback requires DVD drive. 
* Blu-ray™ / HD DVD playback requires Blu-ray / HD DVD drive.
* For an ATI CrossFireX™ system, a second same ATI Radeon™ graphics card, an ATI CrossFireX™ Ready motherboard and one ATI CrossFireX Bridge Interconnect cable per graphics card (optional) are required.
* To support 3 displays, one of the monitors has to support DisplayPort.