Page 2 »
With a market composed of a large variety of CPU coolers, manufactures have to get it right the first time around. If the cooler poses to many issues, or simply fails to meet today's standards, it will likely find its lifespan to be short. Today we are going to be taking a look at a cooler from a company that knows all about cooling, Cooler Master. Is Cooler Master really the master when it comes to cooling? Well, we are about to find out how well the Cooler Master V8 CPU Cooler can compare to a few other top performers on the market.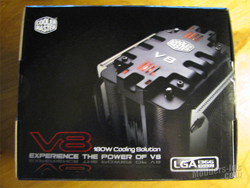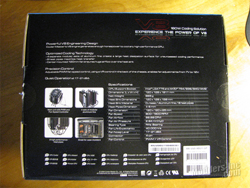 The Cooler Master V8 CPU Cooler comes in a large black box that shows the cooler from the front view, and focuses on its features and specifications on the rear. At first release the Cooler Master V8 didn't include the hardware for the LGA1366 socket. But as you can see by the first picture, the current product shipping does fully support the LGA1366 socket.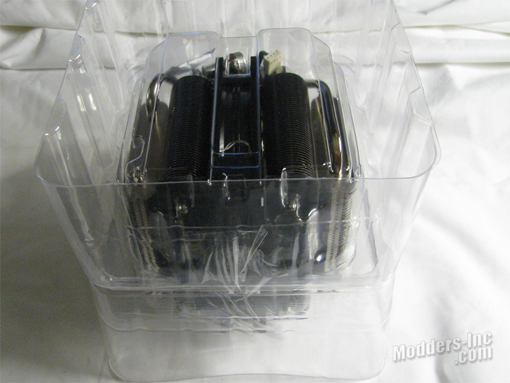 Removing the contents of the box, we will find the Cooler Master V8 securely sandwiched in two plastic housings, with a box of accessories. This style of packing seems to be more popular these days over the common blister pack we have seen with other coolers. This is easily opened, and provides adequate protection for the cooler during shipping.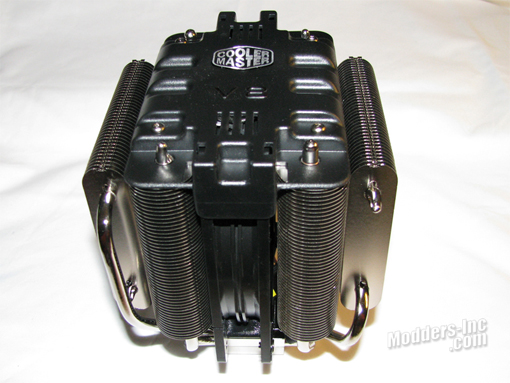 The Cooler Master V8 is a unique looking cooler from the start. We can see from the above picture that it utilizes four different aluminum fin sections for optimal cooling, and has the fan sandwiched between the two center sections. The V8 is stated to dissipate up to 180W of heat, which is impressive all in its own.
Features:
Supports Intel Core i7 CPU.
4 separate modular sets of aluminum fins create a large heat dissipation surface for unsurpassed cooling performance.
8 heat pipes maximize heat transfer.
Mirror-finished base makes for 100% contact with the processor.
Optimum Airflow – The center mounted 120mm fan blows/pulls cool air through the fins of the heatsink to cool down the heatsink which is taking the heat away from the CPU smoothly.
Precision Control and Quiet Operation at 17~21 dBA – Adjustable PWM fan speed control, using a manual knob placed in the back of the chassis, enables fan adjustments from 7V to 12V, allowing users to find the perfect balance between cooling performance and noise level.
Specifications:
Model
RR-UV8-XBU1-GP
CPU Socket
Intel Socket LGA1366
Intel Socket LGA775
AMD Socket (Socket 940/AM2/AM2+)
CPU Support
Intel: Core i7, Core 2 Extreme, Core 2 Quad, Core 2 Duo, Pentium Extreme Ed., Pentium Dual-Core, Pentium D, Pentium 4 Extreme Ed., Pentium 4 HT, Pentium 4, Celeron Dual-Core, Celeron D
AMD:Phenom, Athlon 64 X2, Athlon X2, Sempron
Dimension
120 x 128 x 161.1mm
Weight
1.91 lbs
Heat Sink Dimensions
120 x 120 x 158mm
Heat Sink Material
Copper Base / Aluminum Fins / 8 Heat Pipes
Heat Pipes Dimensions
6mm
Fan Dimension (W / H / D)
120 x 120 x 25mm
Fan Speed
800 – 1800RPM
Fan Airflow
69.69CFM
Air pressure (mmH2O)
2.94mm H2O
Bearing Type
Rifle Bearing
Fan Life Expectancy
40,000hrs
Fan Noise Level (dB-A)
17 – 21dBA
Fan Speed Adjustment
Install on PCI Slot
Connector
4-pin
Fan Control
PWM + VR Controller
Rated Voltage
12V
Start Voltage
7V
Operating Voltage
10.38V – 13.2V
Rated Current
0.12A
Input Power
1.44W