« Introduction and Packaging
|
Hardware Installation »
A Closer Look at the Cooler Master MasterCase Pro 3
Despite the reduction in size from ATX to mATX, the MasterCase 3 only sheds around three pounds and its steel frame reduced 1.77″ lengthwise and 1.69″ from the height. Even with this slight reduction in size, Cooler Master has done great job of keeping the functionality of the MasterCase 5 as well as the modular features introduced with the Master series. The front of the chassis features a completely ventilated front panel with a hexagonal pattern shrouded behind the mesh. At the top section, beneath the I/O panel is an optional 5.25″ bay, this is a rare feature to see, as many manufacturers have completely nixed supporting 5.25″ bay devices.
Cooler Master includes a 140mm fan that serves as an intake with the MasterCase Pro 3. The front panel is composed of a two-piece system, the mesh panel can be removed separately from the outer bezel, so cleaning the panel is much easier. Both mesh and outer bezel are held in place using a series of clips and can be removed without the use of any tools. Cooler Master equips the MasterCase Case Pro 3 with a removable fan/radiator bracket that is secured in place using four thumbscrews.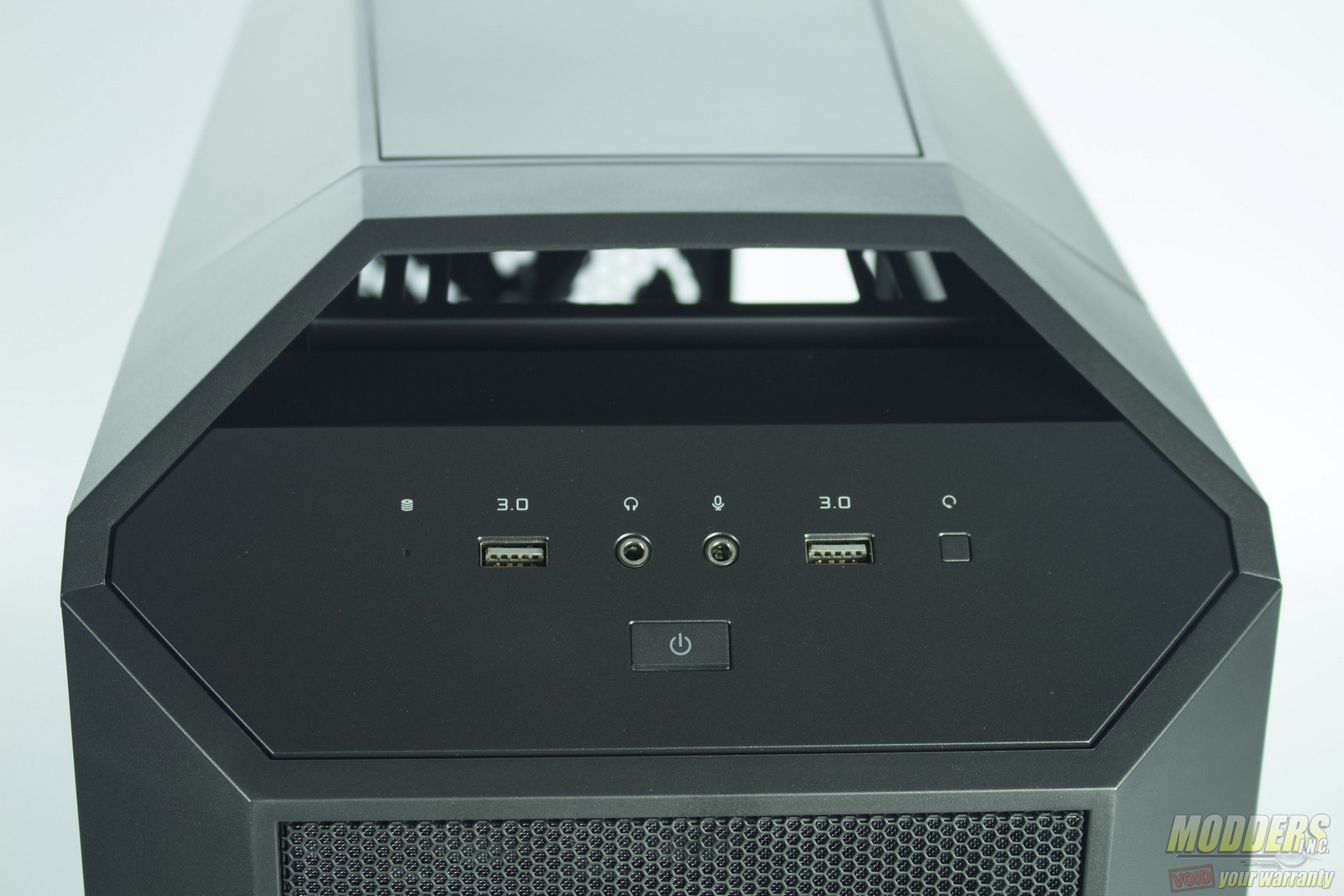 The MasterCase Pro 3 is outfitted with dual 3.0 USB, audio out and microphone ports on an angled bezel. Dead center beneath the ports is a simple, non-illuminated power button, to the right and left of the ports can be found an inconspicuous LED indicator and reset button.
Moving to the left side of the chassis, we find that Cooler Master has implemented a full window that has a slight tint to it. The window does come with a protective film to prevent scratches. I do advise using a plastic tool to remove the film as it is fitted only to the area of the window. The window also extends downwards to an overlaid tinted section, which shrouds the lower area, concealing the power supply and drive location.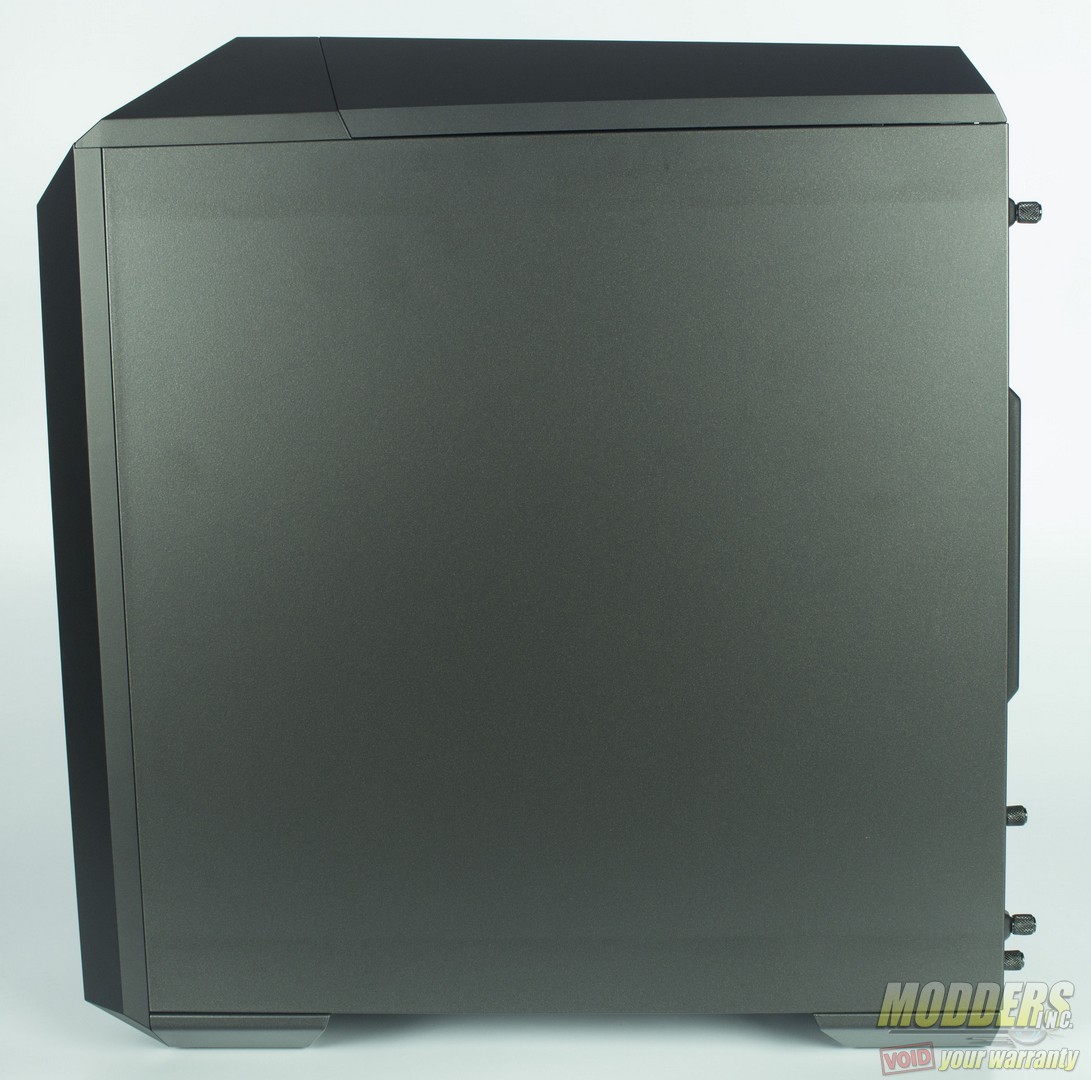 On the opposite side, Cooler Master has opted for a solid steel panel, free of any perforations.
To the rear of the chassis can be found an adjustable 120/140mm fan mount with a pre-installed 140mm fan. In addition to the four ventilated I/O brackets is a security bracket used to secure USB devices from those with "sticky fingers" (theft…. not the other thing).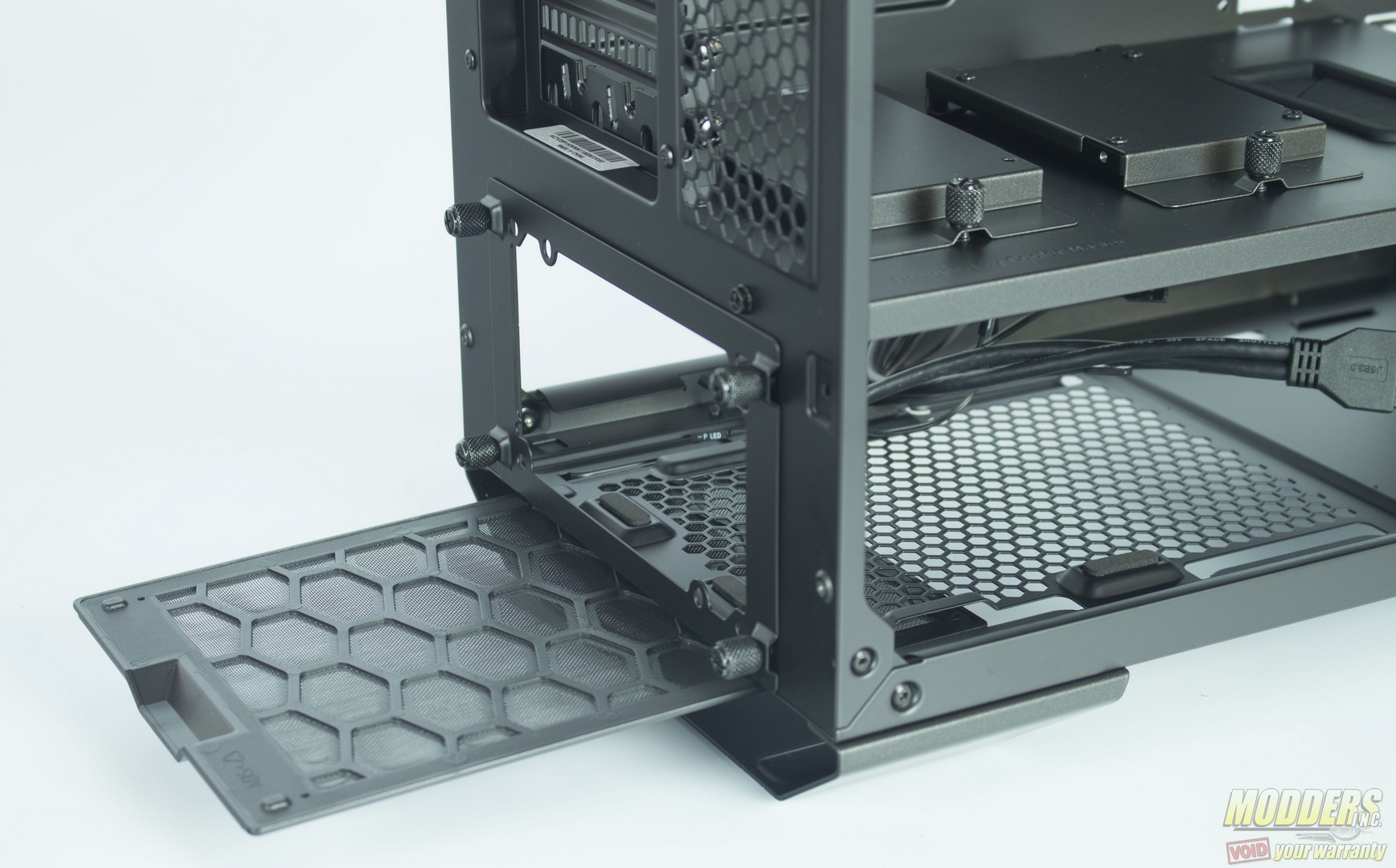 Located beneath the power supply can be found a removable mesh filter. In order to to install the power supply, four thumbscrews must be removed from the bracket and then mounted to the power supply.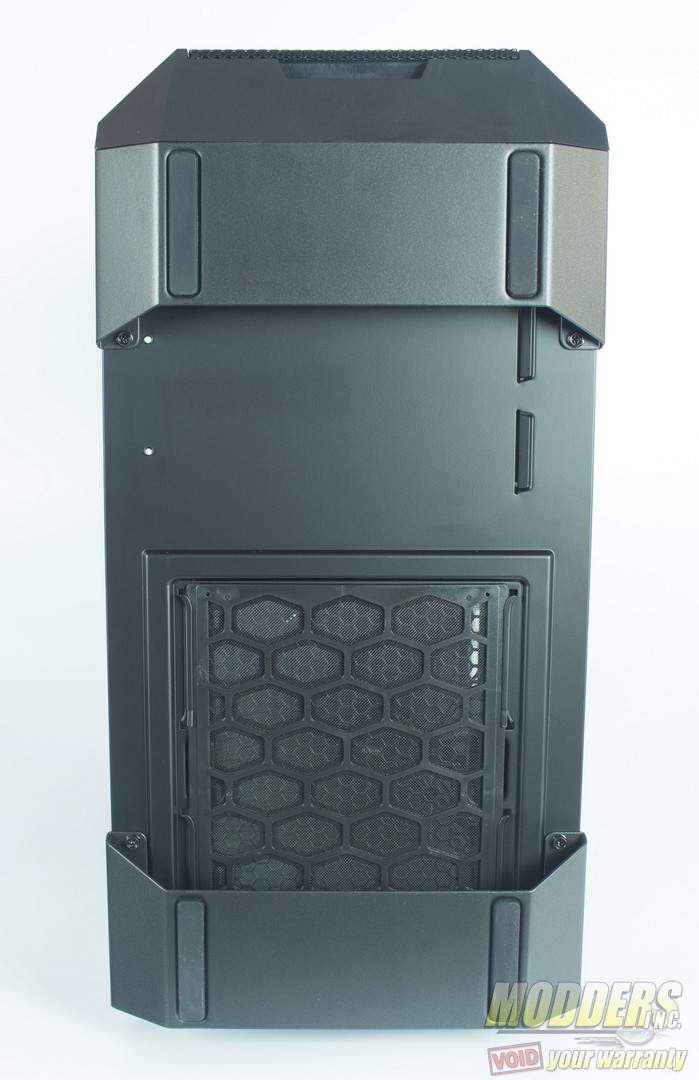 The MasterCase Pro 3 is elevated 1.25″ by two removable steel case feet, equipped with two rubber pads each.
The top panel offers an intake above the I/O panel similar to old school muscle car. Extra cooling is available by lifting a stealthed panel which is held in place by magnets.