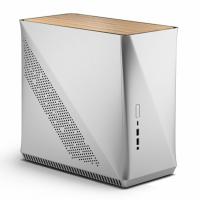 Fractal Design has built a reputation for manufacturing high quality black box computer cases.  Their Define series has been praised highly by both reviewers and users, and their Node 202 case is a staple of the ultra-compact ITX market.  Today, Fractal Design is launching the Era ITX, a case that combines the widest color selection of any case in Fractal's lineup with brand new styling and a feature formerly found only in boutique custom cases.  With its small footprint, sweeping curves, screw-less side panels, and interchangeable top panel, the Era looks poised to define a new age in Fractal's history.  So is the Era a revolution, or a dud?  Let's find out.
Review Sample Provided by:
Product Name/Link to Website: Fractal Design Era ITX
Product was given in exchange for work done to produce this review.
Specifications
Materials
Aluminum, Steel, Plastic, Tempered Glass, Oak, Walnut
Front Panel
Sandblasted anodized aluminum
Side Panels
Sandblasted anodized aluminum with mesh air filters
Top Panel Options
Tempered glass (available on most models)

White Oak (silver model only)

Walnut (titanium gray model only)

Steel mesh (included with all models)

Bottom Panel
Satin-finished plastic
Chassis
Powder-coated steel
Dust Filters
Top, Bottom, Sides
Color Options
Silver, Titanium Gray, Carbon (black), Gold, Cobalt (blue)
Front Ports
1x USB 3.1 type C

2x USB 3.0 type A

1x audio headphone/microphone combo jack

Dimensions
325 mm (L) x 240 mm (W) x 310 mm (H)

12.80″ (L) x 6.54″ (W) x 12.2″ (H)

Weight
4.02 kg / 8.86 lbs (carbon, gold, cobalt)

4.13 kg / 9.10 lbs (silver, titanium grey)
Compatibility
Motherboard Compatibility
Mini ITX, Mini DTX
Max Cooler Height
120 mm / 4.72″ without side-mounted 3.5″ HDD

91 mm / 3.58″ max with 3.5″ HDD

70 mm /  2.76″ recommended with 3.5″ HDD

Max GPU Length
295 mm / 11.61″ or less  (see chart below)
Max GPU Width
125 mm / 4.92″
Max GPU Thickness
2 slot
Power Supply Type
SFX, SFX-L, ATX
Power Supply Max Length
200 mm / 7.87″
Expansion Slots
2
Drive Bays
1x 3.5″ or 2x 2.5″ on side tray

1x 3.5″ on power supply bracket (not compatible with ATX power supplies)

Total Fan Support
5
Top Fans
2x 120 mm
Rear Fans
1x 80 mm (preinstalled)
Bottom Fans
2x 140 mm (without 2 slot GPU)
Top Radiator Support
2x 120 mm
Radiator Max Width
125 mm / 4.92″
120 mm Radiator Max Thickness
67 mm / 2.64″ including fans
240 mm Radiator Max Thickness
(see chart below)
| | | | |
| --- | --- | --- | --- |
| PSU Type | PSU Length | GPU Length | Max 240 mm Radiator Thickness (25 mm thick fans) |
| SFX | 100 mm / 3.94″ | <= 295 mm / 11.61″ | 38 mm / 1.50″ |
| SFX-L | 130 mm / 5.12″ | < 210 mm / 8.27″ | 38 mm / 1.50″ |
| | | <= 295 mm / 11.61″ | N/A (120 mm radiators only) |
| ATX | 140 mm / 5.51″ | < 190 mm / 7.48″ | 38 mm / 1.50″ |
| | | <= 295 mm / 11.61″ | N/A (120 mm radiators only) |
| | 150 mm / 5.91″ | < 190 mm / 7.48″ | 38 mm / 1.50″ |
| | | <= 295 mm / 11.61″ | N/A (120 mm radiators only) |
| | 160 mm / 6.30″ | < 190 mm / 7.48″ | 38 mm / 1.50″ |
| | | <= 295 mm / 11.61″ | N/A (120 mm radiators only) |
| | 170 mm / 6.69″ | < 190 mm / 7.48″ | 28 mm / 1.10″ |
| | | <= 295 mm / 11.61″ | N/A (120 mm radiators only) |
| | >= 180 mm / 7.09″ | < 190 mm / 7.48″ | N/A (120 mm radiators only) |
Included Accessories
Top Panel
1x Tempered Glass Panel

1x Steel Mesh Panel