Page 2 »
Liquid cooling use to be for those that were on the cutting edge of tricking out there PC's and was looking to get the best cooling solutions. Then came along the heat pipe coolers with great cooling but huge in size and sometimes rather noisy. Now what would you say if I told you that you get the best of all worlds? Let us take a look at the CoolIT ECO A.L.C. and see if might be for you.
[hr]
The thought process for the CoolIT ECO is performance, price, and the ease of usage. The ECO A.L.C. presents a stylishly engineered, very low profile, liquid cooling solution that competes with the air coolers on today's market. Along with assuring maximum compatibility regardless of the application.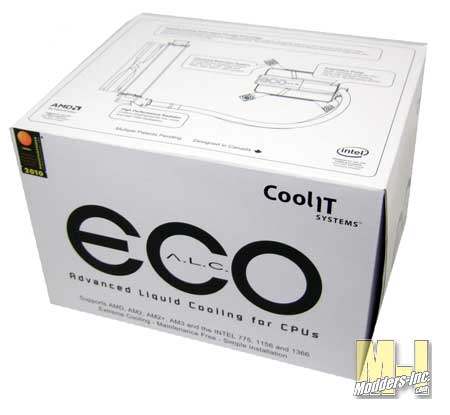 ECO A.L.C.
Quick to install into any chassis – The extremely compact ECO A.L.C. comes pre-assembled making it easy to install with a few simple steps. Unlike heavy air cooled solutions, the ECO exerts little weight on the motherboard keeping the solution well below the maximums specified by Intel andAMD.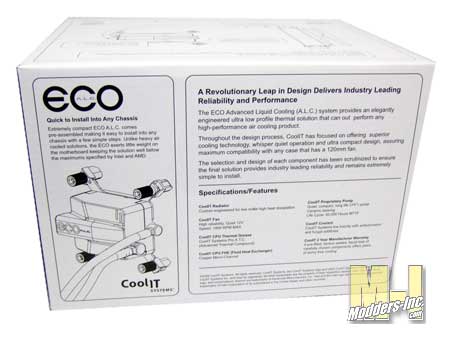 CoolIT CPU FHE (Fluid Heat Exchanger)
Copper Micro-Channel
Universal Retention System
Out of the box support provided for Intel 775, 1156, 1366 and AMD AM2, AM2+, AM3 sockets.
CoolIT Proprietary Pump
Quiet, compact, long life CFF1 pump Ceramic bearing Life Cycle: 50,000 Hours MTTF.
CoolIT Coolant
CoolIT Systems low toxicity with anti-corrosion/ anti fungal additives.
CoolIT Radiator
Custom engineered for low noise high heat dissipation.
CoolIT Fan
High reliability, Quiet 12V Speed: 1800 RPM MAX.
CoolIT CPU Thermal Grease
CoolIT Systems Pro A.T.C. (Advanced Thermal Compound).
CoolIT 2 Year Manufacturer Warranty