Closer Look at the Cooler Master Nepton 240M »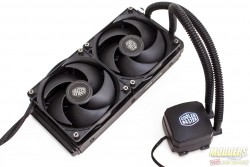 Initially conceived of as a convenient and more affordable alternative to building a custom liquid-cooling loop, the first generation self-contained all-in-one CPU cooler units did not succeed in their attempt; performing poorly, costing a lot and if you were one of the unlucky ones, damaged your entire system after it started leaking. It took a while but manufacturers have successfully improved their designs to deliver the convenience and performance that sensibly matched the price. Now the next frontier in the evolution of the AiO's is in the reduction of the noise levels they produce. While the pump itself presents virtually no noise concern, the fans bundled with many AiO units cool through brute force static pressure which produces a great amount of noise as a by-product. Before releasing the rest of their Nepton AiO units, this was something Cooler Master wanted to tackle and thus, a new kind of fan design has emerged: the Silencio FP, bundled with their Nepton 240M and 120XL units.
The Cooler Master Nepton 240M uses a 240mm aluminum radiator that can support up to a pair of 120mm fans on each side for total of four fans. Bundled with this Nepton cooler are the new Silencio FP; five-bladed dramatically curved impeller fans that can push 67CFM with an air pressure of up to 4.8mmH2O. Much of the same technologies implemented on previous Nepton units are shared with the new Nepton 240M including a pair of ribbed kink-resistant 13mm (outside diameter) Fluorinated Ethylene Propylene (FEP) tubing and a copper cold plate with a large skived fin area. Warranty length is up to 5-years, guaranteeing the sealed unit will perform without the need for maintenance during that time period.
[sc:sponsor sponsor="Cooler Master" product_link="http://www.coolermaster.com/cooling/cpu-liquid-cooler/nepton-240m/" product_name="Cooler Master Nepton 240M" product_price_link="http://
amzn
.to/1DFkbra" product_price="$109.99″ ]
The Nepton 240M packaging is styled similarly like the previous Nepton series products released but a 5-year warranty label is now on the front, letting buyers know how long they can expect service from the self-contained unit. Full dimension breakdown of the radiator and pump unit are available in the back for those concerned about compatibility with their case.
Inside, the recycled carton compartment holds the self-contained all-in-one cooling unit with the accessories tucked in separate partitions and packed inside bags separately, including the fans. The compartments were formed to keep the items in place during movement to prevent damaging any part.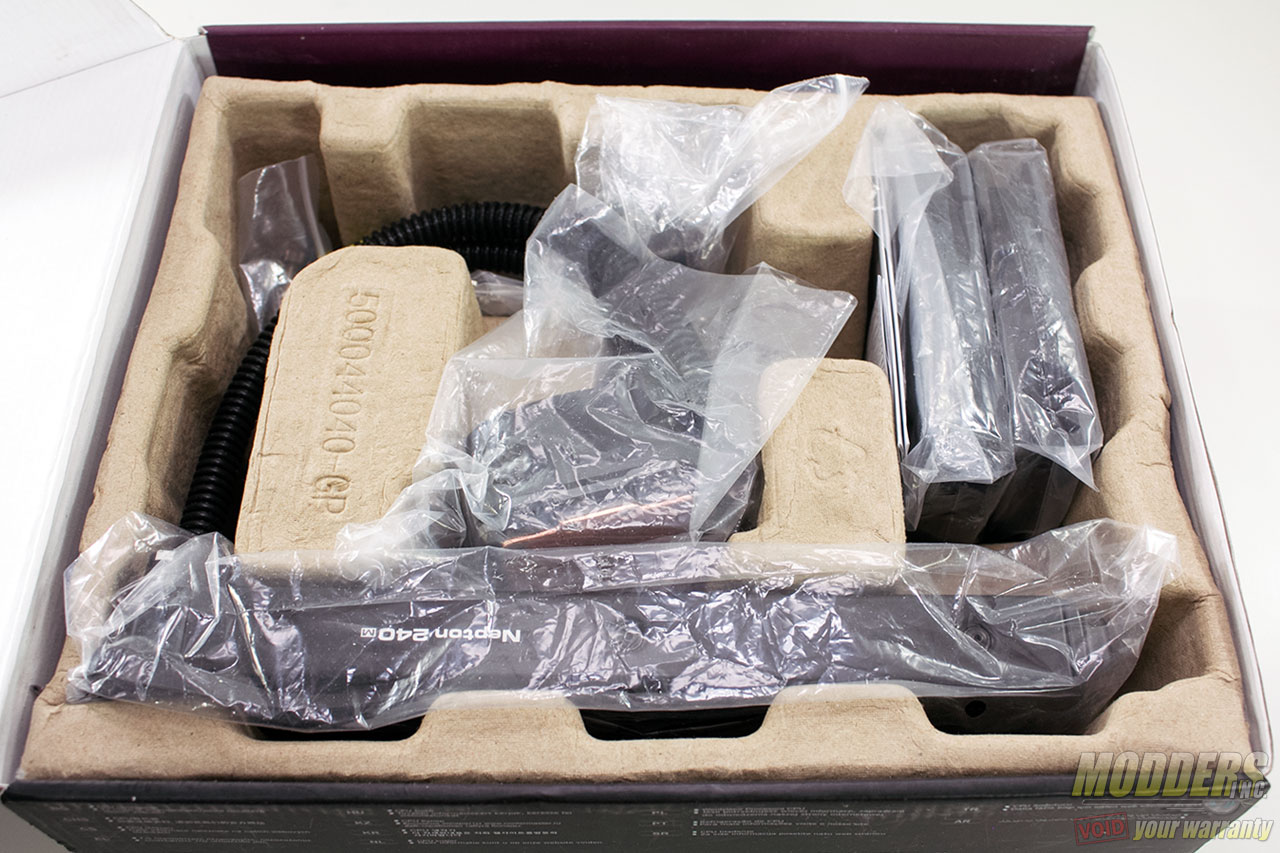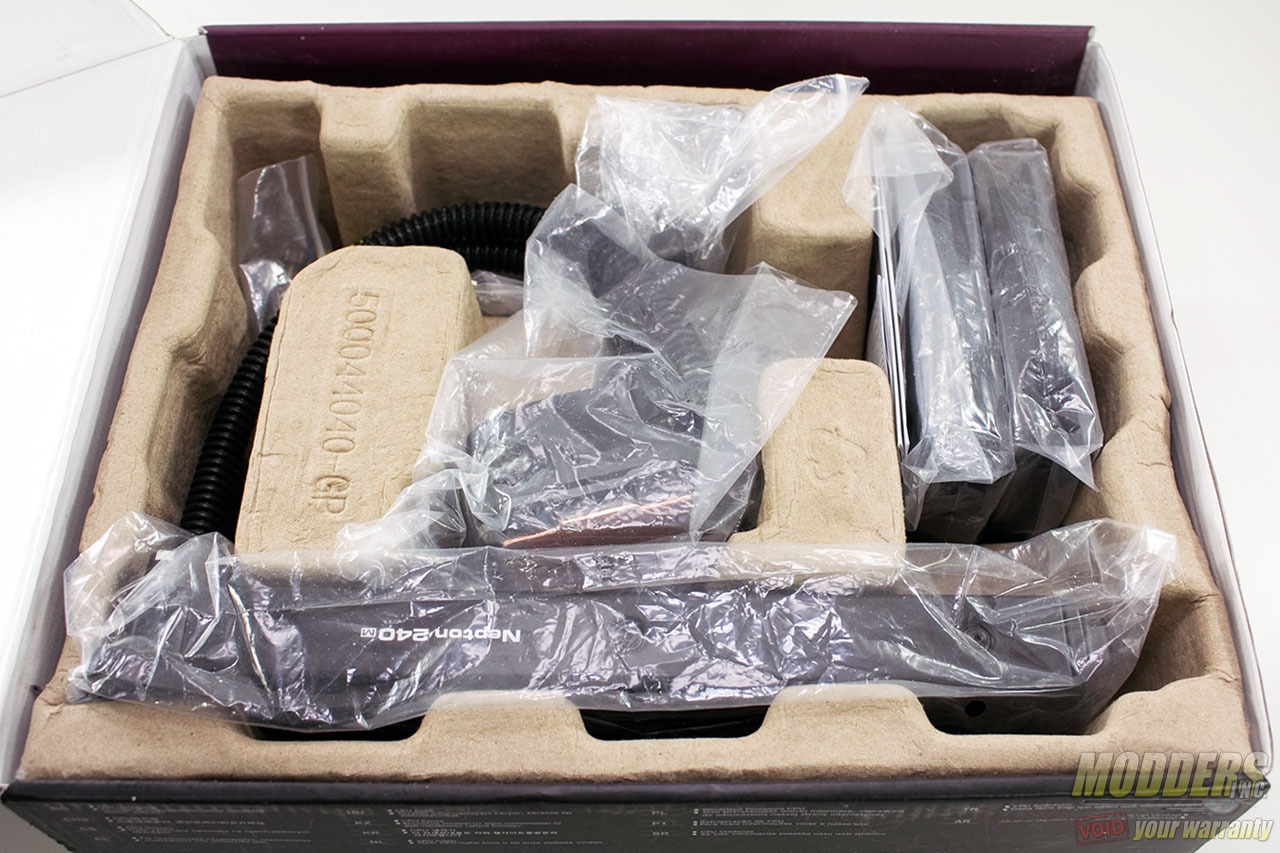 Like with all Cooler Master products, the accessories are inside one bag so you have to take a bit of time with sorting them all at the beginning prior to use. The user's guide has a convenient illustrated checklist which makes this process easier. The Nepton 240M supports AMD AM2(+), AM3(+), FM1, and FM2 as well as Intel LGA 775, 1155, 1156, 1155, 1366 and 2011 sockets. There is a small tube of thermal compound as well as a braided 4-pin fan Y-splitter cable and the radiator also includes a gasket for the fans. There are eight 35mm long, 1/32 threaded radiator fan mounting screws for the pair of 120mm fans to be mounted on the radiator with the case as well as eight 32mm long, 1/32 threaded radiator mounting screws for mounting the extra fans and eight 1/32 threaded short screws for mounting the radiator directly to the case without a fan.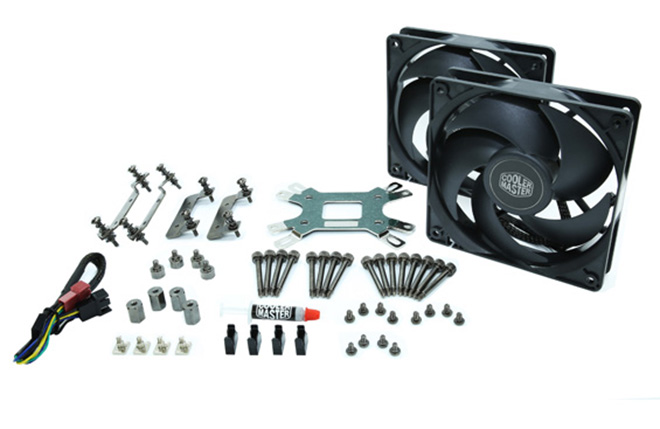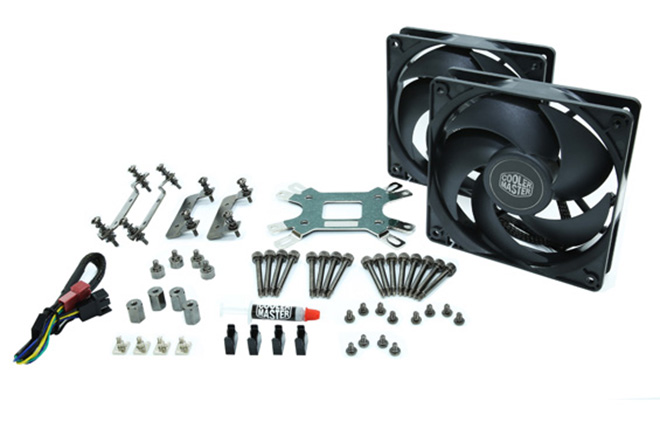 Specifications:
Model
RL-N24M-24PK-R1
CPU Socket
Intel LGA 2011-3 / 2011 / 1366 / 1150 / 1156 / 1155 / 775
AMD Socket FM2 / FM2+ / FM1 / AM3+ / AM3 / AM2+
Dimensions
75 x 69.7 x 49.1 mm (3 x 2.7 x 1.9 inch)
Radiator Dimensions
274 x 119 x 27 mm (10.8 x 4.7 x 1 in)
Radiator Material
Aluminum
Tube Length
358 ± 5 mm
Tube Diameter
Φ8
Fan Dimensions
120 x 120 x 25 mm (4.9 x 4.9 x 1 inch)
Fan Speed
800~2400 RPM (PWM) ± 10%
Fan Air Flow
16.5 – 76 CFM (28 – 128 m3/h) ± 10%
Fan Air Pressure
0.48~4.8 mmH2O
Fan Life Expectancy
160,000 hours
Fan Noise Level
6.5~27 dBA
Fan Bearing Type
Loop Dynamic Bearing (LDB)
Fan Connector
4-Pin
Fan Rated Voltage
12 VDC
Pump Life Expectancy
70,000 hours
Pump Noise Level
< 15 dBA
Pump Rated Voltage
12VDC
Pump Power Consumption
4.8W
EAN / UPC Code
4719512047774 / 884102026744