Keyboards
Corsair K70 Mk.2 Mechanical Gaming Keyboard Review
Return of the blues
A Closer Look at the Corsair K70 Mk.2 Gaming Keyboard »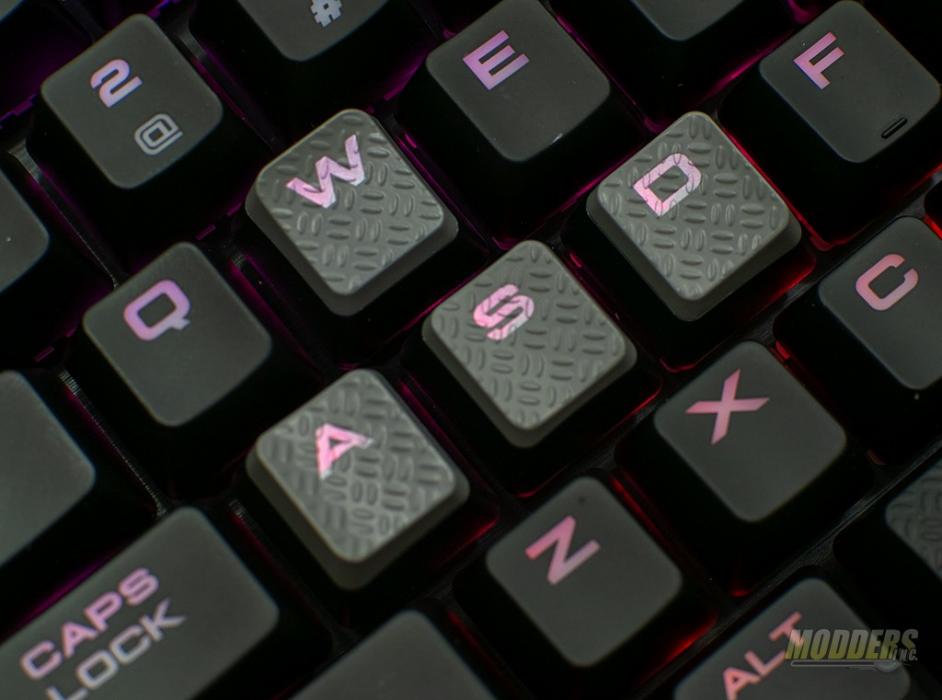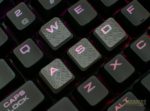 In the past, Corsair has made some top quality keyboards. However, even top quality components need an update from time to time. Enter the Mk.2 versions. Earlier this year, we reviewed the Corsair Strafe Mk.2 and were impressed with the updates it received. The Corsair K70 Mk.2 recieved similar update and gives you more options as far as switch color and type over the 1st gen K70 as well as a few other updates. Do the updates warrant the extra $20.00 over the Strafe Mk.2 or perhaps tossing out the 1st generation K70?
The sample we received has the Cherry MX Blue switch. The Corsair K70 can be purchased with a large variety of switches. The available switches for the K70 Mk.2 include Cherry MX Blue, Cherry MX speed, Cherry MX Red, Cherry MX Brown, and Cherry MX Silent. Two low profile switches are available too. The Cherry MX speed and Cherry MX Red switches the low profile options. The Cherry MX Blue switch is LOUD. While it is not the loudest switch, it is much louder than the Cherry MX Red switch or any non-mechanical keyboard. When looking to purchase a keyboard, go down to the retailer and try the keyboards out as some will have a display model. While there, buy it in support of your local retailers. Switch preference is very subjective. Some love Reds while others hate them. Don't be alarmed if it takes a little bit to get used to new switches.
Packaging, Specifications, and Features
Corsair's packaging of the K70Mk.2 follows the company's color scheme with a black background behind the product graphic and yellow accents. The product image clearly shows the keyboard. The backside of the box dives into detail on the features and specifications of the K70 Mk.2.
Inside the box, you'll find the keyboard wrapped in a protective plastic bag designed to keep the keyboard safe from scratches. The extra keycaps, the manual, the soft touch wrist rest, and software are stored underneath the keyboard.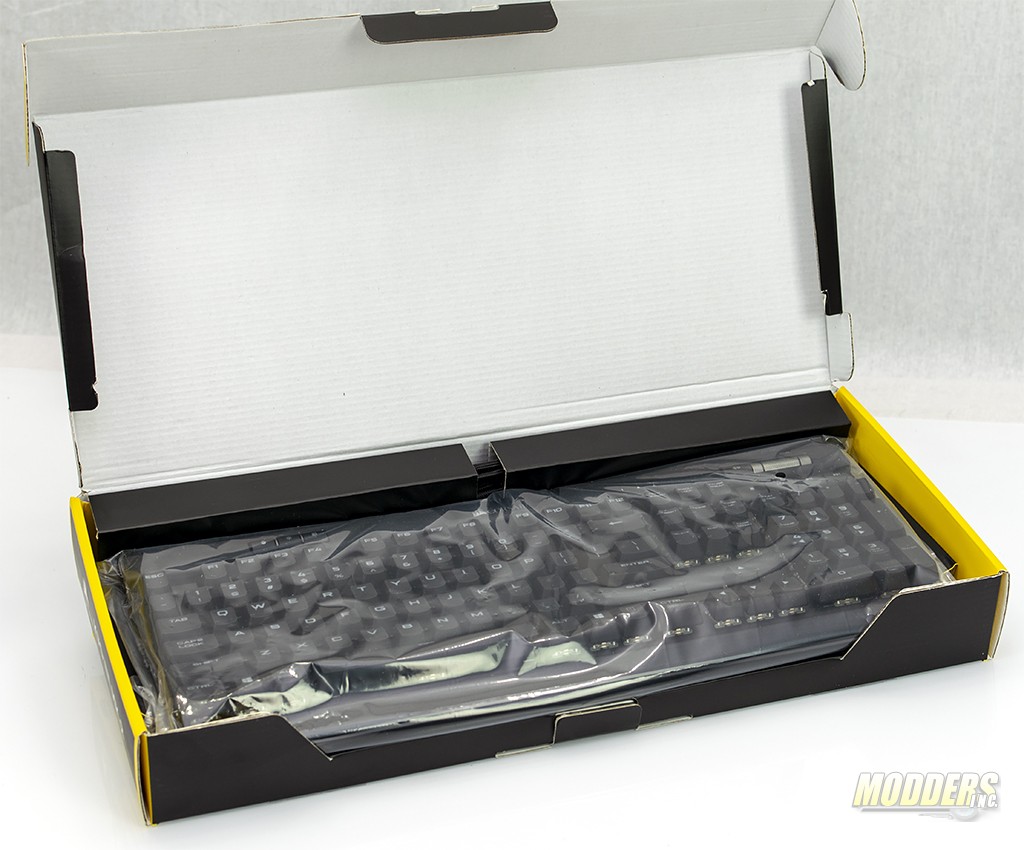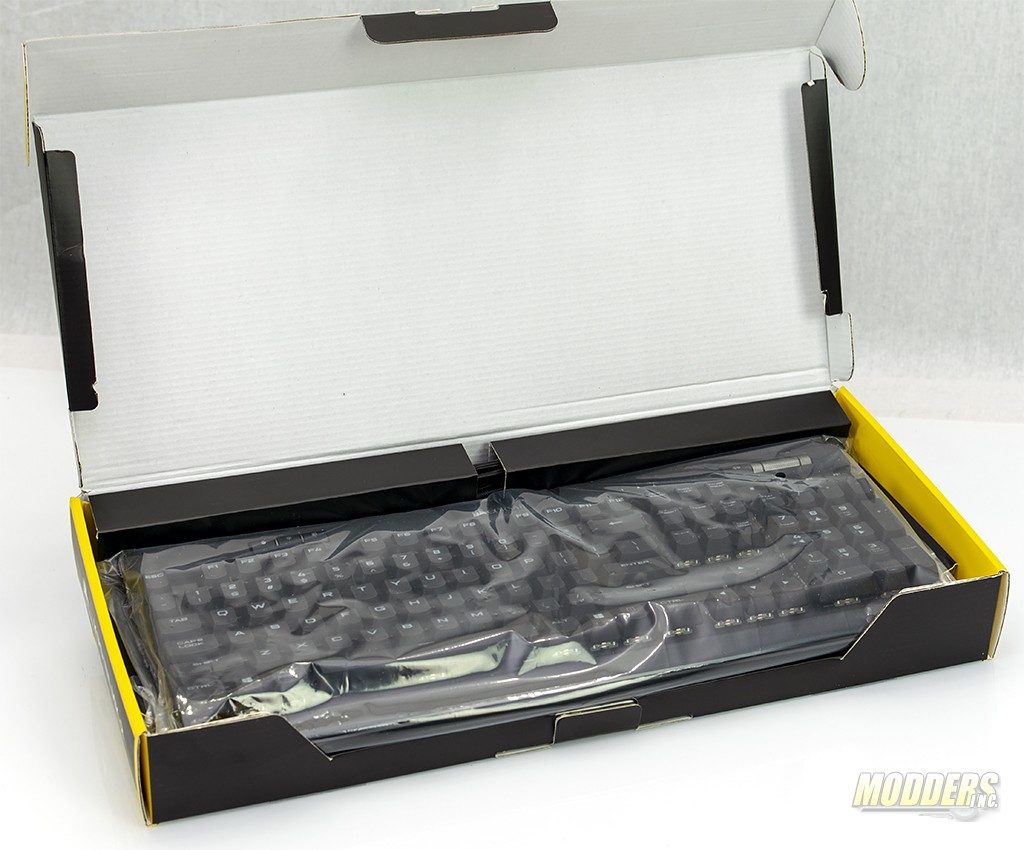 The Corsair K70 Mk.2 comes with two additional sets of keycaps. One set is designed for FPS (first person shooter) games and the other is for MOBA (multiplayer online battle arena) games. Also included is a keycap removal tool.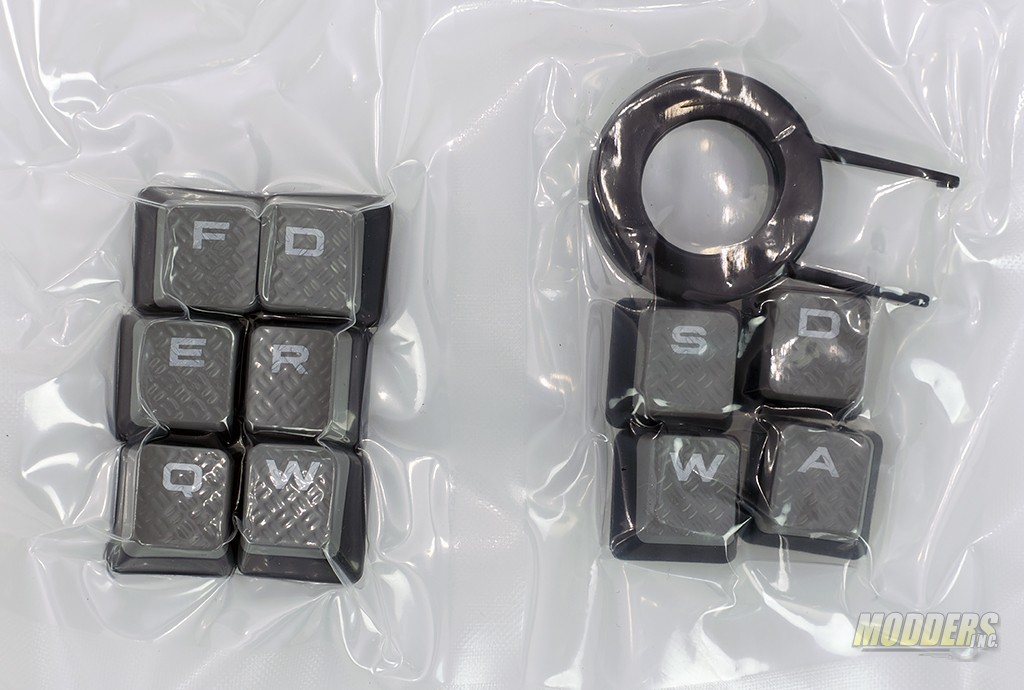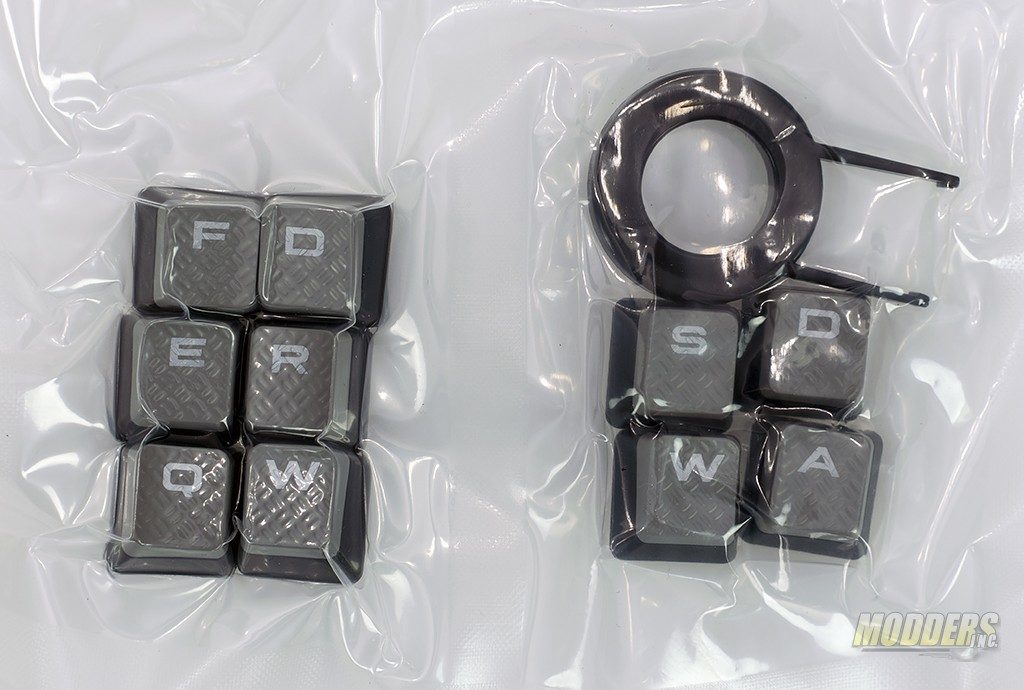 | | |
| --- | --- |
| Keyboard Warranty | Two Years |
| Weight | 1.25kg |
| Keyboard Backlighting | RGB |
| Keyboard Layout | NA |
| HID Keyboard Report Rate | 1000Hz |
| Key Switches | Cherry® MX Red/Brown/Blue/Speed/Silent |
| USB Pass-through | USB 2.0 Type-A |
| Matrix | 104 Keys |
| Keyboard Connectivity | Wired |
| Adjustable Height | Yes |
| Additional colored and textured keycaps | FPS/MOBA |
| Media Controls | Yes |
| Keyboard Product Family | K70 |
| Keyboard Rollover | Full Key (NKRO), 100% anti-ghosting |
| Size(Full/TKL) | Full Size |
| Wired Connectivity | USB 2.0 Type-A |
| WIN Lock | Yes |
| Media Keys | Dedicated Buttons (Stop, Previous, Play/Pause, Next) |
| Keyboard Cable Type | Braided |