Keyboards
Corsair K70 Mk.2 Mechanical Gaming Keyboard Review
Return of the blues
« A Closer Look at the Corsair K70 Mk.2 Gaming Keyboard
|
How did it perform »
Corsair iCUE Software
iCUE is the software that manages items such as lighting and profiles on Corsair products. These products include keyboards, mice, headsets, cases, etc. The software allows you to create and store profiles which dictate how the keyboard behaves. Lighting effects and macros can be stored per profile and the keyboard can store 3 profiles on board.
When you first launch the Corsair iCUE Software, you'll be presented with the Devices screen. As you can see below, I only have one Corsair device connected to my test system. If you have multiple Corsair devices connected, they will each show up here and can be individually managed by the software.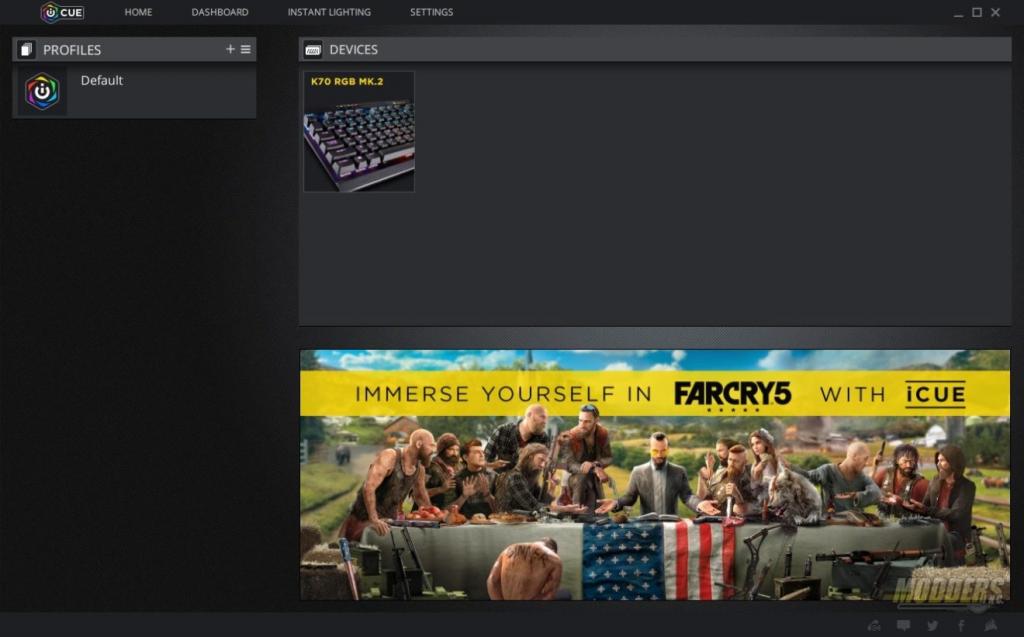 Once you've selected the device you want to manage, you'll then be able to modify settings such as lighting profiles, actions (macros) and performance settings. Below you'll see the settings for lighting effects. There are options for predefined lighting effects, you can create your own in the custom effects, and can link all your Corsair devised using the lighting link settings.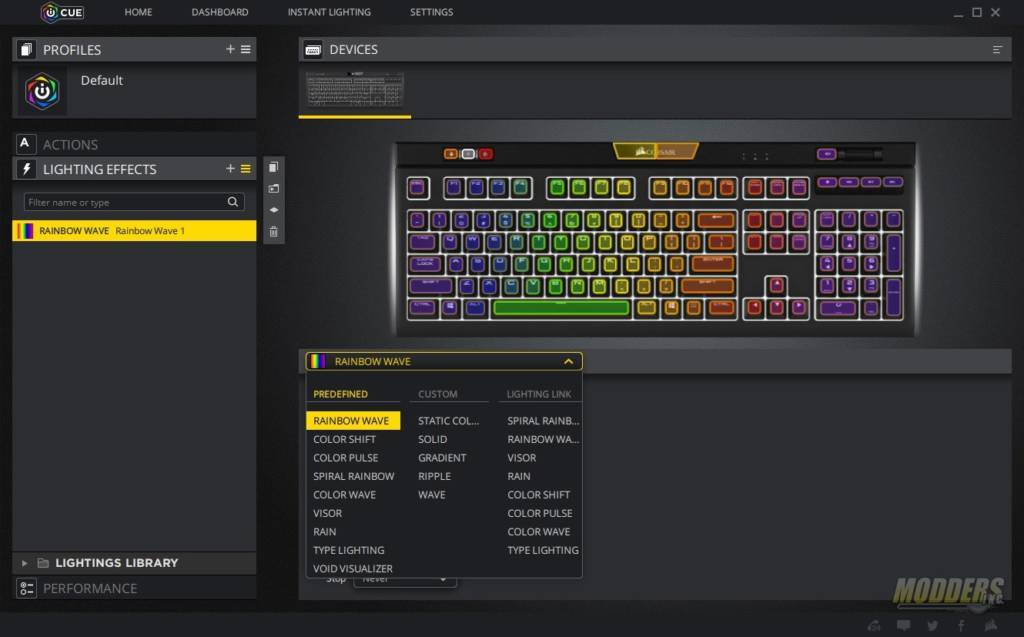 The action tab allows you to create macros. You can select from a few different options. The options include remapping keys, timer, launch an application. You can also create a set of keystrokes and save them here.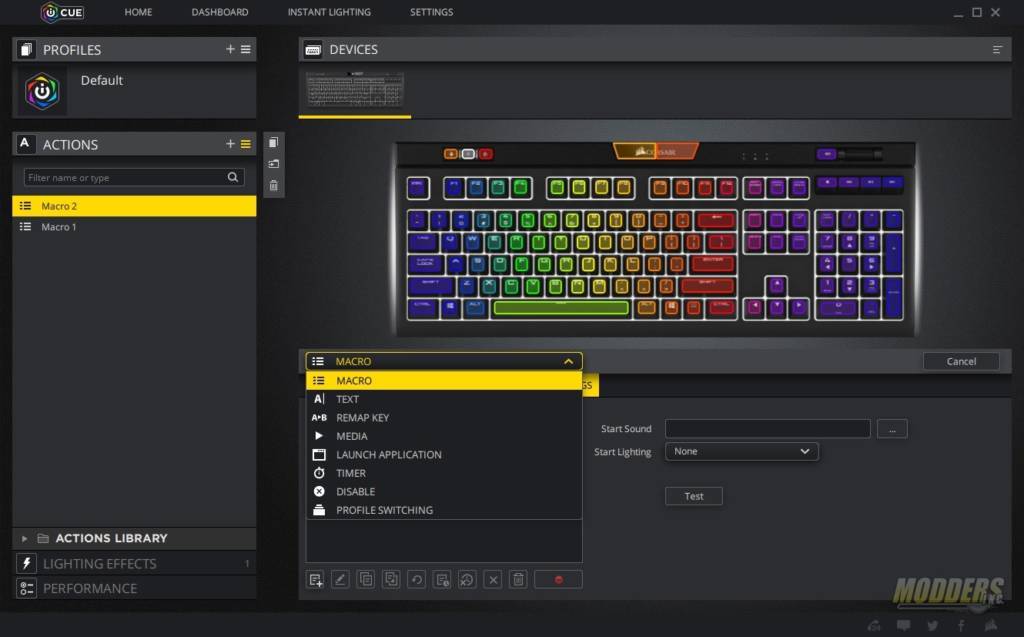 The performance tab allows you to set up options for the way the keyboard behaves. For example, if you have the Win Lock key on (this key disables the Windows button on the keyboard) you can also set the keyboard to disable the Alt+F4 keystroke. You can also change the colors of the indicators of the buttons at the top of the keyboard.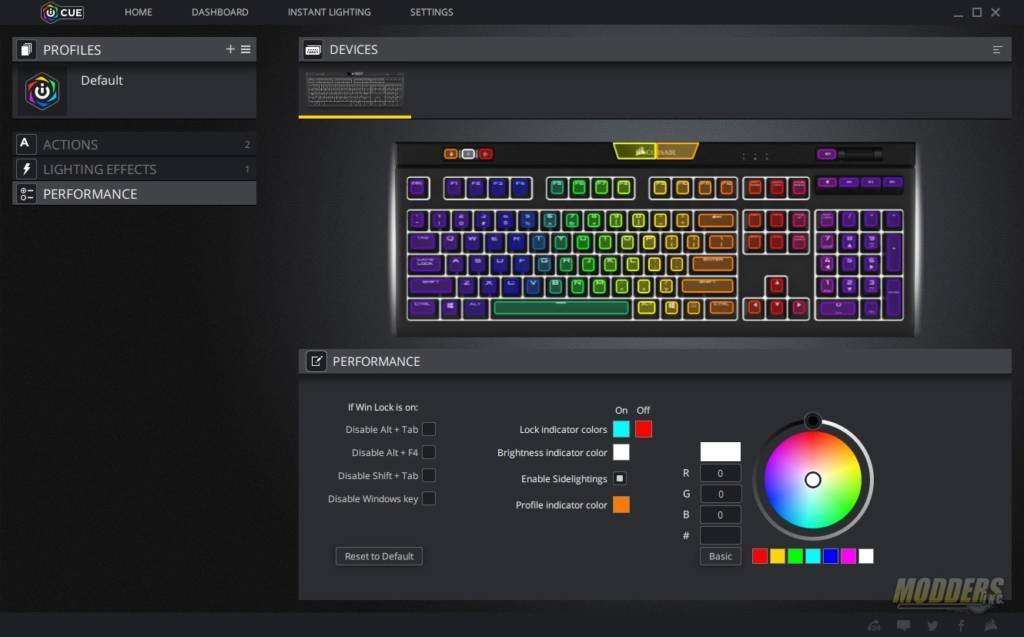 The instant lighting tab allows you to quickly set the color of the lighting on the Corsair K70 Mk.2. Just click on the colored box next to the tab and pick one of the 11 predefined colors or there is also the option of removing the color. Instant lighting does override the options you've set in the lighting effects and when it is removed, the keyboard reverts to the options that you've previously set in the lighting effects tab.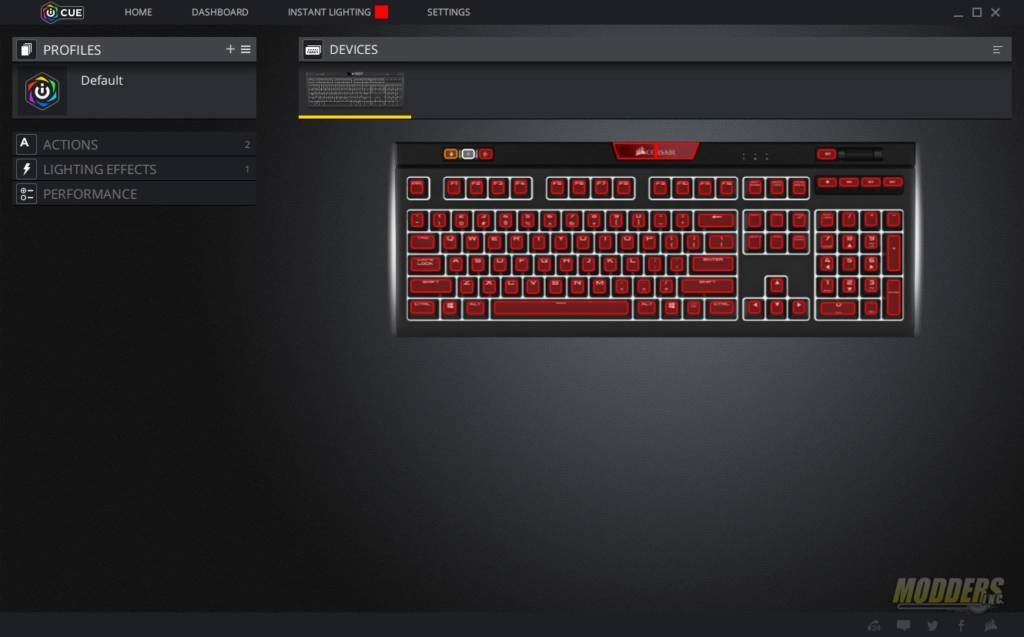 In the settings tab, you can configure how the keyboard operates and change options such as polling rate and layout. You can also update the firmware of your device from this page.