Keyboards
Cougar 700K Keyboard: The Audacity of Functional Design
« Introduction and Packaging
|
Disassembly and Modding Options »
Layout
Cougar took inspiration from stealth aircraft designs when it came to designing the 700K with sharp angles formed in the brushed aluminum and lightweight plastic frame coming in at 1.2kg. Total dimension is listed at 487mm wide, 40mm thick and a 230mm length (with wrist rest installed).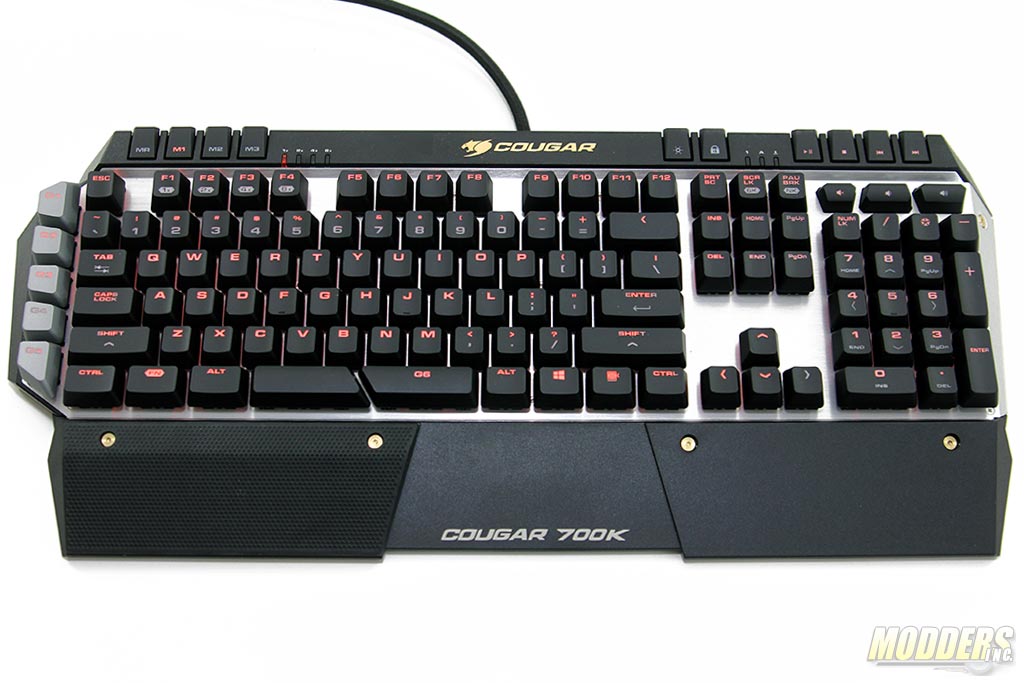 With the feet raised, total height reaches 48mm at the peak and the optional wrist-rest itself adds 65mm to the 165mm length.
Aside from the brushed aluminum top plate, the body and keycaps are all black with the signature Cougar-orange as the LED backlight. Layout is modified 100% ANSI with the exception of a split spacebar and macro key bank on the left side.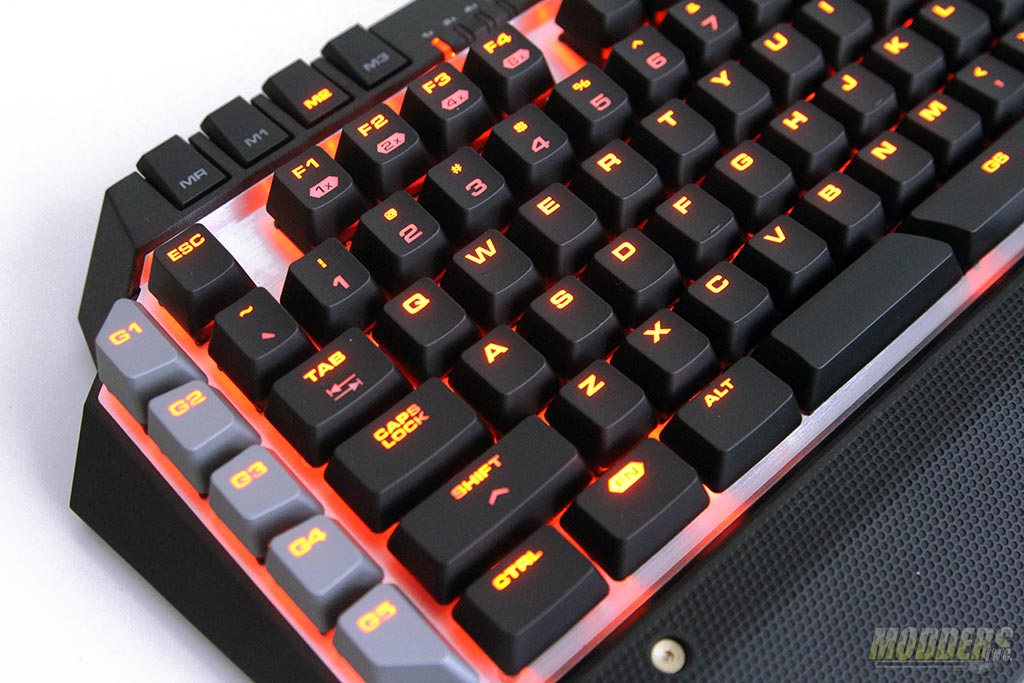 The top edge also has additional buttons at the top for macro, multimedia, windows disable and backlight toggling. All keys except for those in the top edge use a Cherry MX switch with an individual LED per key above it, thus the keycaps have the legend situated on top. The upper shift inputs such as the number row are not side by side though so only the top values are lit up.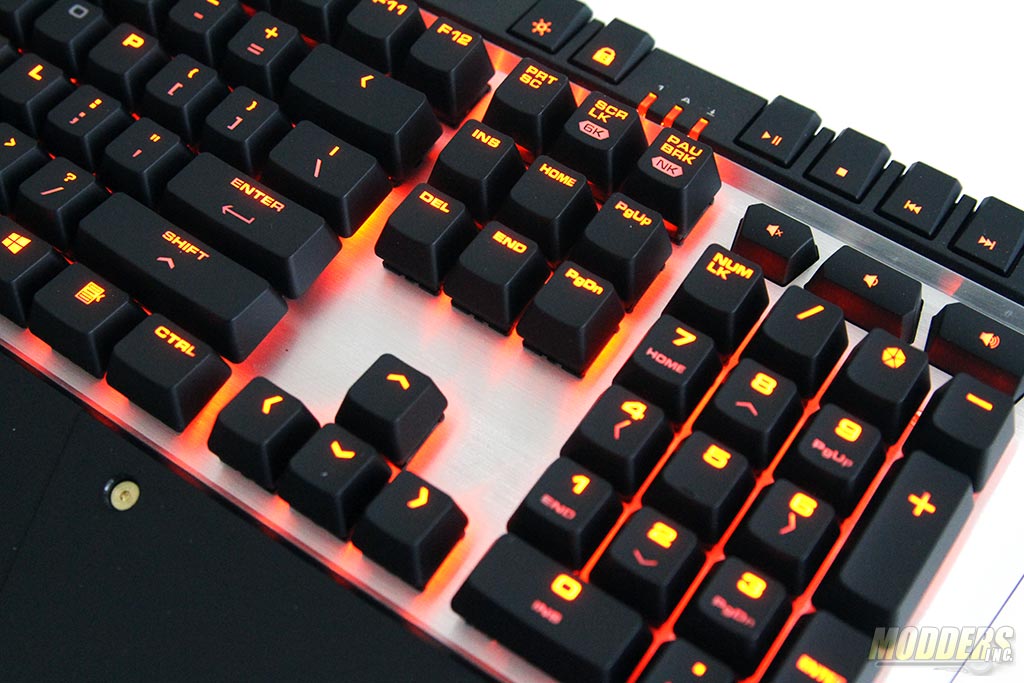 Additional functions are accessed via an FN key combo located where the Left Windows key normally is. This is a combo FN key not a toggle key so it has to be held in place while pressing another button for the secondary function. Functions vary depending on whether the UIX software system is installed or not. Default FN key combinations are as follows:
FN+ F1 through F4 (no UIX installed) =  Polling rate/response time adjustment from 125Hz/8ms (1x), 250Hz/4ms (2x), 500Hz/2ms (4x) and 1000Hz/1ms (8x)
FN+ F1 through F4 (with UIX installed) = Repeat rate adjustment from 1x to 8x acceleration.
FN+Scroll Lock = Standard USB 2.0 6KRO
FN+Pause Break = NKRO via USB 2.0
FN+MR key = Custom individual key backlight toggle
FN+Backlight key = Cycle through various lighting modes
Lighting Modes:
Default Standby (Type A)
Vertical Sweep (Type B)
Horizontal Sweep (Type C)
Reactive Lighting (only active keypresses are lit)
These are different from the default backlight settings cycle initiated by pressing the backlight key exclusively without the FN function, which cycles in 5-steps  from 100% brightness level, 66% level, 33% level, breathing mode and backlight off. There is also a standby mode which begins after two minutes of being idle, initiating the Type A pattern by default. This feature can be configured or disabled via the UIX software.
Keycaps side profile:

Bottom row key sizes:
Standard keycap = 1.8cm (1x)
LCTRL/LALT/FN = 2.7cm (1.5x)
RALT/RWIN/CONTEXT/RCTRL = 2.25cm (1.25x)
LSHIFT =4.1cm
RSHIFT = 5.1cm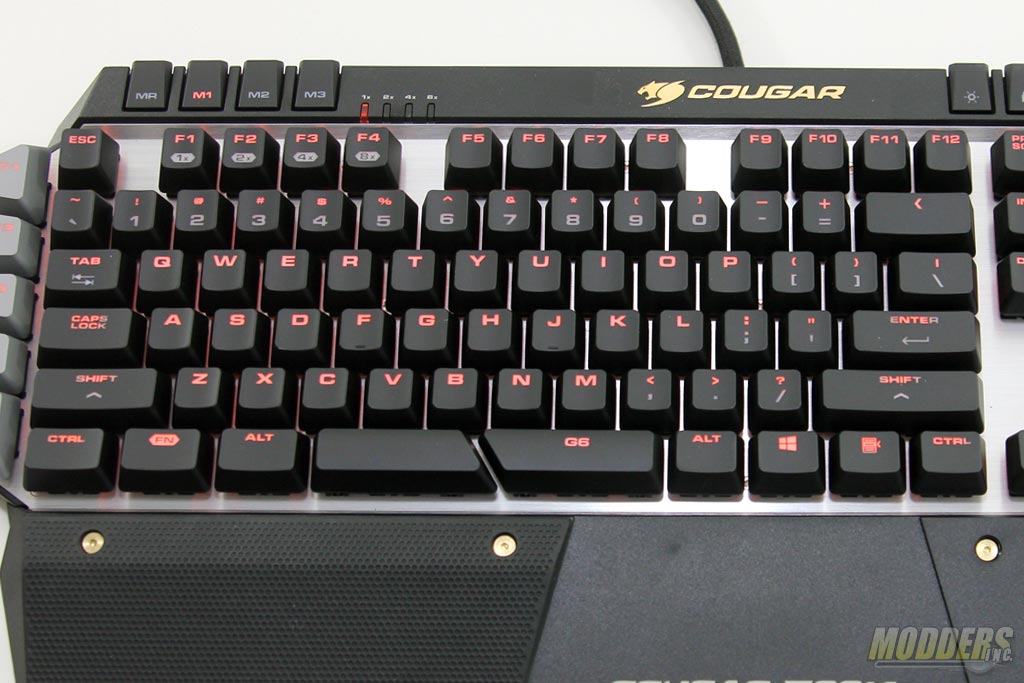 All keys except for the volume control keys have mounts that are recessed standard Cherry MX compatible. The dedicated volume keys are not mechanical, using membrane based actuation. The keycaps have the typical "soft-touch" paint finish found on other backlit keyboards.
Obviously the Cougar 700K's spacebar is non-standard. The mount spacing itself is unique compared to others since there are two different ones for the split spacebar and the mounts do not match with the other keys that have stabilizers. Here is the measurement for those interested. The yellow is measured at peak while the green is measured from center to center.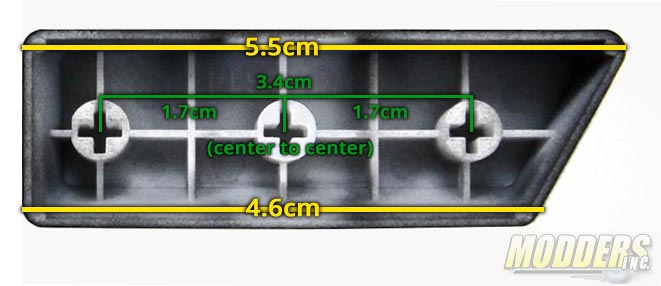 The volume keys need quite a bit of travel to actuate and the membrane itself is stiffer than standard keyboards. Users have to really depress the volume buttons to register which is a weird contrast to the sensitive Cherry MX switch of this particular 700K keyboard. The top row multimedia and M-buttons are also particularly fragile and are going to be the first to go (or you can start befriending somebody with a 3D printer). As one can see in the image below, these edge buttons have a very small plastic latch for the hinge. To remove these for modding, I would suggest removing the entire top first and pushing at the hinge contact area (more info on this in the disassembly section on the next page).
The G-keys look weird but they can actually be replaced with standard keycaps without interfering with each other or the main keys. The default keys provided are angled somewhat to prevent accidental keypress confusion. The escape key is thankfully aligned in a standard way so edge position is not very jarring although the default G5 button overhang below can take some getting used to when negotiating reset position of the pinkie finger to the LCTRL.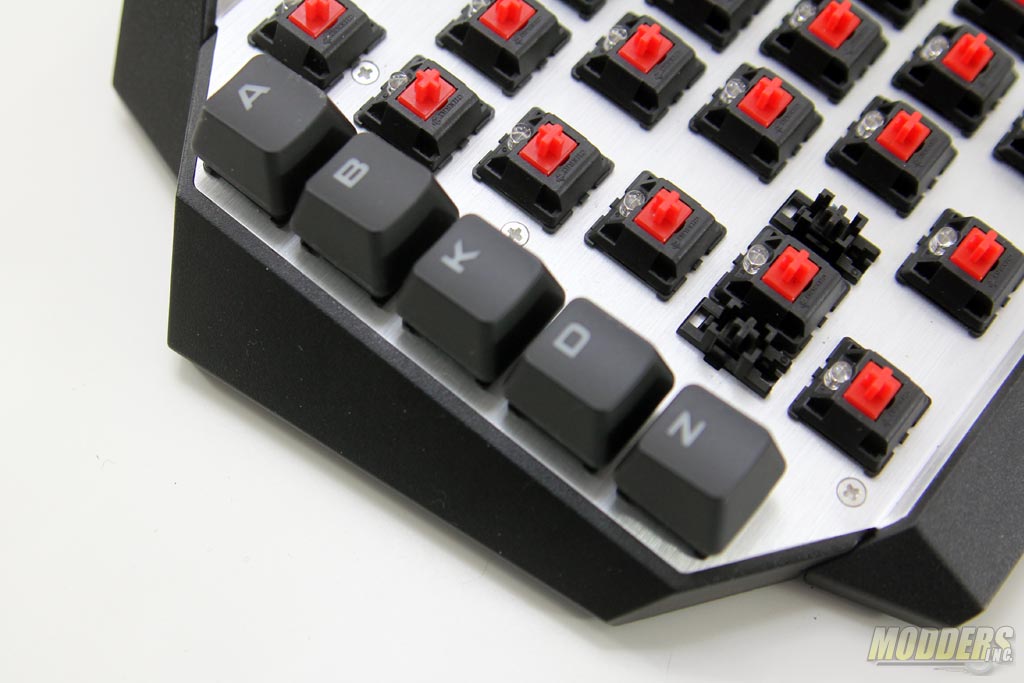 Here is a shot of the 700K with all the main keys removed and lit at 100% LED brightness level.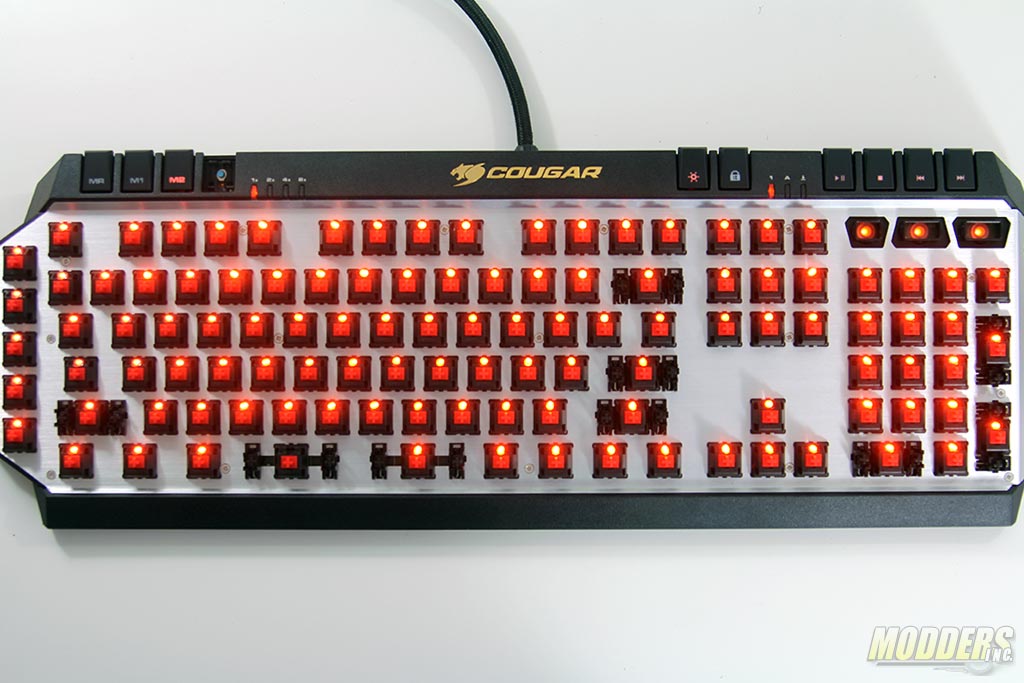 The switches are obviously plate mounted on the aluminum cover and it uses Cherry dummy stabilizers for the larger keys. This sample in particular comes in Cherry MX red switches but Cougar provides options for Cherry MX Blue, Black and Brown switches as well.
Functional connection is through a single USB 2.0 cable but audio and a separate USB 2.0 passthrough is included. All cables are braided and measures 180cm long in total. Audio connectors are color-coded in the connector ring (pink for microphone and green for audio out) and the USB connectors are marked on the housing.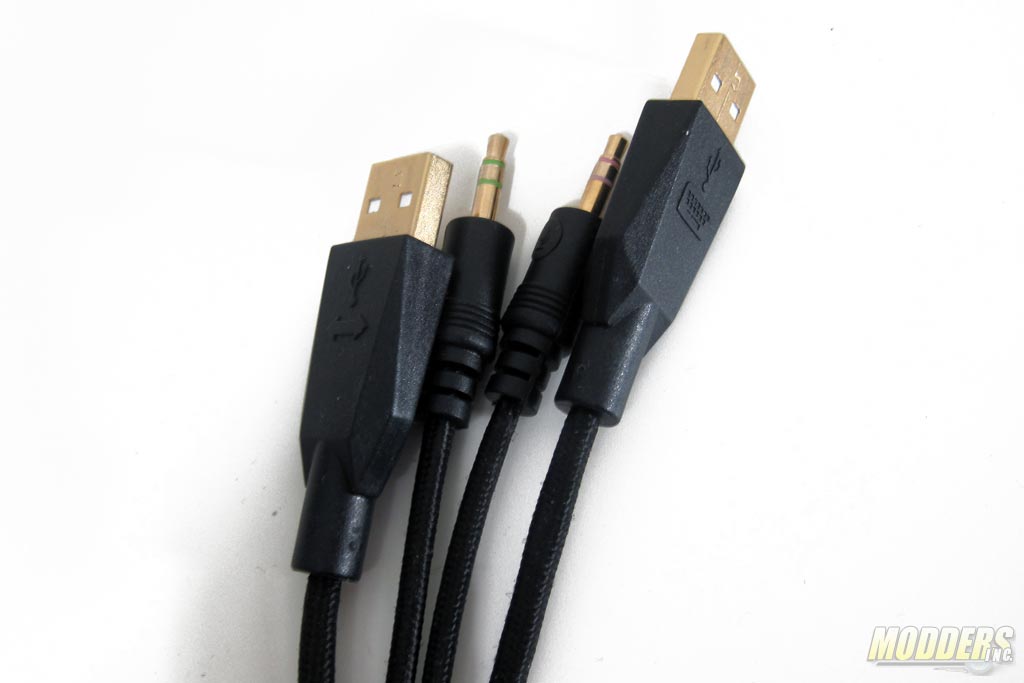 The Cougar 700K has both NKRO and standard USB 6KRO functionality. This is achieved with the use of multiple HID devices in Windows and without the use of a PS/2 adapter.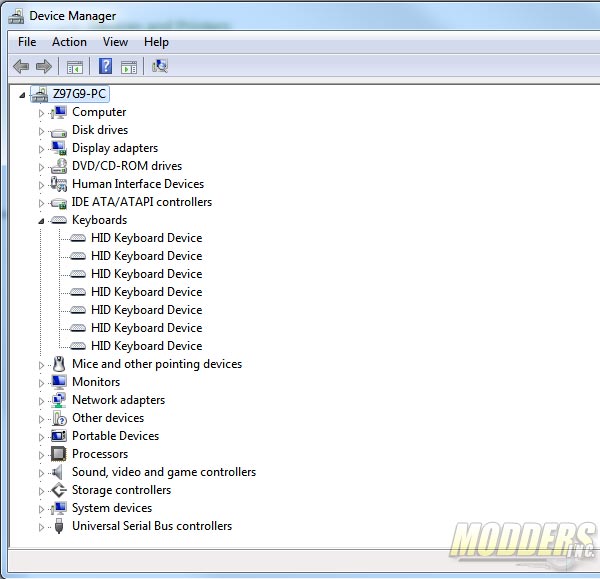 USB passthrough and audio ports are located on the rear right-side corner. Thankfully, no ugly color coding on the audio ports here and the markings are subtle but present. Plugging in a thumb drive on the USB passthrough is a bit tight since there is an overhang on top, but plugging in a cable such as a USB headset device is not an issue.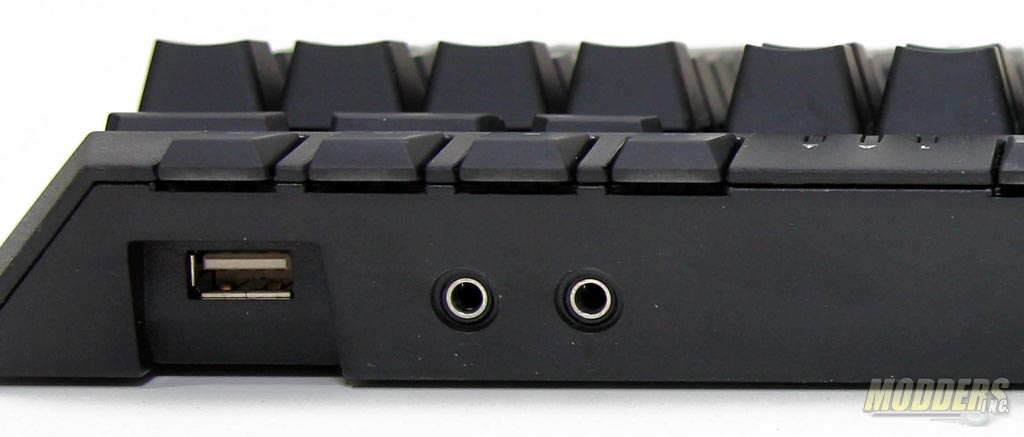 Since it is a USB passthrough, transfer rates are not impeded during use and the audio passthrough also performed as expected without electrical interference noted during testing.