Keyboards
Cougar 700K Keyboard: The Audacity of Functional Design
Layout and Feature Overview »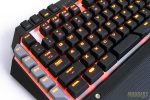 A product's function is not solely reliant on the designer but also shaped by the intended audience. Problem arises when there is a disconnect between intention, marketing and reception; the result being a product that is supposed to perform well at the intended task but comes up short due to false assumptions on what the intended audience needs. I say "needs" not "wants" because most users do not know what they need until they have tried it, especially in this day and age when most consumers believe that YouTube is a reliable media source and can't tell the difference between what an unbiased review is supposed to be like and a commercial. Fancy LEDs are nice to look at on video but can be annoying if there is not enough control options for it. Macro keys can be useful but it can limit productivity if not ergonomically placed. Extra software for feature management is handy, but it can also be buggy and the source of more frustration than a solution, etc. Marketing to gamers has proven to be quite profitable but many manufacturer's approach seems to be a "throw things into the wall and see what sticks" philosophy. If it is intended for gamers, you can bet it is going to be aggressively styled and angular and most likely LED lit because it looks good in promotional photos and videos. What separates an actual good gaming keyboard from something that is simply just a photogenic one requires more information than what can be condensed in a 3-minute video sales pitch.
Cougar's latest 700K mechanical keyboard is definitely a photogenic gaming peripheral, winning a Computex Design & Innovation and iF product design award in 2014. If it looks familiarly like the Corsair Vengeance mechanical keyboards, that is because both are designed in cooperation with the same design studio: Cre8 Design Studio based out of Taiwan. With an MSRP of $149.99, the Cougar 700K mechanical keyboard is also striking at the same pricing segment and incorporates many of the same features and works to improve on some. Cougar has sent one over to be reviewed, and we will see if it has got a lot more going for it under the hood than a shiny surface and a light show.
Review Sample Provided by: Cougar
Price at the time of review: $149.99 USD
Product Name: Cougar 700K Keyboard
Product was given in exchange for work done to produce this review
The package was opened by customs at the border and it seems that proper repackaging was not on top of DHL's priorities so the box arrived somewhat mangled. I will spare my dear readers from the cardboard gore but thankfully, the packaging inside was substantial enough that there were no major physical damage to the Cougar 700K when it arrived. There is a cover box and there is also a thicker box containing the unit itself that slides into the cover box. Inside the secondary box, the main unit is in the top compartment padded on all sides and the rest of the accessories are located at the bottom compartment.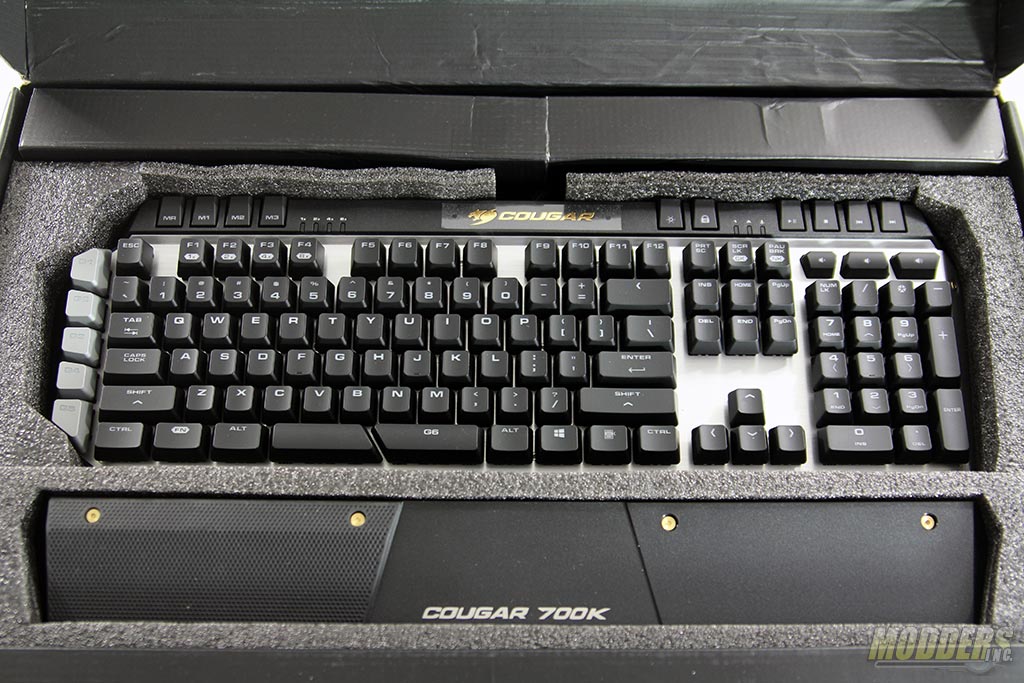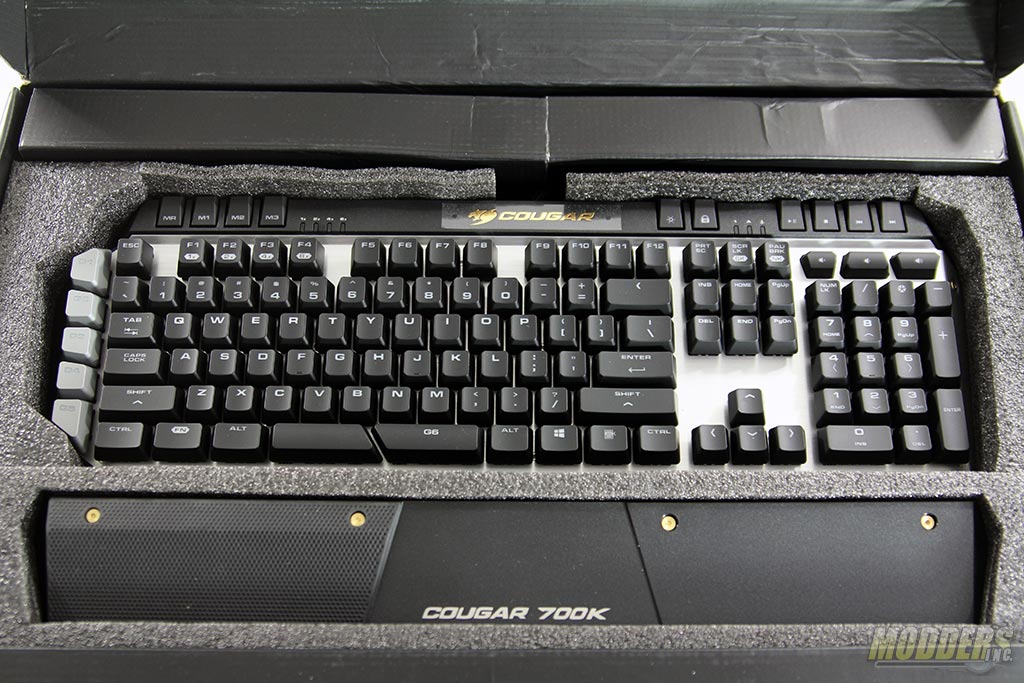 An optional wrist rest is included made from hard plastic. It is not considerably large so it should not be an inconvenience for those who have a pull-out keyboard tray. This wrist rest just simply snaps into place at the bottom and has an optional magnetic rubberized pad for the left WASD hand that sits on top. Because of the asymmetrical design, this cannot be installed on the right side however.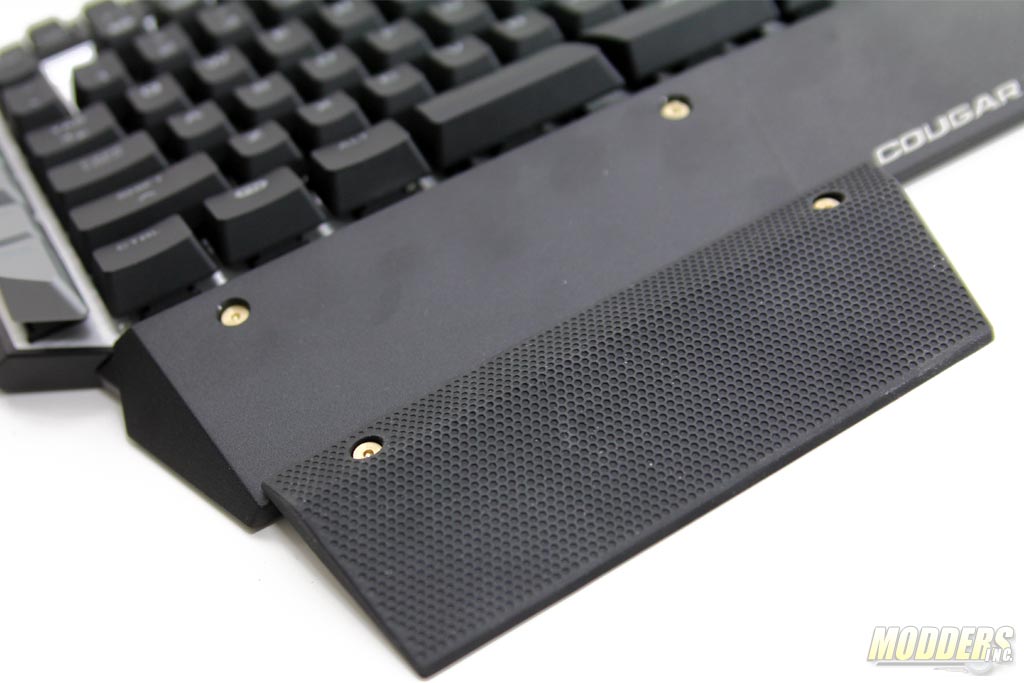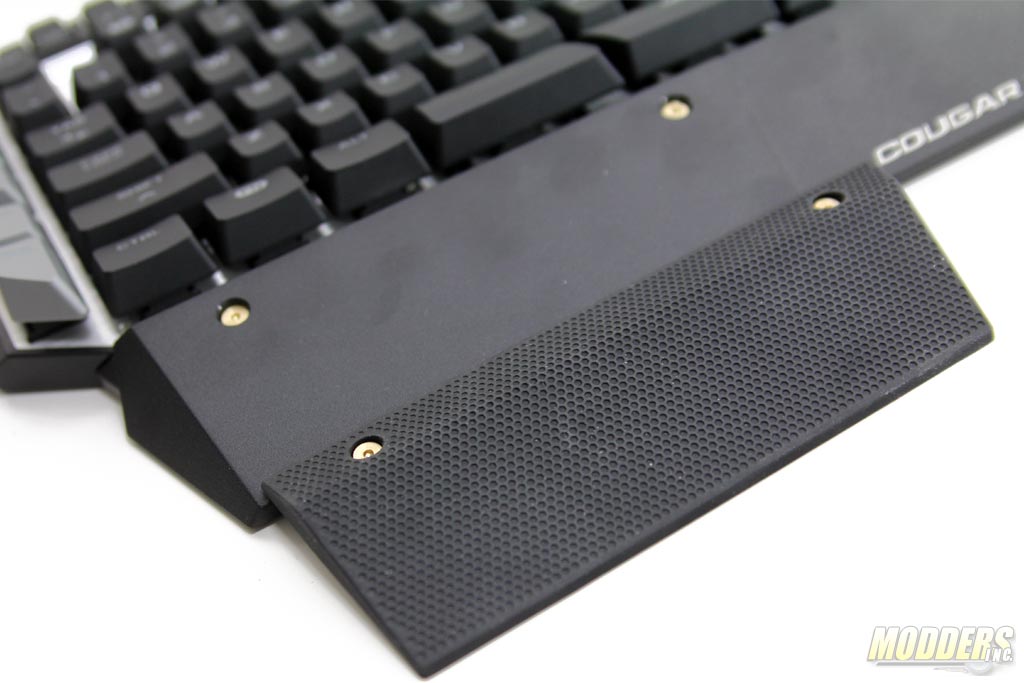 The rest of the accessories include a couple of Cougar stickers and flipbook manual detailing the out-of-the-box functions as well as a mini-cardboard envelope housing the two items. Official specifications from Cougar is in the table below. If you need more promotional information, visit the official product landing page at: http://www.cougar-world.com/products/keyboards/cougar_700k.html.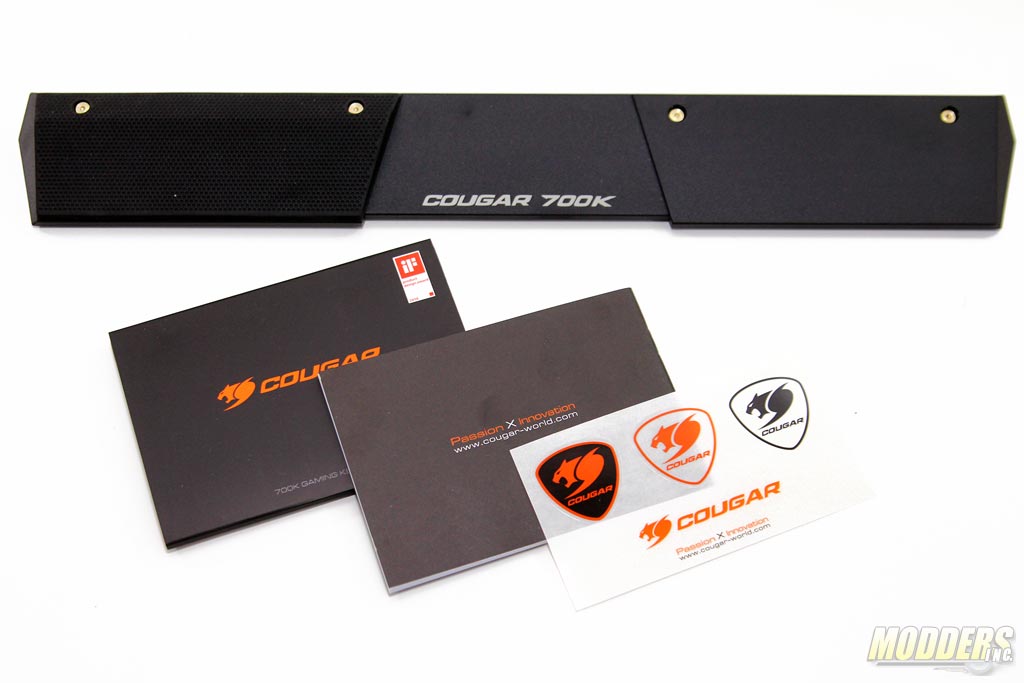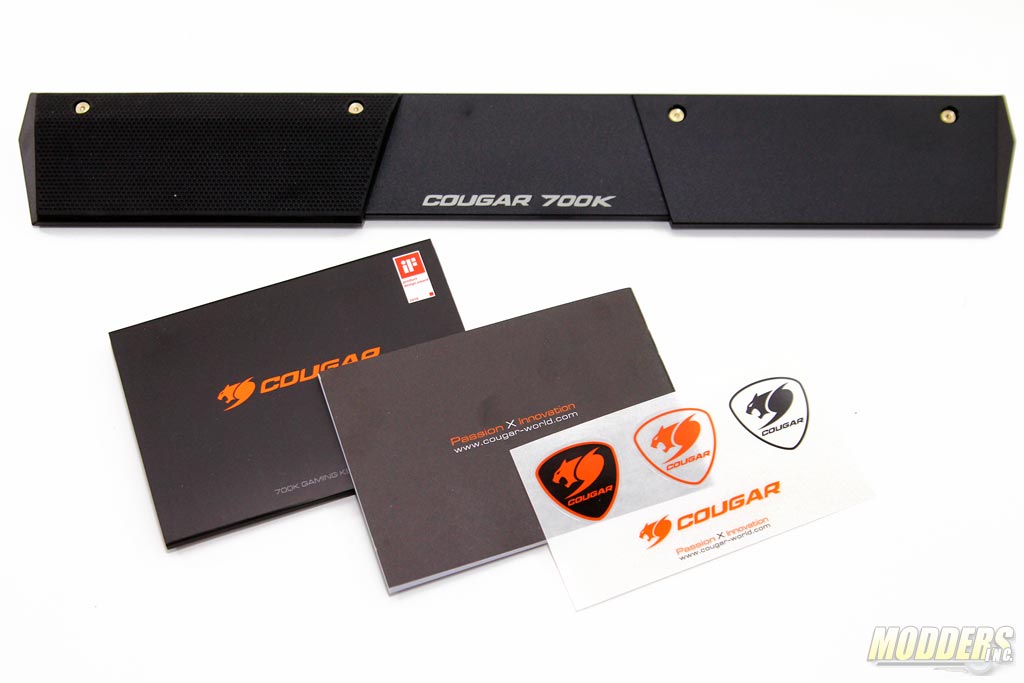 Specifications:
| | |
| --- | --- |
| Product name | COUGAR 700K gaming keyboard |
| Key switch | Cherry MX mechanical |
| Processor | 32-bit ARM Cortex-M0 |
| N-key rollover | Yes |
| Full key backlight | Yes |
| Game type | FPS / MMORPG / MOBA / RTS |
| On-board memory | 512KB |
| Polling rate | 1000Hz / 1ms |
| Repeat rate | 1X / 2X / 4X / 8X |
| On-board memory | Yes |
| Material | Aluminum and Plastic |
| Software | COUGAR UIX™ SYSTEM |
| Additional programmable G-keys | 6 |
| Palm rest | Yes |
| Audio jacks | Yes |
| USB pass-through | Yes |
| Interface | Golden-plated USB plug |
| Cable length | 1.8m Braided |
| Dimension | 230(L) X 487(W) X 40(H) mm |
| Weight | 1.2kg |