Keyboards
Cougar 700K Keyboard: The Audacity of Functional Design
« Disassembly and Modding Options
|
How did it Perform? »
Firmware Update
Before installing the software, Cougar asks to update to the latest firmware first. Out of the box, this particular Cougar 700K comes with firmware version 42 and the latest available is v.43.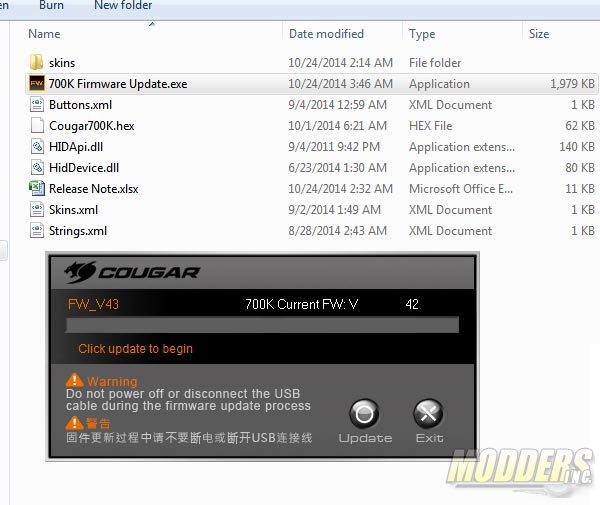 Firmware installation is standalone, thus fairly simple, requiring users to simply launch the executable file. A system restart is required after installation.
Cougar UIX System Software
Cougar's UIX is shared by all of their peripherals making it convenient should you have multiple items. Plus, the design is easy to follow unlike most software which try to be fancy with a different design per item that just adds to the confusion. There are three main control options in the Cougar UIX software: Performance, Key Assignment and Lighting control. Gaming profiles are managed separately on the top as well with a quick drop down option for selection and mode toggle right above.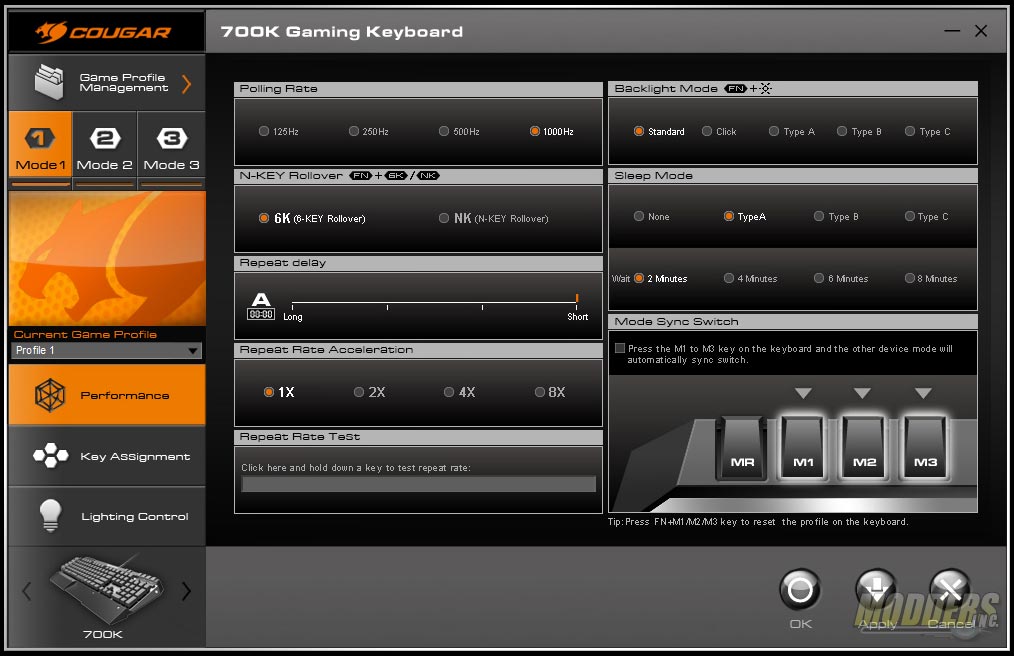 Performance options for the 700K include polling rate (default is 1000Hz), N-key Rollover (also accessible via keys), Repeat delay (default short), repeat rate acceleration (default 1x, up to 8x) with a repeat rate testing window underneath. Mode sync switch for the M1, M2 and M3 keys and backlight mode toggle controls involving sleep mode and FN+backlight switch toggling defaults. This is where the sleep mode can be set for as long as 8 minutes from the default 2 minute wait. To disable LED sleep mode, simply select NONE in the sleep mode option.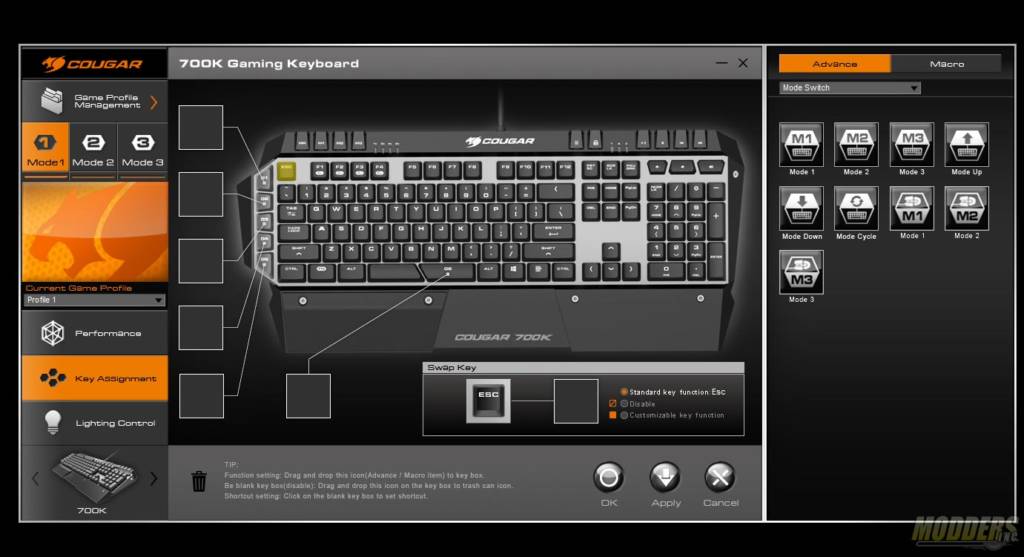 The key assignment option, allows users to not only assign values to the six G-keys (default is blank), but also allows users to assign almost any value to the standard keys. This is where left handed users miffed by the spacebar placement can just assign the G6 as a spacebar as well so it is not missed and maybe reassign the spacebar as a custom function. Understandably, only the main 104 keys + G-keys can be reassigned and not any of the dedicated multimedia, backlight or MR, M1, M2 and M3 keys.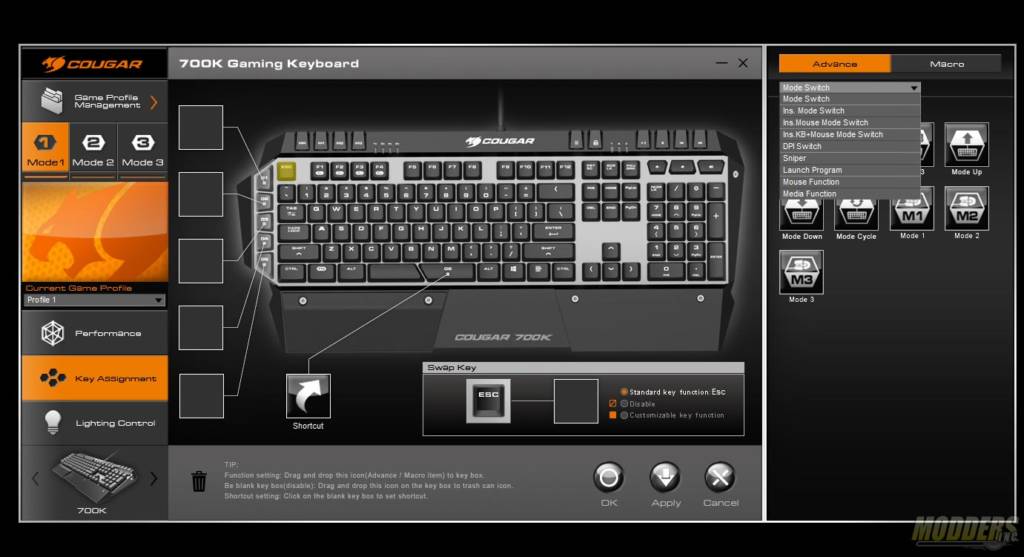 Macro can be recorded live or via the UIX software. There are also several presets already accessible from the drop down menu that can be assigned or users can disable the key completely if need be. Mouse functions can also be recorded in macro recording mode even if you do not have a Cougar mouse and all inputs records the delays as well since it is a live exclusive recording mode. The macro recording option is quite powerful with options to set fixed delay time or ignore time delays completely. Mouse coordinates can also be recorded in absolute or relative coordinates. Absolute is ideal for fixed resolution gameplay or in 2D isometric games with set map boundaries and relative is more ideal for general motions in FPS games. As with any good macro recording functionality, macro playback rate and repetition options are available.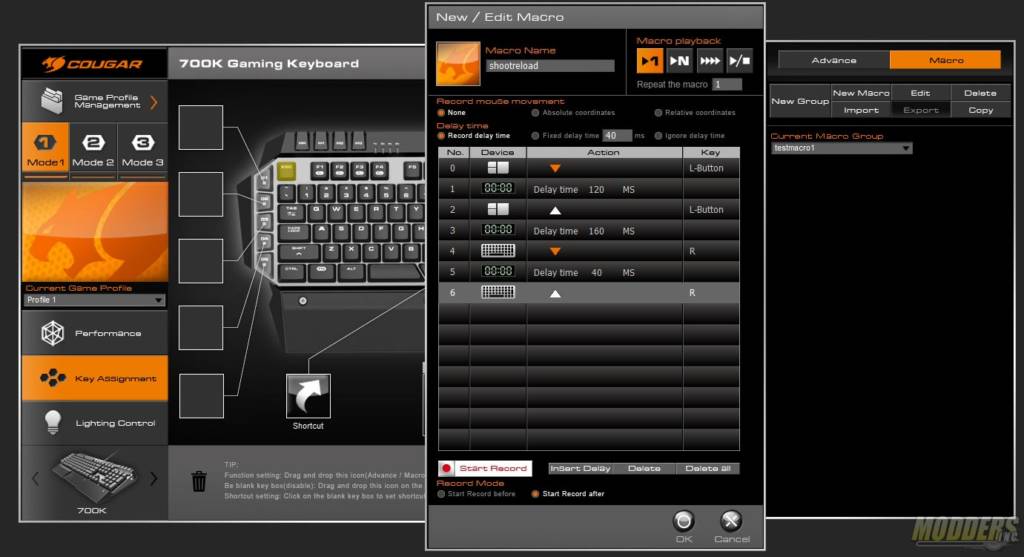 Profiles and options are all saved in the 700K's internal memory so the UIX is not necessary for recalling them via the profile function but with the UIX Game Profile Management, users can export or import from their profile libraries stored locally or on a thumb drive.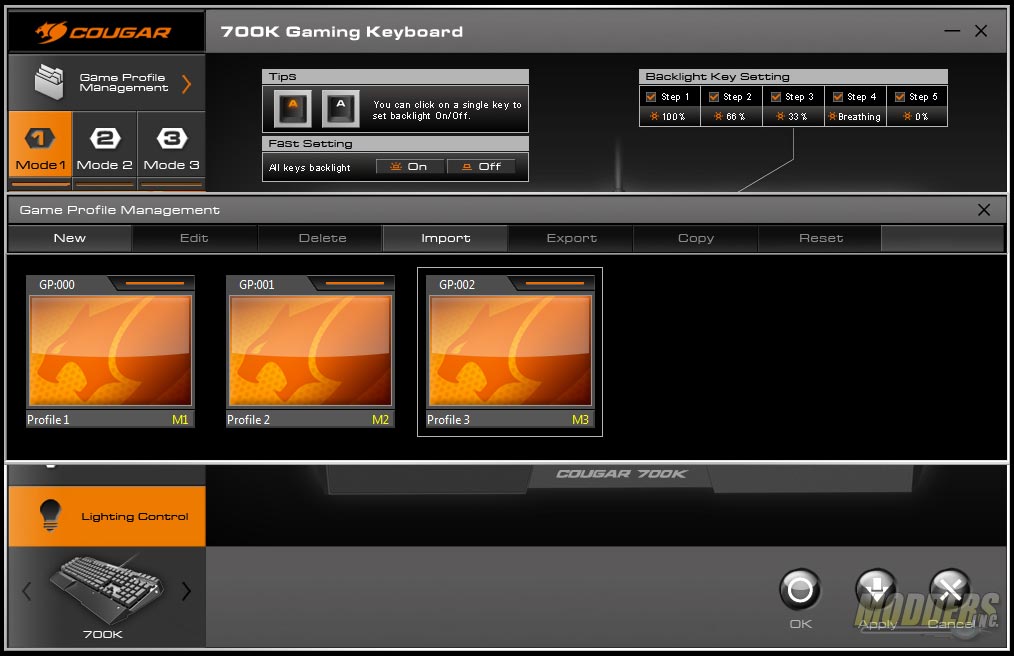 The Lighting Control tab offers the rest of the lighting options not covered in the performance tab with options to completely disable the backlight, or enable/disable individual key backlighting as well as enable/disable the default backlighting key step settings.