Cougar has just announced the arrival of their most powerful gaming headset ever – IMMERSA PRO. Endowed with immersive 7.1 Virtual Surround audio, a flexible microphone, and a cool ergonomic design with RGB backlight, this headset unites performance and style to provide everything a serious gamer could ask for.


Steven Jeng, Product Manager for Gaming Audio at Cougar, was quoted "We wanted to offer something that brought gamers the best audio experience while at the same time being comfortable enough for day-long gaming sessions. After getting that done, we decided that it was not enough for it to be extraordinary, it also had to look extraordinary, so we asked our engineers to come out with a metal-based design that sported full RGB backlight. I am confident in saying that they produced one of the best choices a gamer can currently find on the market."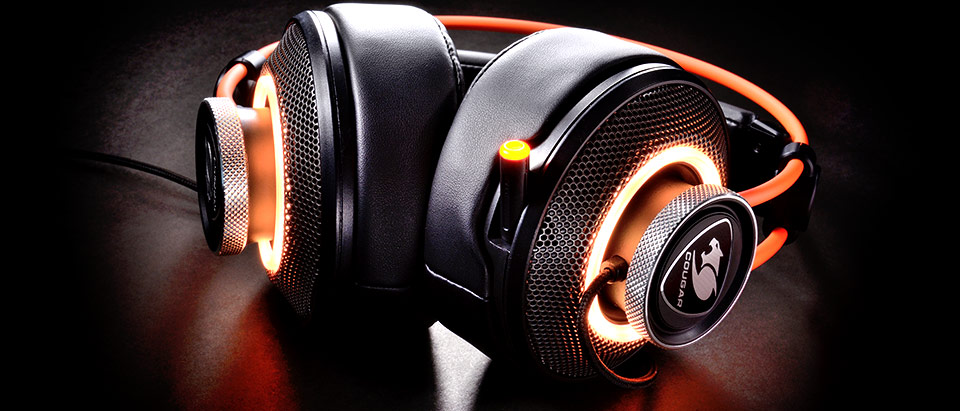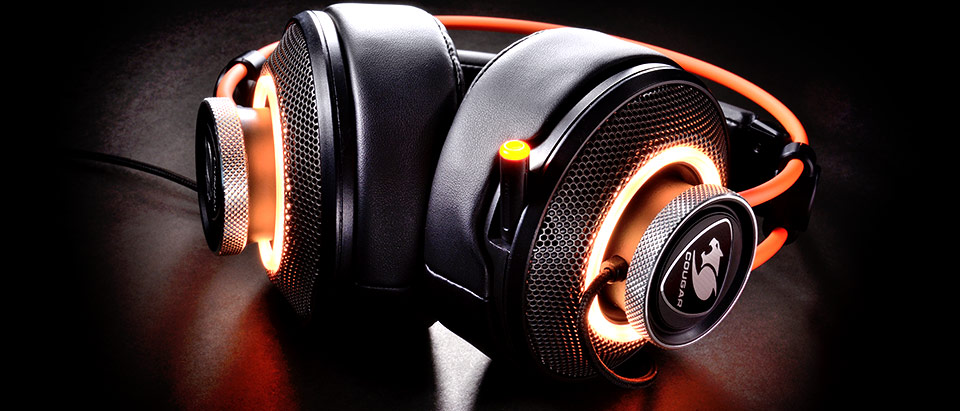 IMMERSA PRO's integrated sound card brings you the best audio technology. IMMERSA PRO's 7.1 Virtual Sound capabilities are a massive improvement to your gaming experience. This technology allows you to know the direction from which a sound comes, generating a more immersive atmosphere and, in online games, dramatically increases your performance. Hear your rivals as they come to meet their defeat!
IMMERSA PRO's customizable RGB backlight makes you stand above the crowd. With 16.8 million colors to choose from and five impressive lighting effects, the metallic design of IMMERSA PRO is as incredible as its performance!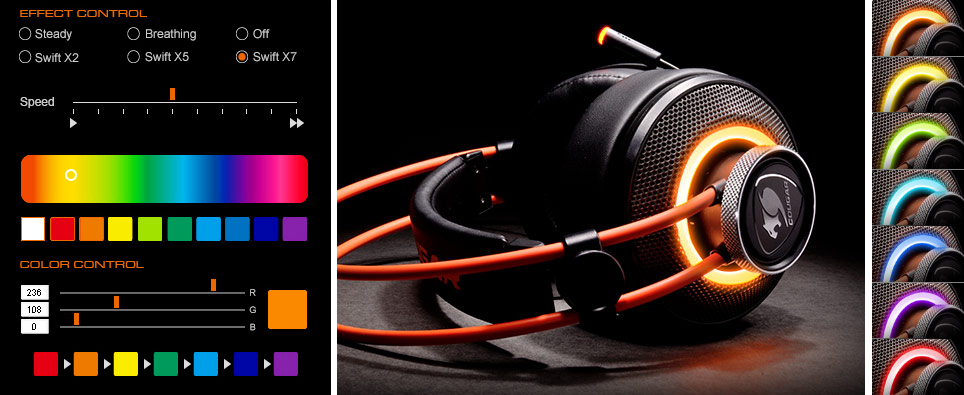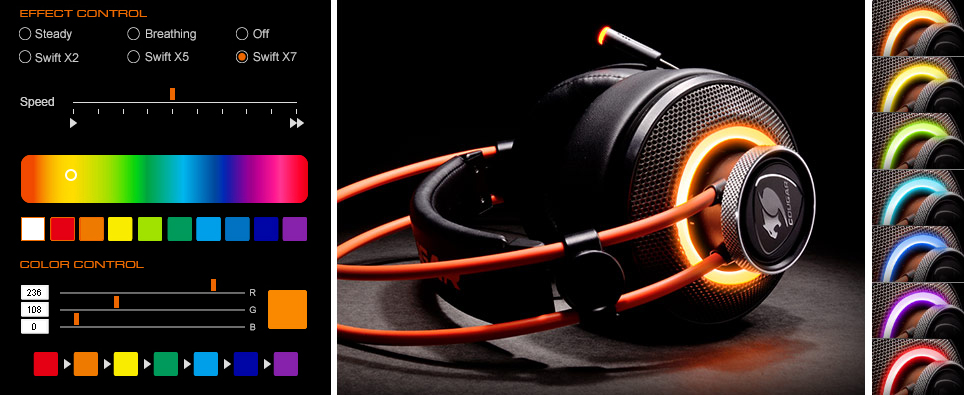 IMMERSA PRO's massive 50mm Neodymium drivers generate an incredibly rich audio output that allows you to get the experience game developers intended. The suspended headband design minimizes the contact of hard components with your head, reducing the feel of weight that makes many headsets unsuitable for long term use. Over your ears, IMMERSA PRO's omnidirectional adaptive ear shells move in all directions to adjust themselves to your head. Additionally, two over-sized 10mm ear pads bring you heretofore unseen levels of comfort and noise isolation, covering your ears more and better than conventionally sized ear pads.
Both ear cups feature control dials to control the microphone's mute mode and adjust audio volume as needed. The left ear cup dial sets the mute mode on/off, while the right ear cup dial controls audio volume. As convenient as it gets: both ear cups function as dials to easily control the the audio volume and the microphone's mute mode.


IMMERSA PRO's microphone can be retracted into the ear shell when you're not using it, is flexible to prevent it from breaking accidentally and has an on-board LED to let you know when it's muted. The full pack of features any serious gamer needs.
COUGAR UIX is a user-friendly way of accessing all of IMMERSA PRO's capabilities. From full audio equalizer functionality (with 12 preset modes) to RGB customization, UIX makes it truly easy to achieve the user experience you want. For additional ease of use, the user interface is the same as those of UIX-compatible COUGAR products.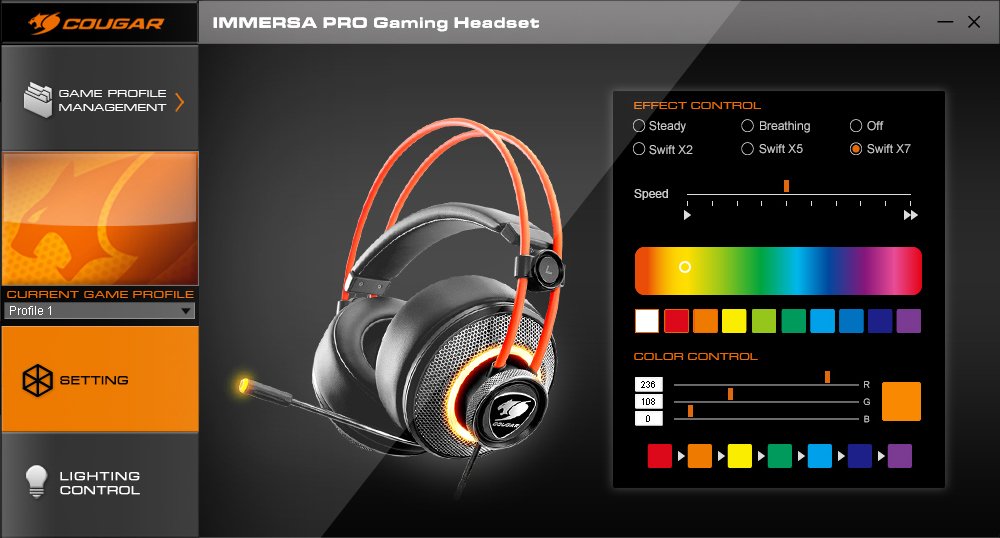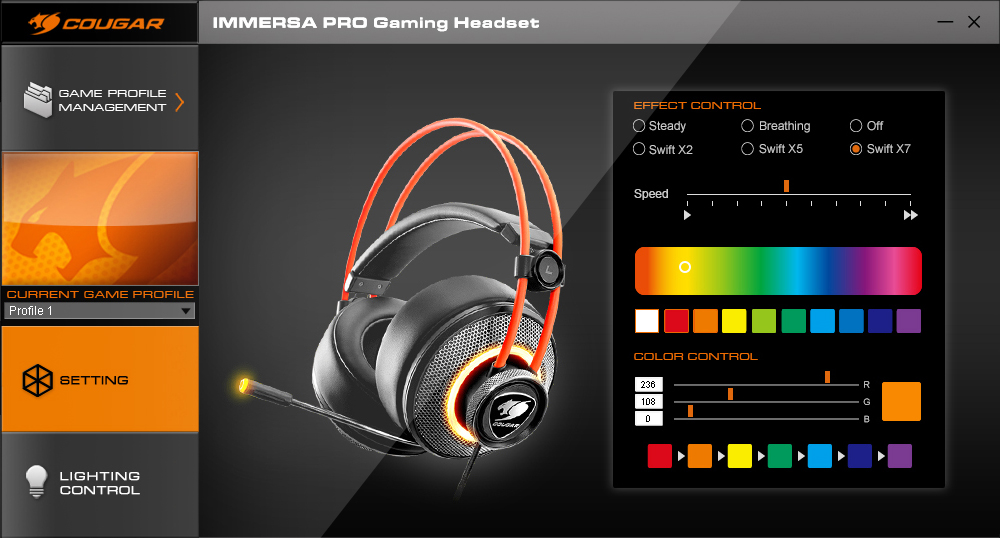 IMMERSA PRO can bring you high-quality audio on virtually any device: with both USB and a 3.5mm plug adapter, it can connect to a massive range of devices, from high-end desktop computers to phones and small audio players.
The COUGAR IMMERSA PRO will reach the markets starting August 2017 with an MSRP of $89.99 USD.
Comparison of IMMERSA PRO and IMMERSA:
| | | |
| --- | --- | --- |
| | IMMERSA PRO | IMMERSA |
| Audio Drivers | 50mm | 40mm |
| Audio Type | 7.1 Virtual Surround Sound | Stereo |
| Connection Type | USB / 3.5mm Phone Plug | 3.5mm Phone Plug |
| UIX Support | Lighting / Equalizer | None |
| Rapid Control | On Earcup | In Line |
| Microphone | Noise Cancelling Condenser | Noise Cancelling Condenser |
| Platform Compatibility | PC / Mobile / Consoles | PC / Mobile / Consoles |
IMMERSA PRO Specifications:
HEADPHONE
Driver
50mm
Maximum Input Power
100mW
Sensitivity at 1KHz
100dB ± 3dB
Impedance at 1KHz
32Ω ± 15%
Frequency Response
20Hz – 20kHz
Cable Length
2 meters
MICROPHONE
Type
Noise Cancelling Condenser
Frequency Response
100Hz – 16kHz
Sensitivity at 1KHz
-40dB ± 3dB
Impedance
2.2kΩ
COUGAR UIX System
Yes
Connector Type
USB / 3.5mm Phone Plug