« Introduction and Specifications
|
Sound Blaster Connect »
Closer Look at Creative Sound BlasterX H6
The Sound BlasterX H6 weighs just about 2Kg/1Lb. The headset cups shell is made from an ABS plastic and feels extremely light. The only color H6 comes in is black. What it lacks in color it makes up in RGB lighting ring which is on the outer side of the cups. The headband ribbon has leather on the top and breathable meshed fabric on the inside.
There are few buttons on the left ear cup. The very top button is a Monitor button. Press it once and the headset mutes itself so you can hear outside noise. Press it again and you are back to your experience. The knob to control volume is found right below the Monitor button. This knob does not have a stop position. Right below that there is a microphone. Hit it once to mute your microphone and hit it again to un-mute it. You can connect H6 with either 3.5mm cable or micro USB cable which are both included.
Each ear cup is labeled with L and R for respective sides. Both of the cups could be easily removed and replaced if they wear out. The core of the headband is made with a plastic mechanism and steel rolled sheet for support. Adjusting the size of the headset is smooth and very easy. There is resistance when you expand the headband but its not terrible.
The H6 has an Ambient Monitoring feature which allows you to block some of the outside noise so you don't pass the extra noise while talking to your teammates. The microphone could be easily removed if you do not require it. On top of the microphone, there is an Equilizer button. There are three presets which could be cycled through by pressing the EQ button. You can also use more presets or a full EQ with the help of the Sound Blaster Connect application.
The microphone is about 8 inches in length and has a gold plated 4 pole connection. A small microphone cushion can be removed and replaced if needed. Both 3.5mm and USB cables are just shy of 7ft.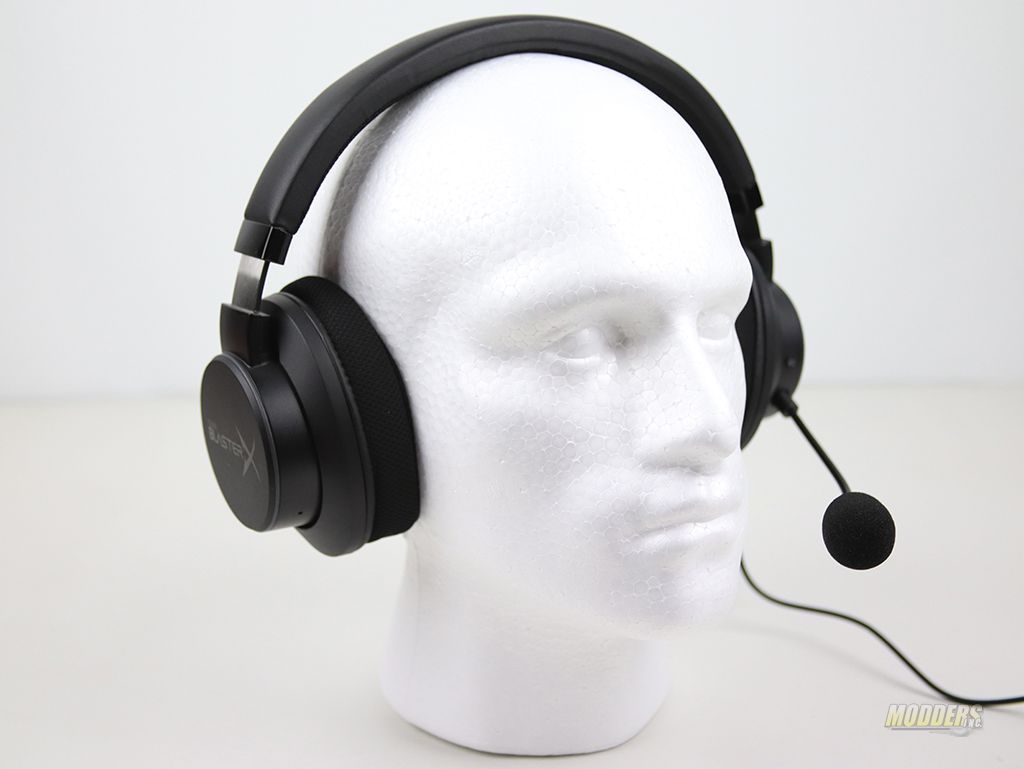 The gaming headset fits well on a medium-size head and has a good geometrical design proportion. Each cup does stick out a little bit but it's not noticeable when you are wearing H6.