CPU Cooler
CRYORIG H7 CPU Cooler Review: Worry-free Compatibility
« Test System and Benchmarks
Final Thoughts about the CRYORIG H7

Performance wise the CRYORIG H7 is above average and can be made to perform better with an additional fan at the rear as observed in the thermal images having a few warm spots in the exhaust area. Acoustically, it is far from the quietest at full 1600RPM throttle, although quieter than the venerable CM Hyper 212+. Running the CRYORIG H7 in PWM mode or lowering the fan speed to only 1000 RPM still shows decent performance on par with some silent tower CPU coolers.
The CRYORIG H7 is not something you would describe as compact although it stands at only 145mm. In fact it looks imposing despite this height limit, although the aggressive styling is a sharp contrast to how friendly and accommodating it is functionally. Aside from the 145mm height allowing for installation on many restricted mid-tower cases where the 158mm Cooler Master Hyper 212+/EVO would be too tall for, the CRYORIG H7 also fully supports four populated DIMM slots without interference due to an off-set heatpipe design. Even with a fan installed, even the tallest RAM module with an extra fan attachment on top can be used.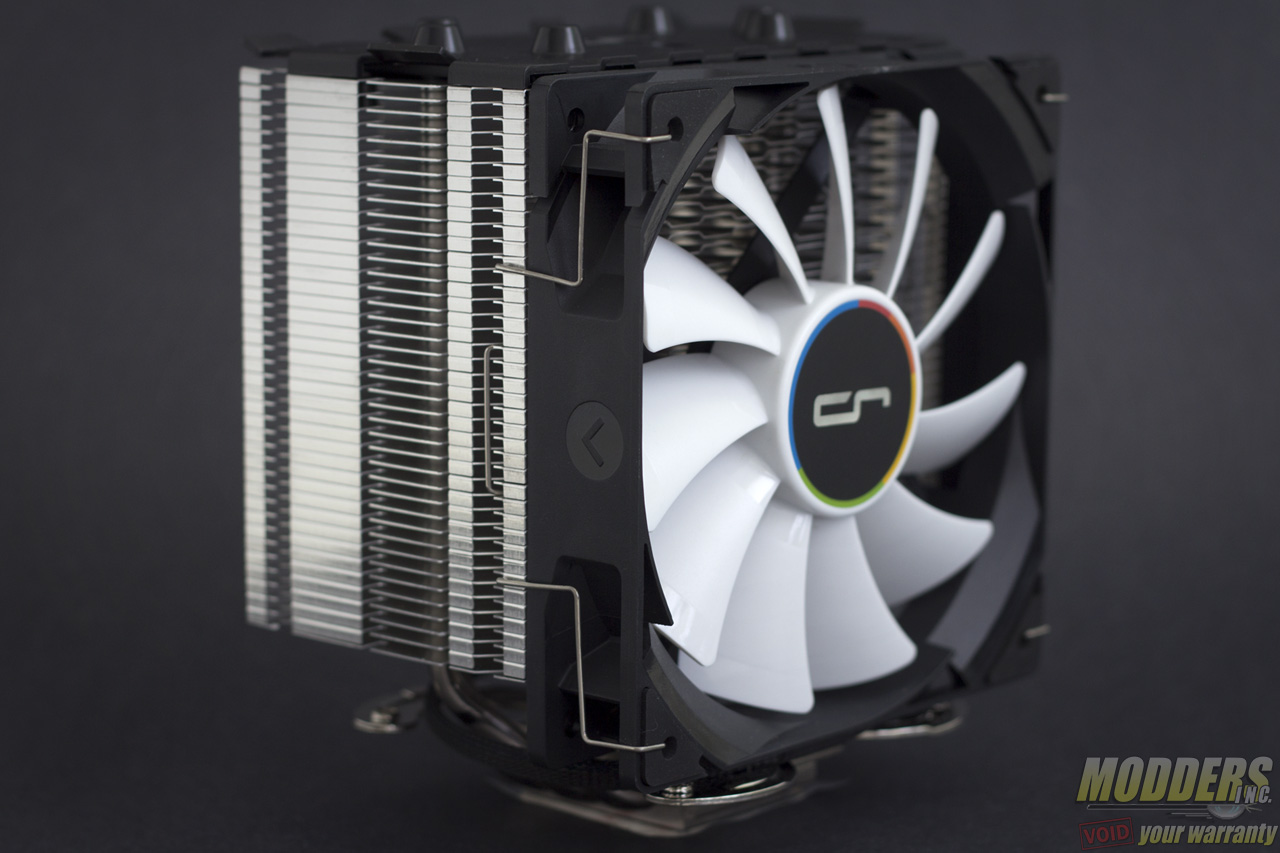 Perhaps the most accommodating feature of the CRYORIG H7 however is in its mounting mechanism. Like Noctua, CRYORIG has moved to a much simpler mounting design with fewer parts to put together, minimizing odds of losing tiny components during installation. This however, renders the CRYORIG H7's mounting mechanism limited to only Intel LGA115x and AMD motherboards, leaving Intel LGA2011, LGA1366 and LGA775 socket users with no choice but to look elsewhere. This is not a bad tradeoff considering very few LGA2011 users will even consider air cooling let alone one designed for mid-range performance and LGA1366/LGA775 motherboards are simply too old at this point with even fewer users than LGA2011. AMD's AM3+ and FM2+ sockets are supported of course, requiring the user to merely flip the backplate to the AMD side and slide together the integrated x-bar mechanism.
The CRYORIG H7 manages to look good while being functional and unique at the same time. There is something admirable about a CPU cooler that manages to offer solutions that most manufacturers overlook in everyone's quest to get merely the lowest temperatures. It has the easiest install procedure out of any CPU cooler I have ever seen before and it has a lengthy warranty of 6-years after registration which hopefully extends its penchant for compatibility further to future socket releases.