Page 2 »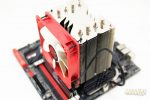 The prospect of another three Star Wars movies does not color me the least bit excited, not just because the first three prequels were more disappointing than modern-day Bob Dylan but because J.J. Abrams is on the helm which means freshness, originality and greatness will not be on the menu. Expect it to be shiny, albeit heartless like his Star Trek reboot or a disposable by-the-numbers fair that satisfies tropes but ultimately lacks a satisfying narrative unlike the classic blockbuster movies he tries to emulate.
When I want to be entertained, I look no further than observe the PC industry and the new players with the new products that they bring. Sure not everything will be truly original but at least I don't have to listen to the hype and can categorically benchmark each new product whether it measures up to expectations or not. Just within the CPU cooler segment alone, a reviewer can take a look at all products available and still not be able to complete each review before the next generation rolls around.  After being impressed with Raijintek's Pallas CPU cooler, a look at their THEMIS Evo mainstream tower-cooler offering sounds like a hopeful project that is farthest thing from a stale design and by-the-numbers assembly.
Review Sample Provided by: Raijintek
Product Name: THEMIS Evo
MSRP: $40 USD
Product was given in exchange for work done to produce this review.
The  Raijintek THEMIS Evo box is full-color gloss following their red, white and black color theme observed on their other product brand. A table of specification is printed on the side and the rest of the box shows off the Raijintek THEMIS Evo's features.
The internal components are separated into two compartments by way of a cardboard separator with the accessory pack on top and the heatsink-proper with the fan on the lower compartment.  There is no padding for the heatsink boy on three sides while the fan acts as a buffer on the front.  If you are buying this heatsink from the store, make sure to find one where the box does not have any dents.
The accessories consist of a universal backplate, 4x knurled threaded screws, 3x LGA2011 standoffs, 2x M3 screws, 5x rubber fan mounts (1 extra), a heatsink crossbar,  4x threaded spacer nuts, 4x thumbscrews , a pair of Intel mounting bars, a pair of AMD mounting bars, thermal compound in a small packet and a multi-lingual fold-out installation guide.
Specifications:
Product Name
THEMIS Evo
Product Number
0P105245
Dimension [WxDxH]
122x82x165 mm
Weight
614 g [Heat Sink Only]
Thermal Resistance
0.11 °C/W
Base Material
CPU Direct Contact [C.D.C.]
Fin Material
Aluminum Alloy; Solder-less fins assembly; Nickel
Heatpipe Thickness
Φ8mm
Heatpipe Quantity
4 pcs
Fan Dimension [WxHxD]
120x120x25 mm
Fan Voltage Rating
12V
Starting Voltage
7 V
Speed
1000~1800 RPM [PWM controlled]
Bearing Type
Sleeve Bearing
Air Flow
78.82 CFM
Air Pressure
3.24 mmH2O
Life Expectance
40,000 hrs
Noise Level
27.86 dBA [Max.]
Connector
4 pin with PWM
Compatbility
Intel® All Socket LGA 775/1150/1155/1156/1366/2011 CPU (Core™ i3 / i5 / i7 CPU)
AMD® All FM2+/FM2/FM1/AM3+/AM3/AM2+/AM2 CPU