« Introduction and Specifications
|
Installation of the Deepcool GamerStorm Captain 240 »
Closer Look at the Deepcool GamerStorm Captain 240
The CPU block/pump combination is based on a reactor style design much like the Steam Castle chassis that was introduced last year. Red coolant is pumped through a clear glass tube that is connected to the lower part of the block and runs to the top center of the pump.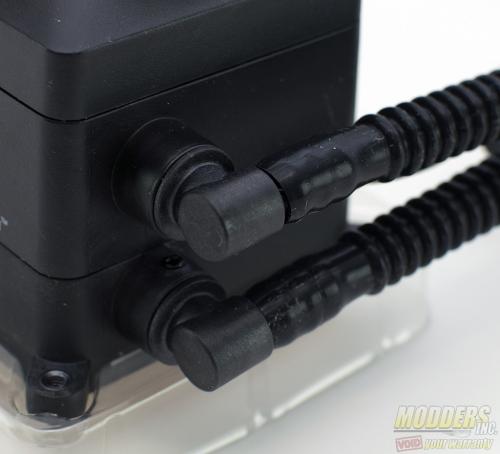 The hoses for the block are stacked on top of each other and attach with a 90° connector. A small setscrew holds the hoses in place and keeps them from popping out of the block.
The base of the Captain 240 is brushed copper. There are fine machining marks present and the base is not very reflective but is flat. The contact area for the cooler is 40mm x 40mm, which is large enough to cover the IHS on the Intel LGA 2011 CPUs. The Captain 240 comes with pre-applied thermal paste (not shown) to facilitate installations directly out of the box.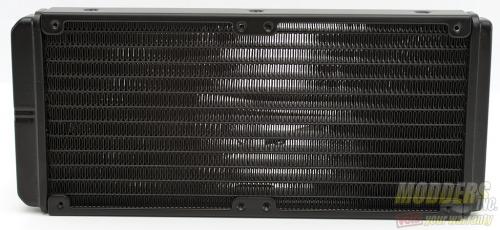 The aluminum radiator measure in at 274mm X 120mm x 27mm and has standard mounts for two 120mm fans per side for a total of four fans in push/pull configuration. The kit includes two fans.
The Captain 240 has 19-20 fins per inch. Higher fins-per-inch requires a fan with a high static pressure to move the heat out of the radiator. Typically, this also means more fan noise.
AIO coolers are typically factory sealed. The same goes here with the Captain 240. The fill port is located in the corner of the radiator with a warranty void sticker.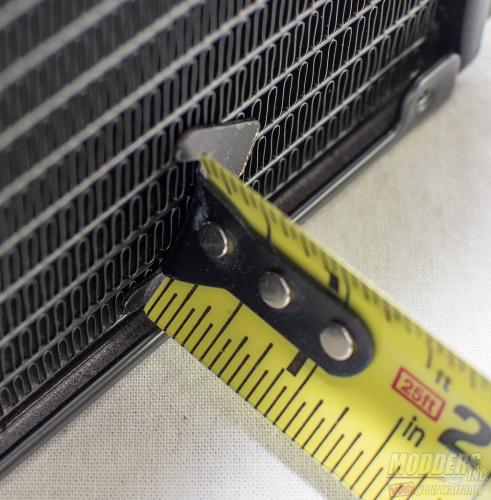 While the radiator measures in at 27mm thick in its overall dimension, the cooling fins are actually less. The fan mounts on each side of the radiator are roughly 4.76 mm away from the radiator fins. This gives the fin depth a measurement of 17.48 mm.
Two 120mm fans are included with the Captain 240.  The frames of the fans are rubberized to absorb vibrations and reduce noise while running.  The 4-pin PWM cable is braided with heat shrink tubing at each end. The fans feature a fluid-dynamic bearing for silent running and a longer life. The fan blades can be removed for cleaning and maintenance.