« Introduction
|
Benchmarks »
The Build
The LIVA Z2 Mini PC is wrapped in a matte-finish black plastic shell. The top panel features a raised texture that consists of concentric lines surrounding the orange LIVA logo. There are vents on the right and left sides, as well as additional slots peppering the bottom panel to enable some decent ventilation. The LIVA Z2 is passively cooled, so dust buildup really shouldn't be a problem. According to ECS, this tiny system consumes just 6-watts at idle.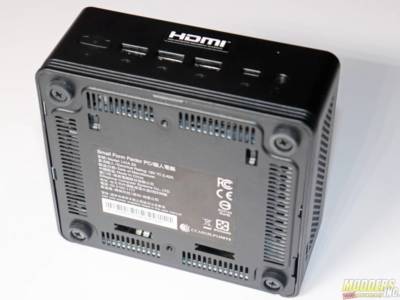 The rear I/O and the bottom panel are constructed of thin steel painted matte black. There's a bare steel skeleton that surrounds the components, making the LIVA Z2 feel a lot heavier than it looks. Four rubber feet are located on the bottom of the unit. There's not a single moving part inside the Z2, so unless you install a 2.5-inch laptop HDD into the Z2's optional drive bay, you can forget about vibration ever being a problem.
Although we'd call the LIVA Z2 an attractive little system, with its trio of pinstripes running along the bottom edge, the sleek aesthetic gets completely shot to hell once you realize that the fast USB 3.1 ports are all on the front of the unit, adjacent to the blue LED-backlit power button. To make the most of this system's I/O, it'll be positively bristling with cables on the front and back. We're also not very keen on the conspicuous HDMI sticker on the face of the LIVA Z2. (Yes it's crooked. Yes it bothers us.) Happily, the sticker peels off easily. But then again, if ever there was a system that you could effortlessly tuck out of sight, this is the one. Generally, we like the LIVA Z2's exterior design. It's functional, yet sharp-looking. But we all know that when it comes to PCs, it what's inside that counts.
A Little Bigger, Much Better
The processor under the hood of the model we tested is the Pentium Silver N5000, code-named Gemini Lake. It features four cores (no Hyper-Threading), a base clock of 1.1GHz, and a Turbo clock of up to 2.7GHz. Located on the processor's die is Intel's UHD Graphics 605.
Before you ask, no, it won't run Crysis. What it WILL do, however, is playback 4K video, with HEVC 10-bit decryption. The Z2 features a single 4GB module of DDR4-2400, but there's a spare SO-DIMM slot for adding another module.
In addition to the Gigabit Ethernet RJ-45 jack, ECS has included a dual-band Intel 802.11ac M.2 module, which also has a built-in Bluetooth version 4.1 radio. On the front and back there are three Type A USB 3.1 Gen1 ports, one USB 3.1 Gen1 Type C, two USB 2.0 ports, a combo line-out/mic audio jack, an HDMI 2.0 port (which is thankfully labeled), and an HDMI 1.4 port.
ECS also offers the Z2V, which features a D-Sub video output in place of the HDMI 2.0 port. For a base MSRP of $220, you get the unit we tested without an OS installed, or for $250, you get Windows 10 installed and activated. The right side of the Z2 also features a Kensington lock for thwarting would-be thieves.
ECS knows that its silent and compact PCs are great for the lightweight applications that keep small businesses buzzing, but the company is smartly branching out to the DIY space with this product. Inside the case you'll find GPIO (general-purpose input/output) pins, which are fully programmable using Scratch or Python, a-la Raspberry Pi. ECS calls these folks "Makers," but to the audience of this website, they're modders. And whether you're into scratch builds, tower mods, or just doing funky things with computers, the Z2 Mini is sure to inspire more than a couple out-of-the-box ideas.