« Intro | Installation and Testing »
A Closer Look at the EK-KIT L360 R2.0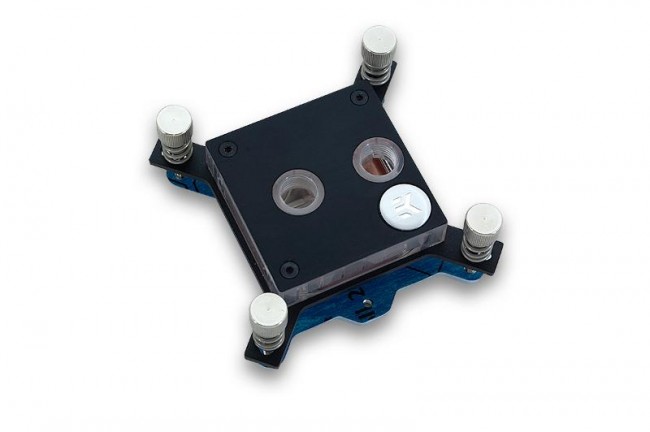 EK-Supremacy MX UNI is a reduced cost variant of EK-Supremacy EVO flagship performance water block, introduced in 2014.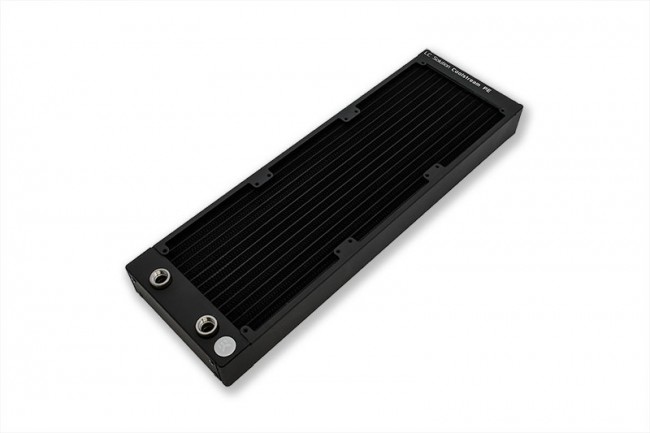 EK-CoolStream PE series radiator fits in majority of computer chassis and will successfully take the heat out of your system. In combination with in-house developed EK-Vardar high-static pressure fan the unit provides silent operation with great cooling performance.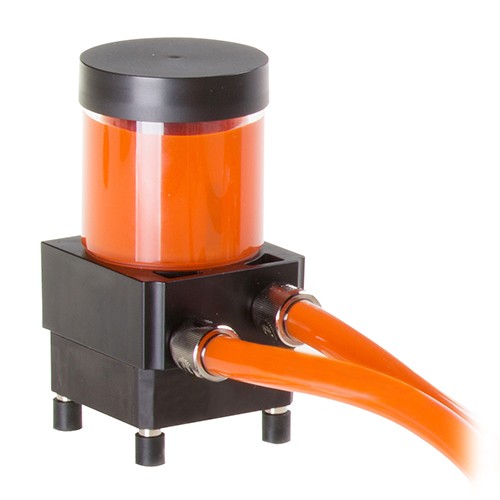 EK-XRES 100 DDC MX 3.1 PWM water pump / reservoir combo is also brand new, cost-reduced variant of the market proven EK-XRES DDC pump/reservoir combo unit, powered by Laing DDC 3.1 PWM (6W) pump.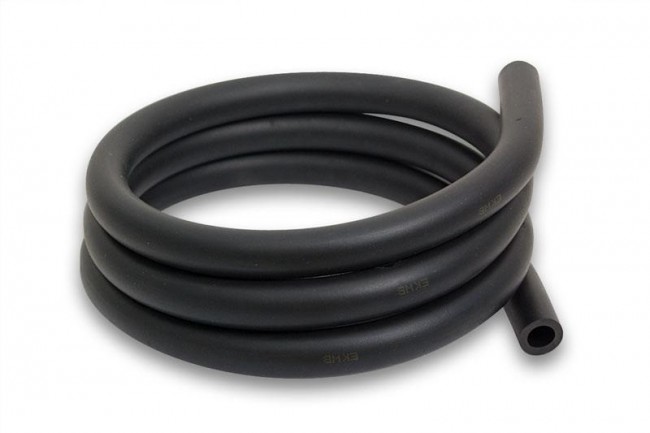 High quality EK made ZMT (Zero Maintenance Tubing) EPDM rubber tubing ensures long lasting operation and does not suffer from plasticizer leaching effect, very common with regular PVC tubing. Majority of components have been pre-assembled resulting in quick and painless installation procedure. This kit can also be upgraded with an additional EK-VGA Supremacy, EK-FB, EK-FC or EK-RAM series waterblocks!
So, lets look at the system environment that I am installing this on. My CPU is an AMD FX-8350/8 core processor, my video cards are R9 290 video cards. The CPU is a 125W TDP. Adding in 2x 290 video cards is significant. R9 290 video cards are not known to be light on heat. Specifically, the more performance load you put on these cards, they seem to put off an exponential amount of heat. So, when I was gaming, my family was usually getting blown out of the room with the jet engine of fan noise that was the heatsink on these video cards. It was honestly loud! Anyone that has owned one of these cards and has altered the fan profile to knock the temperatures down while loaded will know. It scared my animals and led to many elevated voices in the study, due to how loud it was. I was in dire need to control that noise and get the heat under control. What sucked was that for all that noise, the cards were still insanely hot. Additionally, the video would sometimes die off in the middle of intense game play, I can only think it was thermally introduced, as the cards were otherwise stable in other less intensive gaming situations.
So, my goals with the kit were:
1) Control the heat in a more efficient way
2) Control the fan noise
3) Have a more stable gaming environment, with less thermally induced stability interruption.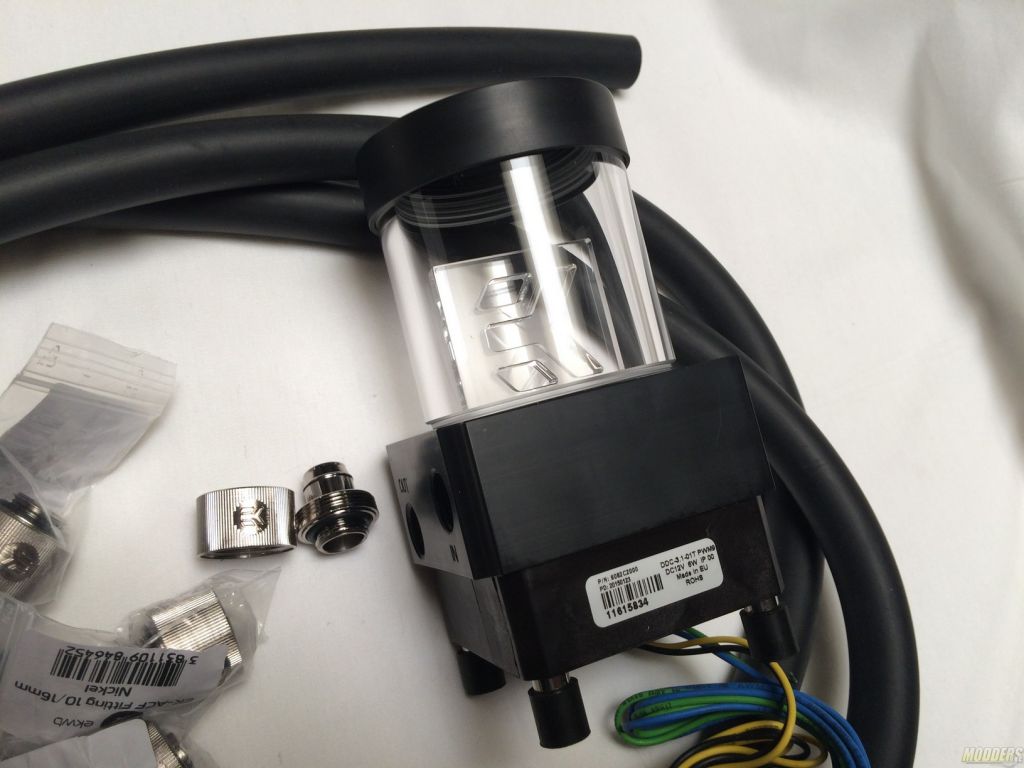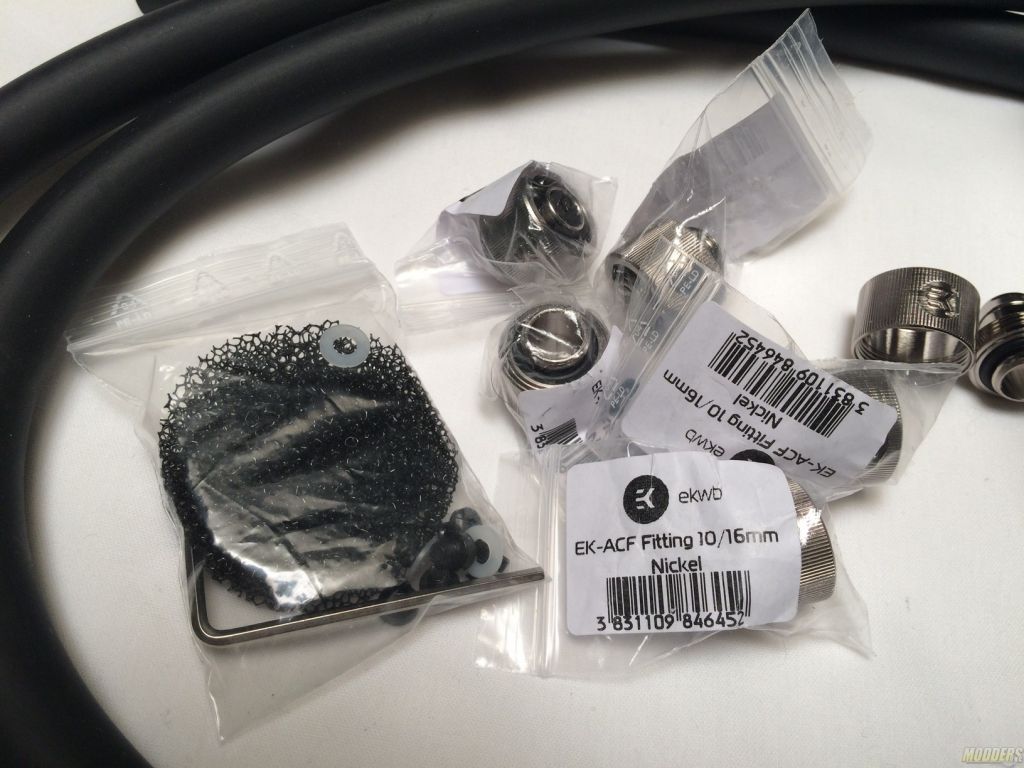 Taking a quick look at the items that come in the kit, the pump/res combo is a nice touch. Inclusion of a baffle to disrupt potential swirling/vortexing in the reservoir is very much appreciated. They actually include an acrylic disruptor mounted in the reservoir, with the ek logo cut out out of it. Additionally, they have some light filter type material should there be additional baffling required to stop air from circulating in the lines. 2 very nice details. One thing that was unexpected, was a bracket used for the pump, so that the pump could be mounted on a 120mm fan. Many cases have spots on the bottom of the case where people are mounting cool air intake fans. This takes up the valuable floor space. But with this bracket, you can attach it to the top of a 120mm fan, and keep on building! Me? I ended up using this bracket for another purpose, which was to mount the pump above my 3.5″ drive enclosures.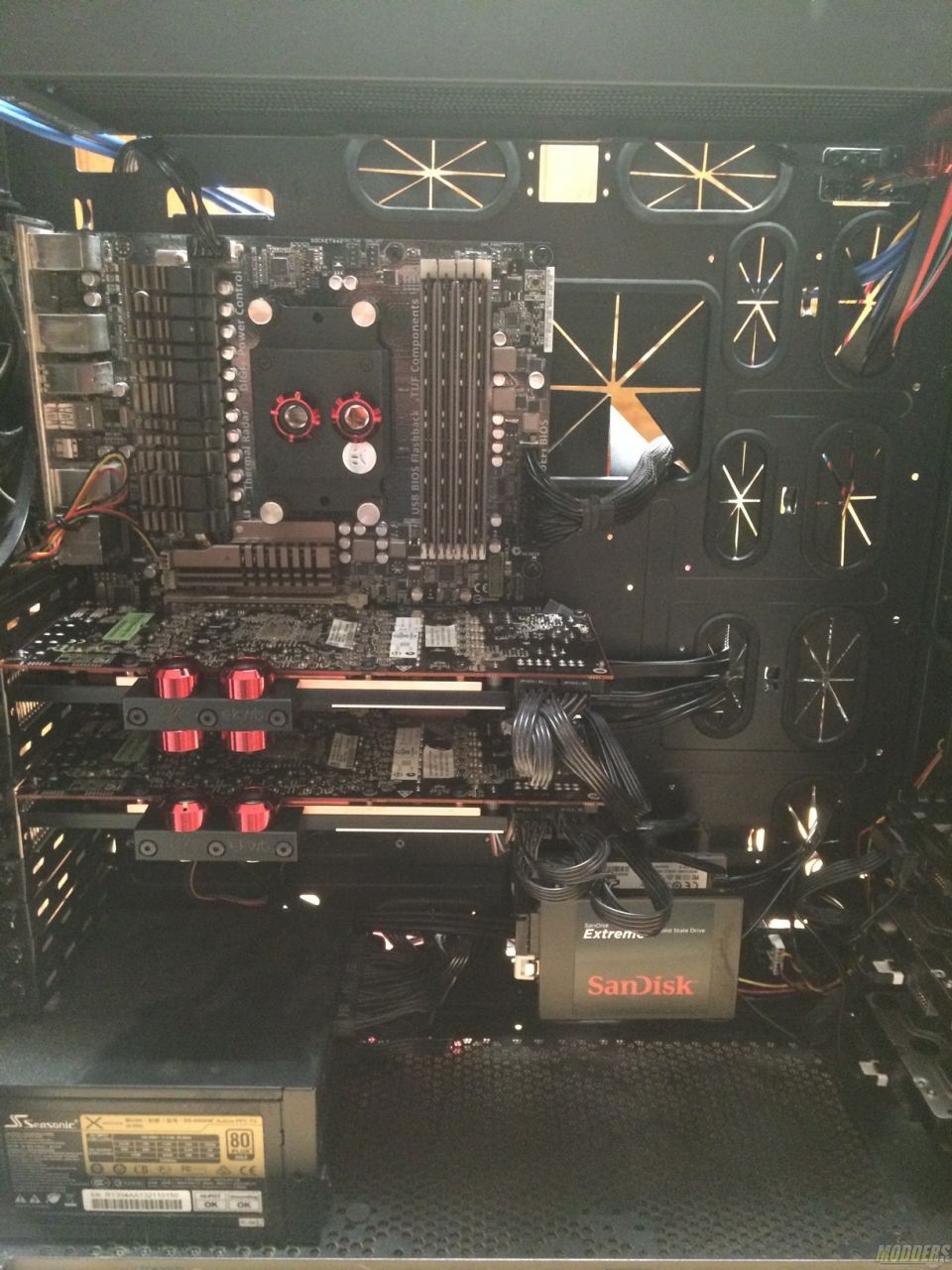 Speaking of the pump, the unit is based on the Laing DDC 3.1 PWM (6W) pump. Ample amounts of the EPDM flexible tubing for the installation, it was an opaque, black tubing. Very flexible and clean cutting. The CPU block came with various spacers and internal jet arrangements for the CPU block.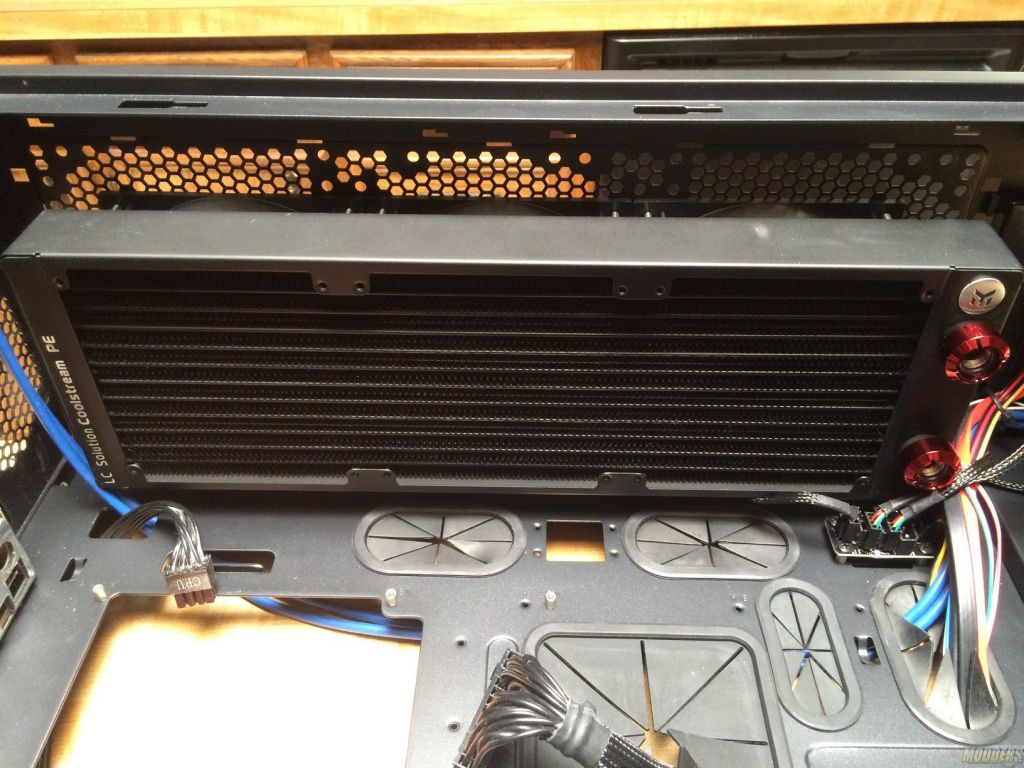 3x 120mm fans for the radiator that are the high static pressure, EK-Vardar F3-120 1850rpm line of fans. The Coolstream PE radiator mounts 3 of the 120mm fans, hence the 360 (3x120mm) designation. My only gripe with the radiator so far is the lack of radiator protectors underneath the mount screw points. This kit is made for people that lack the mounting experience and product purchase experience. I would recommend that those kits in particular have additional precautions to keep the user from hurting the product, and potentially souring their exposure to
water cooling, by accidentally taking a bolt too far, and puncturing the radiator. I actually wish that all radiator manufacturers would just make this a standard. It's not like that bolt guard is going to block cooling or alter the heat shedding properties of the radiator.