Those who are into overclocking their systems know very well how important keeping the components running cool is when pushing things to the limit. Enermax has applied the same logic with their new Revolution DUO power supply series, equipped with not only one intake fan (as is typical of most power supplies) but has an exhaust fan in the rear as well. This 100mm and 80mm combination allows for less heat trapped in the power supply components by establishing clear airflow traffic.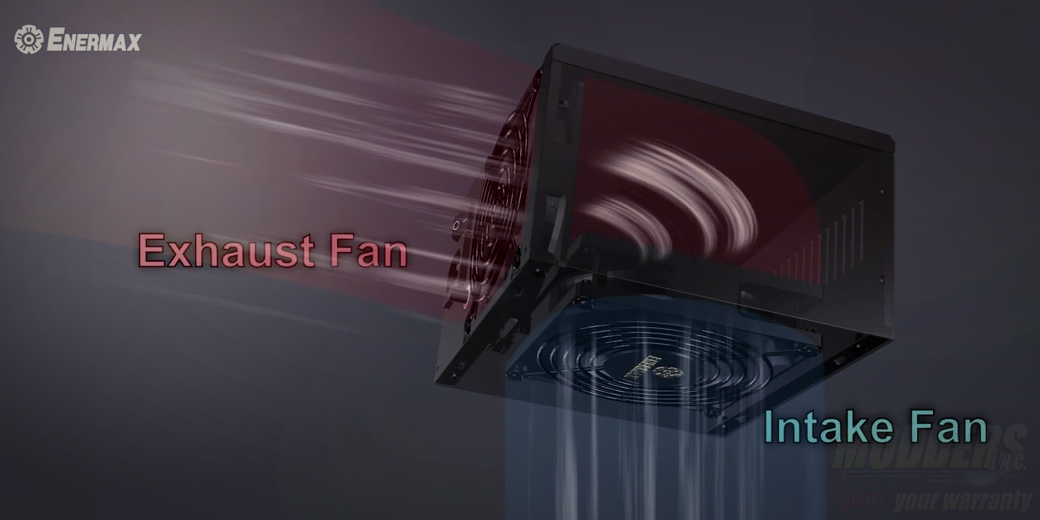 Users can even adjust the fan speed and behaviour with an embedded switch at the back, allowing for what ENERMAX calls "FMA" (Fan-speed Manual Adjustment). The speeds can be adjusted depended on load conditions where it will not full-throttle but a "turbo" option runs both fans at simultaneous full operation. The fans inside the Revolution DUO use Enermax' Twister Bearing technology for longer performance over typical sleeve-bearing units while performing quietly under low-loads.
The other important aspect about this power supply is of course, the actual power delivery which complies with 80-Plus Gold standarrds with up to 92% efficiency and less than 0.5W power consumption in standby mode. There is also over-voltage, under-voltage, over load, over current , short-circuit and surge in-rush protection for the user's peace of mind.
The Revolution DUO is currently available in three wattages ranging from 500W to 700W. The 500W version is equipped with six SATA cables, four 4-pin MOLEX connectors, 1x FDD conenctor for legacy devices and, two 6+2-pin PCI-E cables measuring 500mm long and 150mm between each connector. There is an essential 24-pin cable as well measuring 500mm and a 4+4-pin EPS12V connector measuring 600mm since these are usually routed along the back of the chassis so it could use the extra length.
Specifications (500W):
Model Number:
ERD500AWL-F
AC Input

115-240VAC
47-63Hz

Input Current

10-5.5A

DC
output

Rated

+3.3V
+5V
+12V

-12V

5Vsb

20A

20A

41.5A

0.3A

2.5A

Combined

100W

498W

3.6W

12.5W

Total

Power

500W

Dimension

150(W) x 86(H) x 140(D)mm
For more information, visit: http://www.enermax.com/home.php?fn=eng/product_a1_1_1&lv0=1&lv1=41&no=319