A Closer Look at EnGenius ECW220v2 »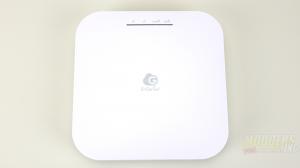 For the past decade, mesh networks and access points have become familiar technologies in our homes. It is extremely easy to make sure you have complete WiFi signal coverage where you need it. There are multiple brands that offer mesh connectivity and to be honest most of them work great. Most of the companies such as Google WiFi and TP-Link offer exclusive hardware that only works with its own brand of products, so picking the right access points could be challenging.
One of the newer manufacturers of the access points is EnGenius. EnGenius specializes in indoor/outdoor wireless systems which can be controlled from one centralized point, a cloud-based administration. They have been slowly forming up their offerings and based on my experience their product just works. You can use EnGenius products in a range of environments such as warehouses, office buildings, and coffee shops. Knowing that their products work well in the Enterprise environments is extra reassurance for anyone who wants to have affordable Enterprise level coverage. One of their latest offerings is the EnGenius ECW220v2 Access Point. The ECW220v2 Access Point is a cloud-managed WiFi Access Point that supports WiFi6 protocol and has 2×2 stream support for SU and MU MIMO. ECW220v2 is also powered by POE so you would be able to have flexibility on how to place this device in your environment.
ECW220V2 First Look
The EnGenius ECW220v2 is shipped in a recycle-friendly box. There are very few images on this packaging however EnGenius made sure to advertise the EnGenius Cloud. My sample was shipped with an EnGenius POE adapter. With the use of this injector, I will be able to use ECW220v2 without a POE (Power Over Ethernet) switch. The POE adapter is being sold separately so note this if you are looking to pick up this Access Point. You can also connect a DC adapter to the device however it is not shipped with this model.
The internal packaging of the ECW220v2 is very simple as well. The device is being supported by a cardboard enclosure while being wrapped in a protective plastic bag. The only thing that is included with the ECW220v2 is the Quick Start guide and a box of mounting hardware.
You do not have many mounting options here. Just mount the bracket to the wall by using two included screws and mount the other bracket to the base of the access point. Both brackets slide into each other easily.