With less than a month to go before the deadline for submitting casemods to Gigabyte's 30th Anniversary Modding Challenge arrives, modders have been busy with getting a liquid cooled Gigabyte-themed showpiece up and running. From the Modders-Inc Worklog forums, Heath Coop's 2099 concept shows an interesting take on a Gigabyte themed case by taking inspiration not from past ideas but from the possibilities of the future with his 2099 build.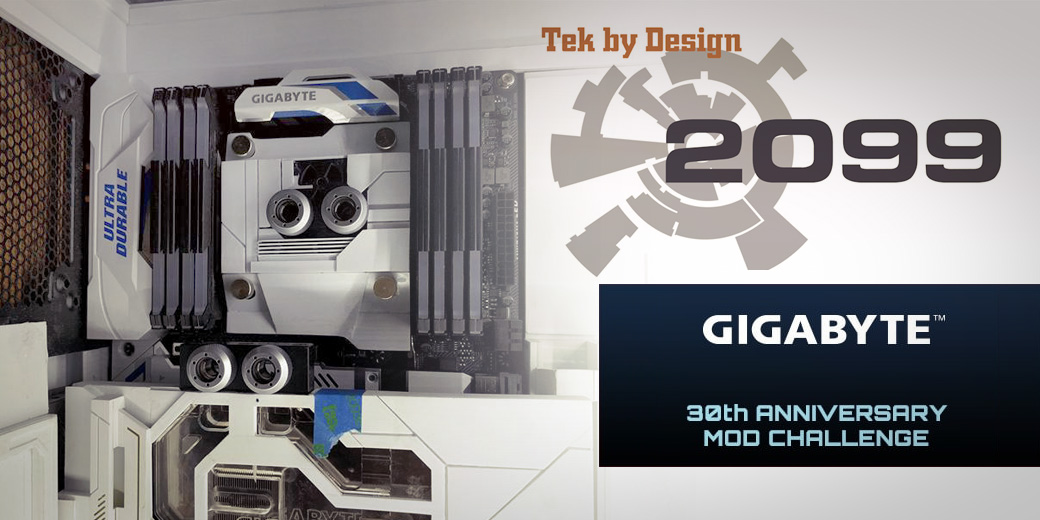 Heath Coop has a lot of experience with modding, running Tek by Design and having participated in the most recent Modders-Inc 24-hrs of LeMods modding marathon as part of the modding duo "Team Mod Goat" with Jim Weist. Team Mod Goat took 1st place with their electroplate-weathered DOOM themed-Corsair 600C casemod.
For his entry to the Gigabyte 30th Anniversary modding event, Heath has chosen to use another Corsair case, but this time it is the Corsair Graphite 760T, equipped with dual-hinge doors. Heath's original concept was based on a Phanteks Evolv ATX case, a perennial favorite among modders with its simple yet non-boxy characteristic. The Corsair Graphite 760T's hinge-doors offer a much better view of the interiors which is going to be decked-out in science-fiction designs inspired by the 70's TV series Space: 1999. Heath's idea also includes having a mini-display right in front of the case and will be using polystyrene to shape the interior to fit the futuristic look.
As for the rest of the hardware that is going to live inside this system, he is going to use the following:
Components
Case: Corsair Graphite 760T
Motherboard: Gigabyte X99-Designare EX
CPU: Intel i7 5820K
GPU: Gigabyte GeForce GTX 1070
Memory: Corsair Vengeance LED (8x8GB) 64GB 3200mhz DDR4
PSU: Corsair RM 650X 650w
Storage: Kingston Predator 480GB M.2 SSD
Cooling
CPU Waterblock: EK Supremacy MX
GPU Waterblock: EK Supremecy 1070 Plexi
Fans: Corsair SP 140
Radiator: EK CoolStream CE 420
Pump: EK XTOP Revo D5 Plexi
Reservoirs: TBD
Fittings: TBD
Since this build is going to be a water-cooled system, some drilling and cutting is required from the default Corsair Carbide 760T in order to fit the massive EK CoolStream CE 420 which is a 3x140mm radiator. There are still some work to be done so stay tuned as Heath completes his build which readers can follow in the Modders-Inc forums: http://www.modders-inc.com/forums/showthread.php/4775-Gigabyte-30th-Anniversary-Mod-Challenge-2099