« A look Inside
|
Final Thoughts »
Hardware Installed in to the Fractal Core 3300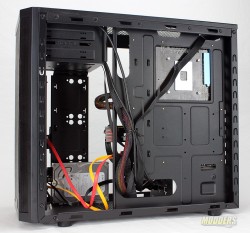 Let take a look at the back side of the motherboard side first. Everything needed to make the system run was installed and it looks pretty clean…except for the cables for the hard drives. This the reason I stated earlier that I would have like to been able to place the HDD bracket towards this side. It would have help hide the cables.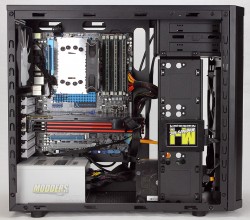 Everything fitted into the Core 3300 very nicely. If you are going to use a top mounted radiator for a water cooling setup, do make sure that you that you can make it within the space left over which looks to be around 50mm (your setup may very due to different hardware).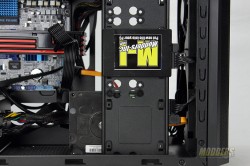 This image gives you a rather nice look at how the drives are attached to the vertical bracket. I staggered the drives to make sure that you got the most out of how the drives are installed and how the cable ran for each. I was a skeptical when I first looked at this setup, but once I installed the drives, I like it.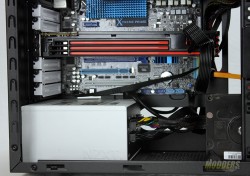 Here we can look at the space that is available for your PSU. The power supply used is a typical size, but you can see that there is plenty of room to use an over-sized PSU. Also we can see that there is plenty of room for those over-sized video cards. As I mentioned previously, the HD audio cable was too short to reach the header on the motherboards used here and I had to run it as you see. I hope that this is just an isolated issue with this setup, but then again I never use the audio connections that come with a case. I always connect right to the motherboard. With the new vertical HDD bracket you gain a lot of space. Now just think about this, if Fractal removed the ODD bays they can shorten the case by several inches.
Here is a quick video that Fractal has created about the Core 3300