« Introduction
|
A look Inside »
 A closer look at the Fractal Core 3300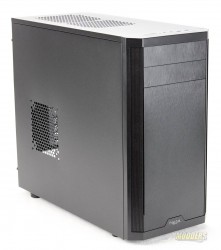 Constructed from metal and plastic the Core 3300 has a semi matte black finish to it. Most of the case is made from steel while the entire front bezel is created from plastic. As we all know this is the norm as it is very hard and not cost effective to try can produce the curved and sometimes wild shapes that appear at the front of a case.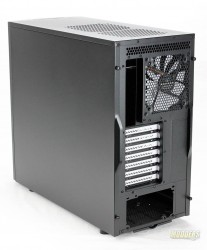 The rear of the does have the standard appearance of a mid tower case. From this angle you can see that each of the side panels have a handle that is made from the side panel itself.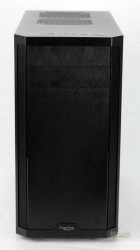 The front of the case is…well, as plain as you can get. They say it is a "Brushed aluminum-look"..uh, OK. Fractal did create a texture look on it which does look better than smooth black plastic.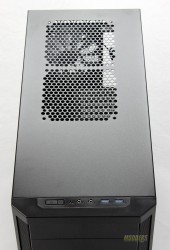 The top of the case is well, flat. At the center and rear there are two sections of holes that have been given to you. Here you can install a few more 120mm/140mm fans or your water cooling radiators that are up to 30mm thick and can be either 240mm or 280mm long, but you will have to use slim fans when using the 280mm option. I am not sure why this was not made into on single pattern, which I think would have looked better but I am sure they have their reasons.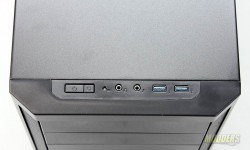 At the top front edge of the Core 3300 is where the controls and input connections are placed.  The on/off and reset buttons with white LED's are here along side your typical audio connections and two USB 3.0 ports.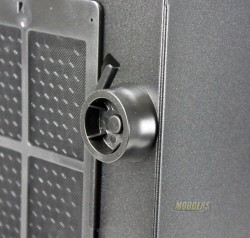 Plastic feet are attached to the bottom of the case to make sure that you get plenty of airflow, but remember to always make sure that the surface is flat or a low pile carpet.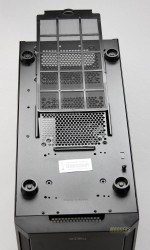 A plastic framed dust filter covers all the large holes used for air intake at the bottom of the Core 3300. There is a handle of the filter and it can be pulled out from the back of the case and easily put back in.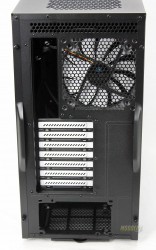 The rear of the case look pretty standard with no big surprises.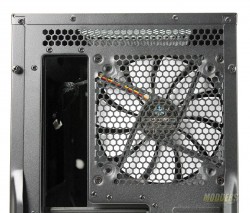 A black frame/white bladed 1000RPM 140mm fan comes with the Core 3300 in the push mode making sure that the heat inside is getting removed. You can also install a 120mm fan here if you like or your All in One water cooler radiator and fan will fit nicely here.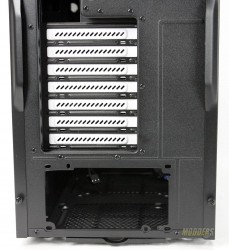 Seven white and vented I/O slot covers come installed in the case. The power supply (PSU) is located at the base.