A Closer Look »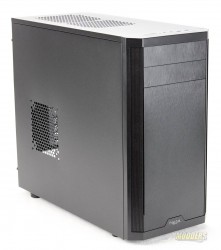 Sometime you just want a case that fits your needs that has a few extra touches and  that it just simply works. Not everyone likes the big and flashy cases and with the trend going back towards the mid tower or smaller case you might find the Core 3300 to your liking. The Fractal Core 3300 is a Wide-body ATX Mid Tower. With a width of 9.17 inches (233mm) you get some extra room to place your hardware into. Your first thought might be "It just looks like a cheap case", but is what we call a "sleeper" my friends. Under the hood it has more to offer.
[sc:sponsor sponsor="Fractal" product_link="http://www.fractal-design.com/home/product/cases/core-series/core-3300″ product_name="Core 3300″ product_price_link="http://www.amazon.com/gp/product/B00MN6IBB4/ref=as_li_tl?ie=UTF8&camp=1789&creative=390957&creativeASIN=B00MN6IBB4&linkCode=as2&tag=moddeinc-20&linkId=XEBM2DPXM4R6FWIE" product_price="80.00 USD" ]
The standard cardboard box is used with a black overlay of most of the details and highlights about the CORE 3300.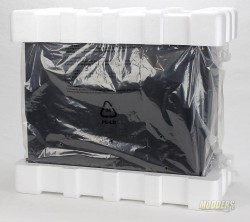 Capped with foam and sealed into a clear bag the Fractal Core 3300 is ready for its journey.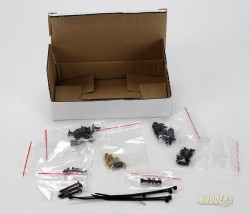 Included with the CORE 3300 you get the normal screws and a few plastic zip-ties. Not shown here is a users manual that walks you though the places where you can install data drives and water cooling hardware.
Specifications
ATX, E-ATX (up to 295 mm wide) Micro ATX, Mini ITX motherboard compatibility
2 drive bays of 5,25″
3 bays 3.5″- all compatible with SSDs
2 -2.5″ dedicated SSD unit position
7 expansion slots
Support Graphics cards up to 430mm. One or more 3.5″ hard drives may interfere with side-mounted power connectors on graphics cards longer than 255 mm
Support cooling system: 7 – Fan positions (2 Silent Series R2 fans included)
Filtered fan slots in front and bottom
CPU coolers up to 185 mm in height
ATX PSUs up to 170 mm deep when using the bottom fan location for a 140mm fan; when not using this fan location longer PSUs can be used
22 mm of space for cable routing behind the motherboard plate
Available in Black
Case dimensions (WxHxD):233 x 451 x 517mm
Net weight: 7.8 kg
Package dimensions (WxHxD): 322 x 625 x 540mm
Package weight: 9.3 kg
Cooling system

Front: 2 – 120/140mm fans (included is 1 hydraulic bearing 140mm Silent Series R2 fan, 1000 RPM speed)
Rear: 1 – 120/140mm fan (included is 1 hydraulic bearing 140mm Silent Series R2 fan, 1000 RPM speed)
Top: 2 – 120/140mm fan (not included)
Bottom: 1 – 120/140mm fan (not included, PSU length limits apply)
Side: 1 – 120/140mm fan (not included)

Water Cooling compatibility

Front –30mm thick 240 or 280mm radiator: 15mm fan spacing required for full fastening, radiators with 20mm fan spacing can be used with only the top half fastened to the case. (radiators of any thickness may be used if all 3.5″ positions are empty)
Top – 30mm thick 240mm radiator (with no components on the upper 11 mm on the motherboard that are taller than 38mm)
Top – 30mm thick 280mm radiator with slim fans
Rear – 120/140 mm radiator

Front interface

2 – USB 3.0
Audio in/out
Power button with LED (white)
HDD activity LED (white)
Reset button

Package contents

Core 3300 computer case
Accessory box
User manual
You can download the Product Sheet here .