« Full System Build
Final Thoughts
What Fractal Design has managed to do with the Era ITX is launch a case that distinguishes itself from anything that has come before it, while still maintaining a classy look that is quintessentially Fractal.  The Era is quite compact, and it's gently curving aluminum exterior is unlike anything else on the market.  The optional wooden top panels that come with the Silver and Titanium Gray versions are a first for a major manufacturer, though boutique case manufacturers like Not From Concentrate has offered wooden panels in the past.  The case also makes excellent use of modern construction techniques like clip-on side panels and flexible front power supply mounting.  Building in the Era was quite easy for a small case, and you can pack in a respectable amount of hardware if you make use of all the included brackets.  The anodized finish, while susceptible to fingerprints, is much more durable than traditional powder coating, and the few plastic elements blend in unusually well.
There are a few parts of the Era that left me scratching my head however, the biggest of which is the glass panel that is included with most versions of the case.  Its glossy black surface does not match the rest of the case and fingerprints easily.  On top of that, it sits on top of so much metal, plastic, and mesh that unless you have a full-blown rave going on in your case you'll have a hard time seeing anything through it.  I can envision some people packing the case with LEDs to light up the top of the case, but due to the Era's otherwise understated appearance, I would personally have preferred a color-matched aluminum panel or a wood panel to better support the aesthetic of the case.  I also have some reservations about the choice to replace the standalone microphone jack with a USB 3.1 type C port, but it may end up extending the Era's relevance if the shift to USB type C accelerates in the desktop market.
Overall, the Era seems like it might be the spearhead of a new design direction for Fractal Design's cases.  However it is a decidedly high-end product, so we will need to wait and see if the design language of the Era trickles down to their other cases.  In the meantime, here are a few things to consider when deciding whether or not to buy the Era.
The Era seems to be designed for the person who is looking for a higher quality alternative to Fractal's Node series.  It is an excellent option for anyone who wants to use an AIO to cool their CPU, but its limited graphics card space means that you probably won't be able to fit a full custom water cooling loop inside.  If you are looking for a premium small form factor case, but don't want to shell out the money for a boutique case, the Era is an excellent option.  The wide variety of color options gives you plenty of options if you want a system that is more than just another black box.  And if you want a case with a wood accent panel, the Era is the only option outside the ream of boutique cases at the time of this article's publication.
However, if your build is budget sensitive, the Era's $160 price tag may not make sense as there are other options available for much less.  Fractal's own Node 304 costs about half as much and is only slightly larger, and Raijintek's good but somewhat dated Metis is another aluminum small form factor case that can sometimes be found for a lot less than the Era.  Additionally, if you want a side window the Era is probably not the case for you and the Define Nano S may be closer to what you are looking for.
Pros and Cons
| | |
| --- | --- |
| Pros | Cons |
| Very compact footprint | Limited GPU space |
| Option of wood top panel on some models | Limited support for custom water cooling |
| Sturdy steel and aluminum construction | Wood top panel only available with finish certain colors |
| Sleek and understated design | Interior powder coating is somewhat soft |
| Multiple power supply options | Exterior panels collect fingerprints and dust easily |
| Fully filtered ventilation | No side window option |
| Tool-less side panels and filters | |
| Excellent fit and finish | |
| Forward-thinking front I/O | |
Conclusion
The Era has an elegance to it that is still very rare in small form factor cases, backed up with a well thought out interior, clever construction, excellent documentation, and exceptional attention to detail.  It is an excellent case with an exceptional feature set, and Fractal has priced it competitively relative to the rest of the market.  If you're in the market for a premium small form factor case, the Era is worth considering.
As a final bonus, here is the Era with a top panel made from a cherry log from my family's orchard.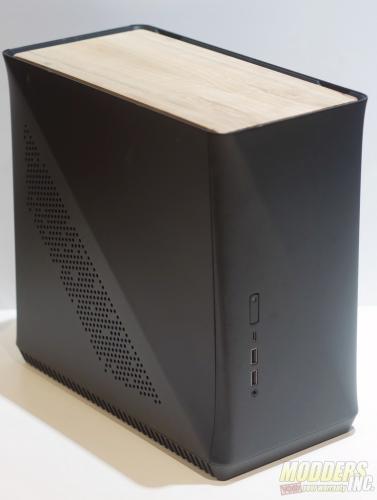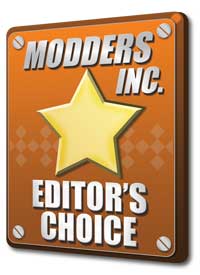 See more about Fractal Design Products we have reviewed