« A Closer Look at Fractal Meshify 2 Lite
|
Final Thoughts »
Hardware Installation and Clearance Compatibility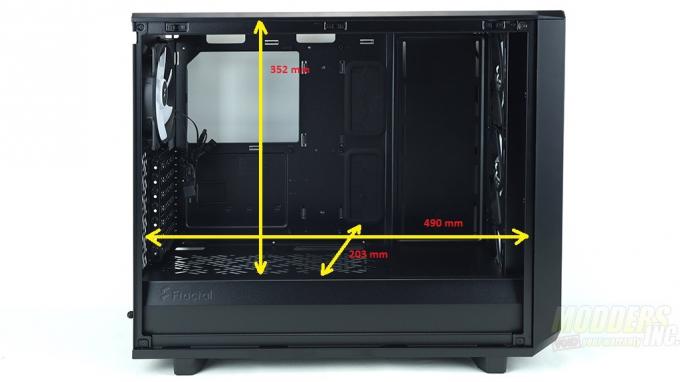 Internal length: 490 mm.
Internal height: 352 mm.
Internal depth: 203 mm (to the glass).
Front mounted:
Front : 3x 120/140 mm (2x Aspect 14 RGB included).
Radiator support for Up to 360/280 mm.
Rear mounted:
Rear : 1x 120/140 mm (1x Aspect 14 RGB included).
Radiator support for 120 mm.
Top mounted:
Top : 3x 120/140 mm.
Radiator support for Up to 360 mm.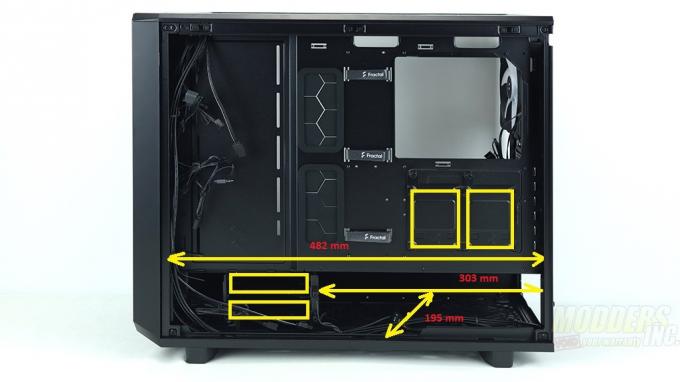 Power Supply:
There is a removable plate for installing PSU.
303 mm Clearance for Power Supply installation.
Video Card clearance:
There is 451 mm (476 mm without front fan) clearance before reaching the front fan mounting area.
CPU Tower coolers:
CPU heat-sink height clearance is about 185 mm from the motherboard to the glass.
Medium CPU backplate cutout.
The whole build took me about 20 minutes and I really didn't see any issues or space constraints. I am using a Fractal Lumen S36 RGB AIO in this build and I mounted it on the top of the case. As you can see there is plenty of space for the RAM installation and management. Depending on how you want to structure your custom loop you could mount two 360 mm radiators in this case, one in the front and one on the top.
The GPU installation is only available here in a horizontal orientation. There is no way to mount the GPU vertically here without heavily modifying the case. Can it be done? Absolutely! But not out of the box.
Cable management in the Meshify 2 Lite is fair. From the glass window, you can hide any cables you want, but it was challenging for me to keep everything nice and neat from the back. The power supply I am using here is by Fractal as well and I haven't had any issues with mounting or routing cables.