PC Case Fan
Fractal Design Prisma AL-12 RGB Fan Review
Silence is golden or red or purple
« Introduction
|
Conclusion and Final Thoughts »
A Closer Look at the Fractal Design Prisma AL-12 RGB Fan
The fans can be ordered in singles or in a pack of 3. We received the 3 pack. There's not really much included with fans and there shouldn't be. Fractal does include four screws for each of the fans.

The fans feature a black frame with translucent or semi-opaque white fan blades. The ring around the blades is translucent as well. At each of the four corners both front and back, there are rubber pads that are used to isolate the fans from the case. This helps reduce noise caused by the vibrations in the fans. On the back, you can see the stator struts are not flat and have an angled edge to them. They've been engineered to be aerodynamic and incorporate the wiring to the hub in order to reduce noise.
The fan blades have what Fractal calls "Trip Wire" Near the leading edge of the fan, there is a small raised line. This line is designed to introduce a turbulence layer and help improve performance.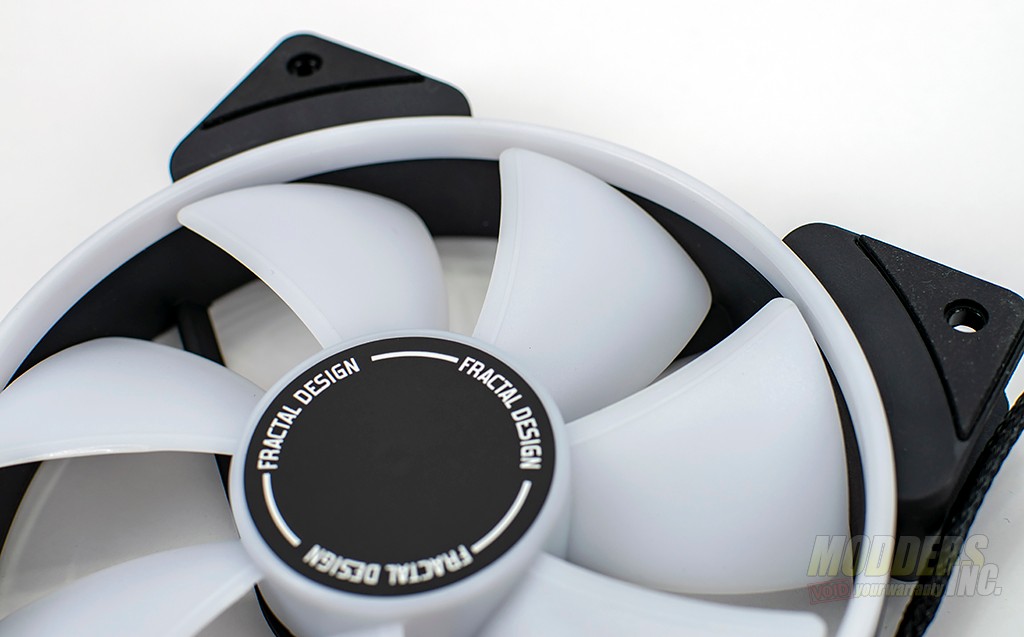 The fans can also be daisy-chained together. This means less long cable runs back and forth to the RGB controller or the motherboard. The RGB cables feature both a male and female end. Both the power and RGB cables are sleeved with heat-shrink at either end.